Boeing 737 Line Training.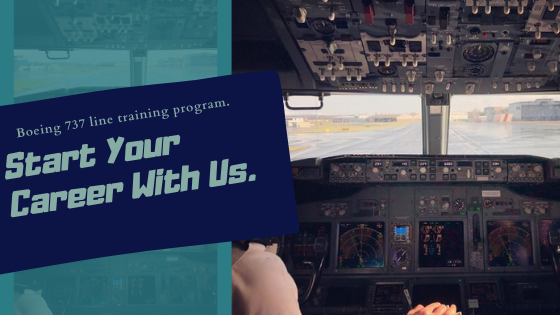 Are you a fresh commercial graduate? Our Boeing 737 line training program might be what you need to land your first dream job.
Here you will know everything you need to prepare for your first airline job.
Our training program includes:
Conversion of your License;
200 hours observation time in a Boeing 737;
Five hundred hours of block time in a Boeing 737
What is a line training program?
A line training program provides young pilots to gain experience inside a sophisticated aircraft. This experience help pilots to land their airline job and ease the interview process for them.
Pilots familiarize themselves inside the cockpit of a modern aircraft before truly operating the aircraft.
There are numerous line training programs available around the globe. Various airlines recruit young pilots through line training process.
It is so common nowadays to hire pilots through line training programs that many agents are working with airlines for recruiting pilots.
Why is it so common to hire pilots today using line training program?
Airlines trust cadet pilots more than recruiting fresh commercial pilot graduates. A cadet pilot has the opportunity to observe the captain and first officer for hundreds of hours before actually controlling the aircraft.
That guarantees the safety of airline passengers by only having experienced pilots in the cockpit.
Likewise, commercial pilots with only 250 hours of flying time don't find themselves in a problematic situation immediately after getting a job.
Line training is beneficial for both the pilots and the airlines. Although the line training seems like a lot of money to spend, it is the quickest and most straightforward way to get your first airline job today.
Description of our Boeing 737 line training program.
Aircraft Type: Boeing 737-300
Hours in the program: 700 Hours
Duration: 1.5 years
Program Fee: 80,000 USD
We accept applications from both type rated and non-type rated commercial pilots.
Any pilot who doesn't have a type rating can do their type rating through the company's accredited training center.
If you hold a Boeing 737 type rating, you can apply now.
However, a pilot who is not type rated in the Philippines must convert their license first to a Philippines license.
The program package includes the cost of license conversion.
First Step:
Convert foreign license into a Philippines license. Conversion may take very little time. The license conversion fee is the responsibility of our company. We are dedicated to complete the conversion process in the shortest time.
Second Step:
Non-type rated pilots can choose a training center by themselves or do Boeing 737-400 through one of our accredited Boeing 737 training center.
We suggest to do the type rating in one of our recommended training institute to simplify the enrollment process.
The cost of Boeing 737 in our training center is 38,000 USD. The line training program fee doesn't include the price for type rating.
Pilots with type rating, please skip the second step.
Third Step:
The line training program is 80,000 USD that you can pay in two installments.
The first installment is essential to process documents for enrollment in the training program. The first installment is 40,000 USD.
The second installment, which is the remaining 40,000 USD, must be paid once you complete ground school in the company.
Before you begin your observation flight, we expect you to complete full payments.
The line training program is straightforward. You will build hours in a Boeing 737-400 in this manner:
1~200 Hours – You will take the jump seat in the flight and fly international and domestic routes. Observing the first officer and the captain to familiarize with the controls and aircraft operations in a real-world situation is the key to becoming a better pilot;
201~400 Hours – During this time, you are the second officer in flight. You will be in the cockpit and take the controls only during cruise as per captains request.
401~700 Hours – At this stage, you will fly as a first officer. You will have to participate in all the tasks from departure to landing in your destination.
After completion of 700 Hours of line training program, we will prioritize our cadet pilots from the line training program if they intend to work in our company.
If they don't wish to work with us, they will still have numerous opportunities to work in airlines with 700 hours of Boeing 737 flying time.
How long does it take to complete the program?
As per the contract, our cadet pilots will complete the line training program in 1.5 years.
So after enrolling in this Boeing 737 line training program, you can expect to acquire 700 flight hours within 18 months to 24 months at maximum.
What's the duration of line training ground schooling?
Before you begin your observation flight, you have to attend ground schooling for two weeks. Where you will learn all about:
The Philippines Civil Aviation Regulations;
Company policies;
Operation manuals.
The ground schooling is accelerated so that you can begin your observation flight without delay.
Minimum requirements to join our program.
Our company requirements are typical of most line training programs around the world.
So before applying to our program, we expect pilots to have:
At least 300 hours total flying time;
Have experience in flying any Multi-engine aircraft. Type rated in a multi-engine airplane;
Instrument rating;
ICAO English level 4;
Class 1 medical certificate;
Boeing 737 Type Rating.
Non-type-rated individuals can do their Boeing 737 type rating from our accredited training center. 
Who shall apply for our training program?
We accept applications from pilots if they meet the minimum requirements.
However, we prioritize pilots that are type rated in a Boeing 737 aircraft to simplify the procedure. The sooner a type rated pilot applies, the quicker we can begin processing paperwork.
Type-rated pilots can begin their observation flight after completion of ground school.
Like I mentioned, it takes only two weeks to complete the ground school. Within two weeks, you can see yourself in the cockpit of a Boeing 737.
Our company had pilots from South Korea, and they are currently working in Major airlines in their country.
As our company has international flights to Korea and the Middle East, we prefer applicants from countries such as:
South Korea;
Malaysia;
Egypt;
Libya;
Oman;
India.
What are the benefits of choosing our company?
Our company is an air cargo based in the Philippines. We operate flights to other Asian destinations. Although the aviation industry was hit badly due to the COVID-19 pandemic, our company is still operational.
The company is operating more flights than ever before.
The reasoning for that is delivering cargo to various destinations never stopped.
People need their goods, and airlines still operate air cargo to provide essential supplies regardless of the pandemic. Many airlines now intend to change their passenger fleet into cargo fleet to transport goods.
Thus our company continued operation to several destinations.
Secondly, you have the chance to work in our company after the completion of your line training program.
It is common for airlines to hire their cadet pilots after the training program is complete. Similarly, we give priority to our cadets to begin their professional journey with our company.
You don't have to deal with any agents for the job, send us an email here to contact directly with our representative for further inquiry.
Line training program with job guarantee.
Our cargo airline operates from Clark International Airport, Pampanga, Philippines. We fly to international routes and commonly domestic routes.
Our company intends to hire pilots through line training programs.
Like any line training program, we have a line training fee. But the charge is minimal compared to the return on your investment.
Our air cargo operates from the Philippines. Most airlines in the Philippines has Airbus in their fleet.
As a result, there is an abundance of type rated pilots for A320.
However, our fleet has Boeing 737.
Not many Pilots intend to work for Boeing 737 here if they are looking forward to working in any other airline in the Philippines.
What they don't realize is that our cargo airline does guarantee a job after completing the program.
Hiring a cadet pilot after this Boeing 737 line training program also depends on the performance of the pilot.
So it is your opportunity to grab and grow as a better pilot.
Application Procedures:
For non-type- rated pilots: Use Contact -Us form to send us an email with your inquiries, and we will get back to you shortly.
Type rated pilots: Please use the Contact Us form and send us an email. Submit your resume.