Which is the cheapest airplane to buy for private use?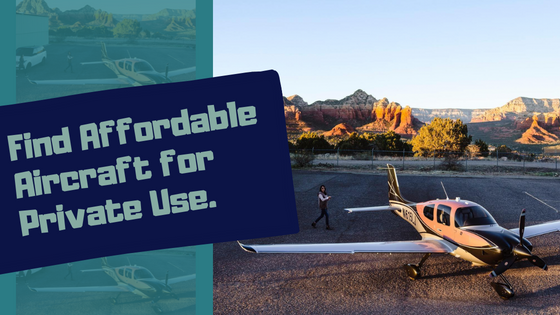 It is not a secret that owning a private plane is not cheap at all. After all, next to the purchase cost, there are insurance, maintenance, and operational costs.
But which private plane should you choose if you want to spend as little money as possible and still enjoy all the benefits?
You may think that owning a private plane is beyond your reach, but the cost of the cheapest private plane may surprise you.
Whether you are looking for a short, mid-weight, or heavy aircraft, the most affordable options can be a fraction of the price of the most expensive. We have listed the cheapest to give you an idea of what is available.
1. Cirrus SF50 Vision Jet
The Cirrus Vision Jet is the first Cirrus private plane powered by a turbofan engine.
It is one of the most affordable private planes in the world, priced at around 1.25 million Euros.
In 2017, Cirrus received the Collier Trophy Prize award for developing the Vision Jet. This yearly award goes to the company that has made the most incredible advances in aerospace.
It is nine meters long and can seat up to five passengers.
The Cirrus SF50 Vision Jet is a private plane with a total weight of just 1620 kilos and an overall rescue system called the Cirrus Airframe Parachute System.
In 2018, this Vision Jet was the most delivered private plane in business aviation.
Only the second generation of this Vision Jet has been built since 2019, offering even more comfort, safety, and a higher peak altitude.
If you are willing to get a high-quality private plane at a cheaper rate, then take a good look at this one!
2. Stratos 716X
This very light private plane was initially called the Stratos 714, and Stratos planned to release this aircraft model in 2019 as a rival to the Cirrus Vision Jet.
However, after the evolution of a prototype, Stratos continued to develop the private plane further and went so far as to rebrand it.
The Stratos 716X is estimated to cost around 2.5 million Dollars.
Take a look at this one if you are willing to get a high-quality private plane at a cheaper rate!
The aircraft can carry six adult passengers and baggage. And when flying with a max payload, it is expected to have a maximum speed of 744 km/h and a total range of 2,182 km.
3. Cessna Citation CJ3+
You can buy a brand new Cessna Citation CJ3+ for approximately 8.5 million Dollars.
It is an improved version of the CJ3, launched in 2014 and named "Best of the Best" in the light jet category, with an upgraded Garmin 3000 avionics system and a more comfortable cabin.
The private plane is certified for single-pilot operation, and it has an impressive wingspan of over 54 feet, designed for less drag and extra lift.
You can take a closer look at this one if you want a high-quality private plane at a cheaper rate!
The cabin is 4ft 10in wide, 4ft 10in tall, and 15ft 8in long, and it can accommodate up to nine passengers.
It has a maximum range of 2,040 nautical miles, 1,000lbs luggage capacity, and is cheaper to run than its closest competitors.
4. Piper Seneca
The Piper Seneca is a twin-engine airplane.
The Piper Seneca is famous among private pilots for getting its multi-engine rating. Thus it's straightforward to maneuver and operate.
It is incredibly spacious, comfortable, and fast for a turboprop aircraft.
Flight schools appreciate this model too much.
Commercially, this private plane is rarely used but can be rented without any pilot if you do not want to buy it. The cruising speed is 370 km/h, and this private plane offers six seats on a total length of 8.72 meters.
The Piper Seneca costs about 649,000 USD.
So if you want a high-quality, cheap private plane, you should look closer at this one!
5. Cessna 150
The Cessna 150 was a revolutionary airplane introduced in the late 1950s. The model gave instructors and students exactly what they were looking for, such as tricycle gear, side-by-side two-seater, and easier flying and landing.
The 150 is branded as the "Commuter," a surprisingly good runabout, with space for a couple of good-sized duffle bags behind the seats, good visibility for sightseeing, and enough room to seat two people.
The engine in the 150 is the Continental O-200, which produces 100 hp purportedly and burns around 7 gallons per hour. So it is a high-quality private plane with a cheaper rate, and you should take a dig into it!
The O-200 is relatively inexpensive, and the parts are available for it. You can get a good used one for as little as 15,000 Dollars.
Image Source: cirrusaircraft via Instagram.