Read this article until the end to know the student pilot essentials before buying expensive useless gear for your private pilot training.
The overpriced bundle of private pilot training kits online disappoints me! Hence I decided to share a list of essentials for student pilots and explain why student pilots only need these tools.
The private pilot training kits sold in pilot shops online are not always the only option.
In this post, I discuss the essential student pilot gear similar to the materials that will aid any pilot at any stage of their flight training.
What does every pilot need?
Pilots must carry some general tools to ease their job throughout their flying career and keep flying safely.
Although a pilot advances in his career must keep a couple of books with them to keep their aviation knowledge fresh. So following is a list of things every pilot must have in their flight bag:
Map – VFR Sectional Chart;
iPad;
The materials listed above are adequate to complete your private pilot training; likewise, you can use them for further flight training.
Later in this post, I explained why, how, and when to use each tool to ease a student pilot's life.
Must-have books for student pilots.
Typically ground school comes before actual flight training; thus, having the right books is essential to prepare for the real flight.
A pilot always has to keep learning. So let's start with the books I think are best for kickstarting your private pilot training.
Jeppesen Private Pilot: Guided Flight Discovery.
Are you just starting your private pilot course ground schooling? No wonder you need a very well-illustrated book that has beautiful graphics.
Having a book using too complicated language and unclear graphics will cause difficulties in understanding many topics for beginner pilot students.
Jeppesen Private Pilot Guided Flight Discovery is an excellent book.
I like this book because it can catch the readers' attention and keep them studying.
When you are simply starting your private pilot ground schooling, initially, you may find something hard to understand. The illustration will help you a lot to learn more quickly.
However, there is another book for private pilots or other pilots to review all the basics.
The book is by a veteran pilot Rod Machado. This private pilot handbook is another easy-to-understand book with lots of humor.
Either you choose Jeppesen Private Pilot Guided Flight Discovery or Rod Machado's Private Pilot Handbook, both these books will prepare you for your private pilot license course.
You can buy these two books even before starting your private pilot ground schooling and preparing yourself.
My first pick is "How to fly an Airplane Handbook" by Rod Machado.
You have to fly following VFR for all the hours for your private pilot license.
In VFR flight, you will use visual references outside to fly the aircraft and make perfect landings.
Many student pilots initially struggle to control the airplane using visual reference reasoning student pilots do not understand the VFR flying techniques.
There are tips and tricks to operating an airplane smoothly. Although flight instructors teach student pilots the basic maneuvers, flight instructors miss many important aspects of controlling the aircraft.
Rod Machado's flying handbook is a book that talks about everything a student pilot needs to know about flying an airplane.
Though you fly with a veteran flight instructor, a flight instructor can't train and teach you everything on safe flying during flight training.
Often the flight instructors are too busy teaching you how to control the airplane and forget to mention the most straightforward techniques to make VFR flights more enjoyable.
The How to fly an airplane handbook can play a massive role for student pilots at this stage.
You will see noticeable improvements in your VFR flying once you read this book and apply it during your flight training.
As a student pilot myself, I struggled to land the airplane smoothly. However, my priority was to get my first solo as early as possible.
Rod Machado's How to Fly an Airplane Handbook is essential for student pilots to get your solo flight quicker and master all the basic maneuvers for VFR flights.
Trust me, reading this book will help you grasp aircraft control quicker, and you will not be overwhelmed during your flight with airplane control.
This book has no second best to get your solo flight sooner and surprise your flight instructor with your improved performance.
RELATED: Common student pilot mistakes to avoid.
Gleim Private Pilot FAA Knowledge Test.
Assuming you have finished your private pilot ground schooling and have flown adequate hours to get your pilot license.
It is time to take exams in civil aviation to obtain your private pilot license, and you do not know what kind of questions you will have to answer.
That is when the Gleim Private Pilot FAA Knowledge Test is crucial.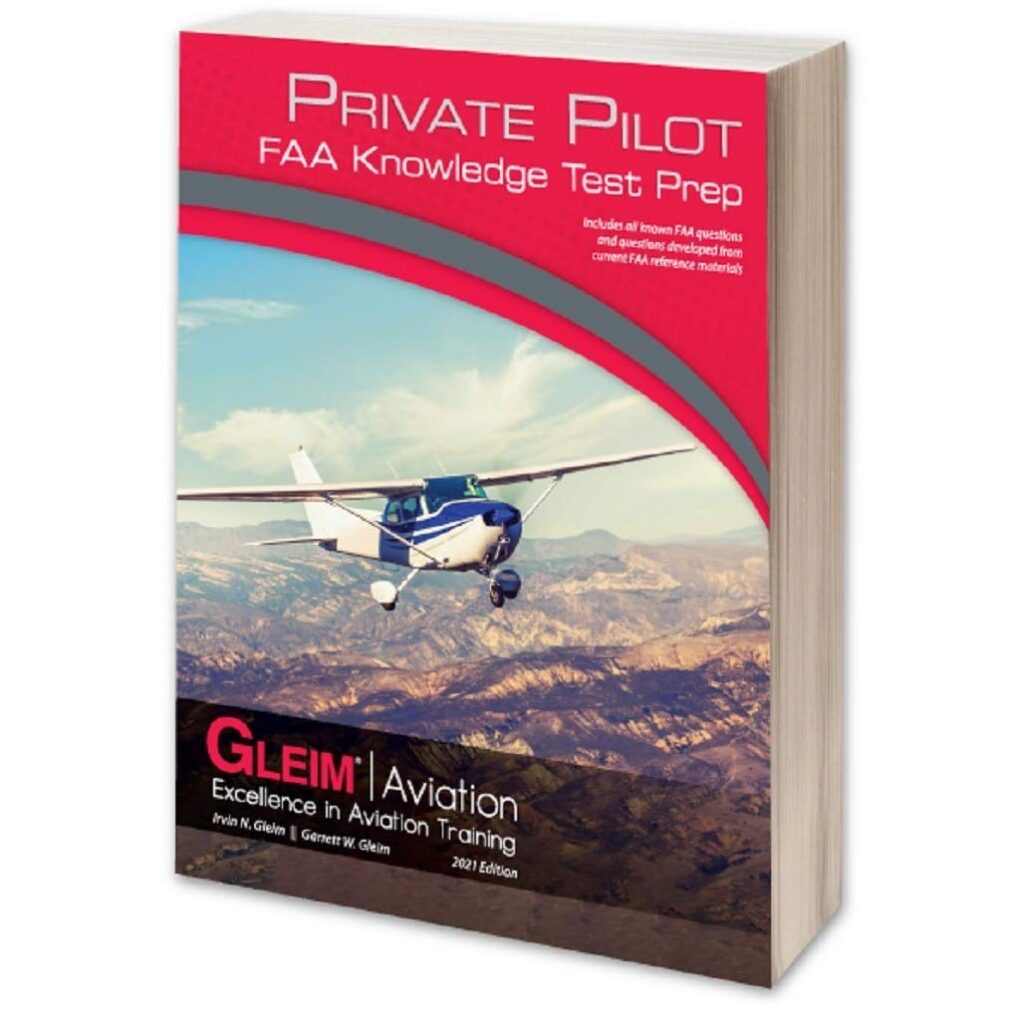 Prepare yourself with this book, and there will be no obstacles to stop you from passing your private pilot license exams.
The sooner you pass your exams, the sooner you get a private pilot license.
Flight Bag.
A flight bag is essential for every student pilot. If you are starting your private pilot training, do not hesitate to get your flight bag.
A flight bag is to accommodate all the necessary student pilot gears.
A regular briefcase will do the job, but unfortunately, an ordinary briefcase is inconvenient for student pilots.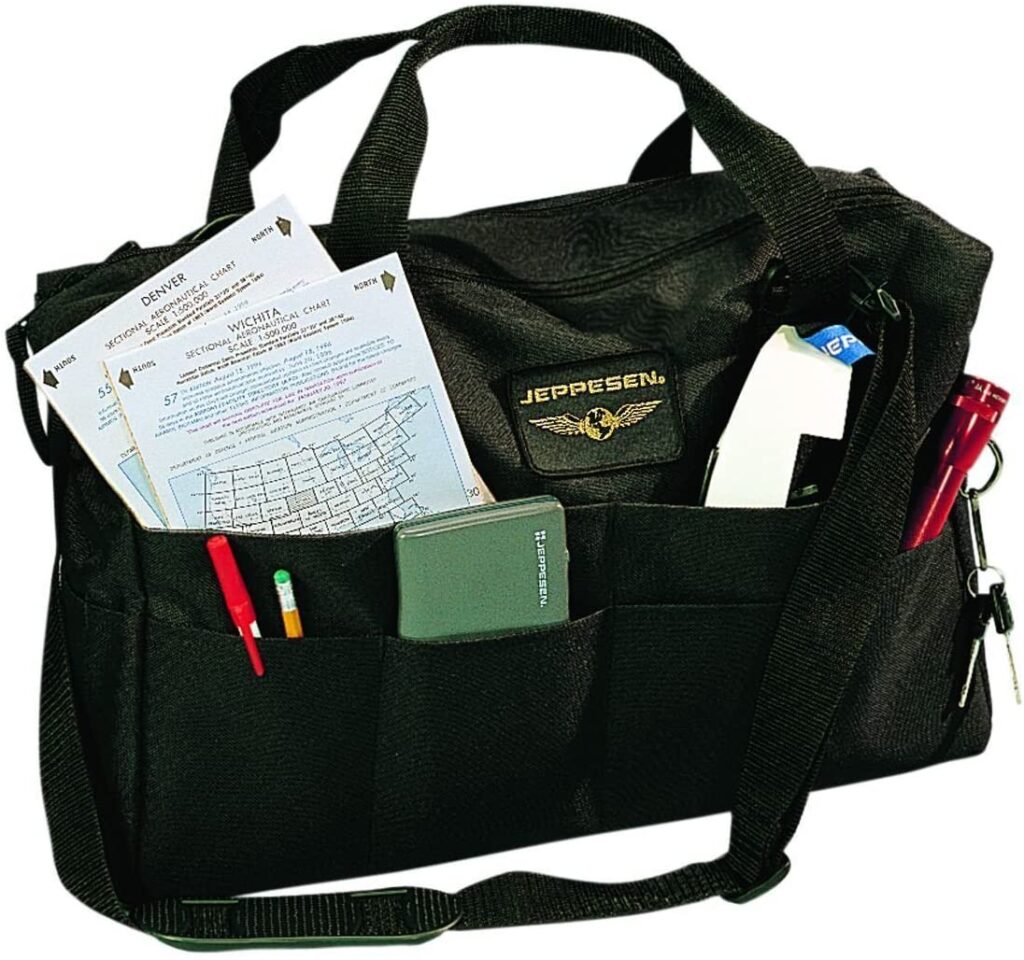 Therefore, buy a durable bag to accommodate all the student pilot gear and essentials. A flight bag gives student pilots easy access to pilot gear and contributes to better cockpit management.
As a student pilot, the least you want is poor cockpit management while struggling to control the airplane.
Most pilot students prefer to buy the Jeppesen Aviator bag. But my experience using the Jeppesen flight bag is disappointing:
Jeppesen makes overpriced bags made of cheap fabric that is not durable.
Thus I had to buy a second flight bag, which is durable. The Oakley Stealth Backpack is not entirely a pilots bag, but this backpack is durable and worked well for me when I was a student pilot.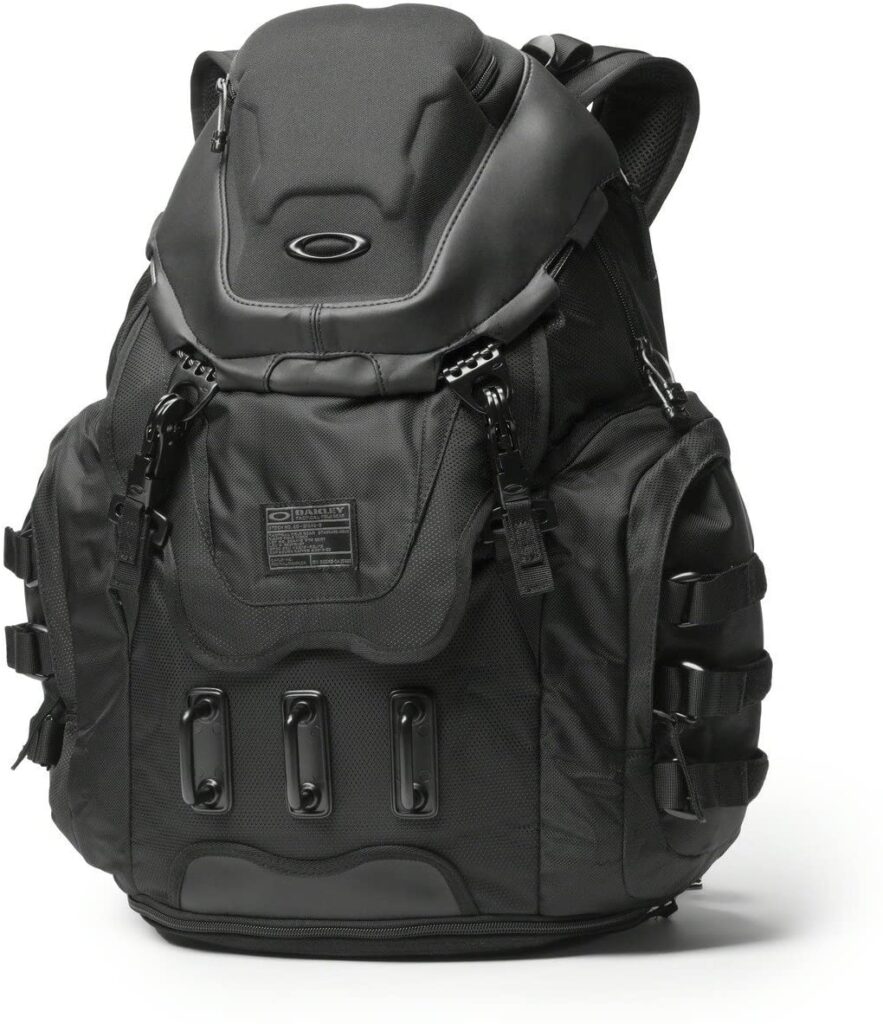 If you are a student pilot beginning your flight training, then this Oakley backpack is the right choice:
The bag is decently priced compared to a Jeppesen's flight bag;
At the same time, very sturdy;
Adequate space inside the bag to take extra clothes for your next cross-country flight.
The only con of this bag is that it's not the most stylish bag for pilots. Nevertheless, it's always best to pick the most practical bag.
Oakley did not design this backpack for pilots, yet this backpack seems the most suitable for carrying student pilot gear and essentials.
On the contrary, if you are a student pilot and want to purchase a briefcase other than a flight bag, choose this multifunctional bag by Lifewit. Nevertheless, a briefcase cannot fit all your flight gear.
Pick a flight bag that serves the purpose of student pilots.
RELATED: Common student pilots mistakes to avoid.
Headset.
Having a good headset for flight training is a must. From my experience, buying a cheap flight headset is not always the right choice.
You may feel tempted to buy a headset at a lower price, which serves the purpose. But saving a few bucks now will result in exhaustion during the flight. You might be wondering how that is related.
Let's consider the long haul. If you intend only to get your private pilot license and fly only the desired hours, then an average headset will do.
What if you plan to get a commercial pilot license in the future?
A regular headset will do the job fine if you can endure the uncomfortable pressure and pain in your ears during long cross-country flights.
The pressure on your ears will be annoying during flight training.
Likewise, cheap headsets wear and tear quickly. You have to replace it sooner than you expect.
I am giving you two options for a good headset here.
The first is by David Clark H10-13.4, which looks very cool. Most pilots prefer to buy David Clarks.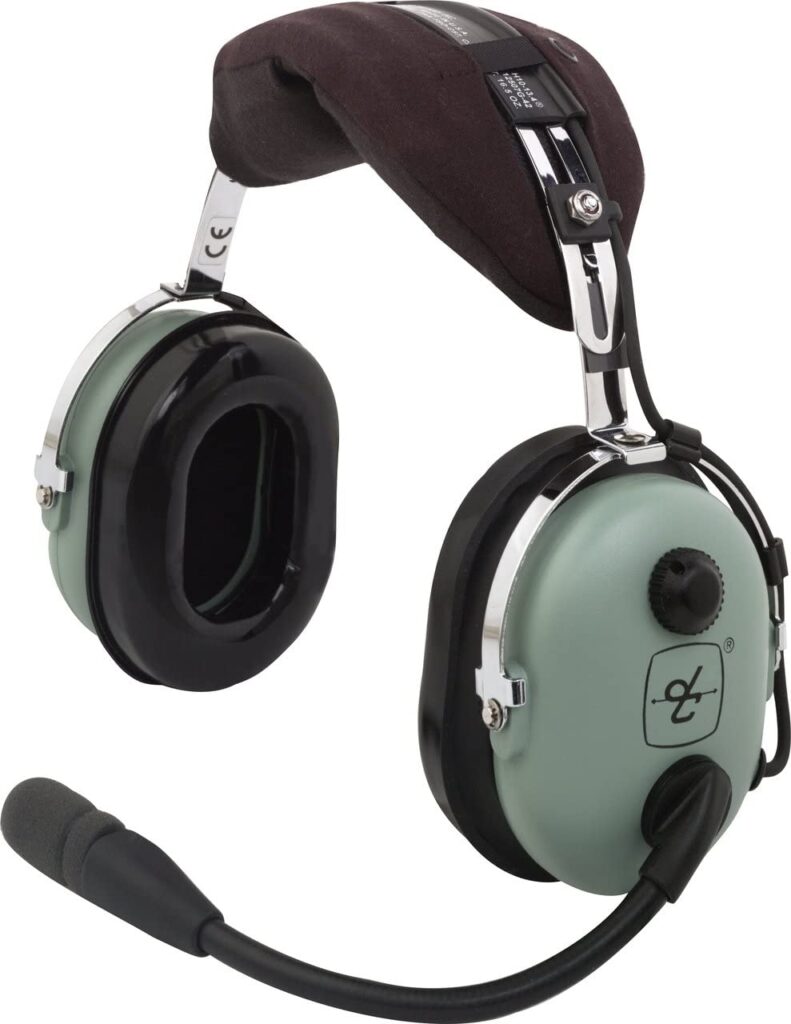 David Clarks headsets are affordable and durable without any issues;
The David Clark H10-13.4 is the best headset in this price range;
It is a decent headset to do the job;
Cancells sufficient background noise;
Creates less pressure on your ears during a long flight.
If you plan to acquire a private pilot license, David Clark H10-13.4 is the best option.
Get your headset to avoid unexpected issues with the old rental headsets while flying.
Now, let's check the better option.
What if you intend to fly commercially? Do you want to get your commercial pilot license after your PPL?
I suggest investing money in a headset until you finish your commercial pilot course. Buy a good headset only once, and you do not have to spend it ever again.
There are many issues with cheap headsets. Sometimes more affordable headsets expire even if you are not using them for a long time.
That is why I say quality comes with a price.
So the better option is the BOSE A20 Aviation headset. This headset is a bit pricey.
A pricey headset is not necessary during the early stages of your flight training. The David Clark Headset mentioned above will do the job right.
But when you pay a high price for a headset like these, it is mainly because of the noise reduction technology used in the headset.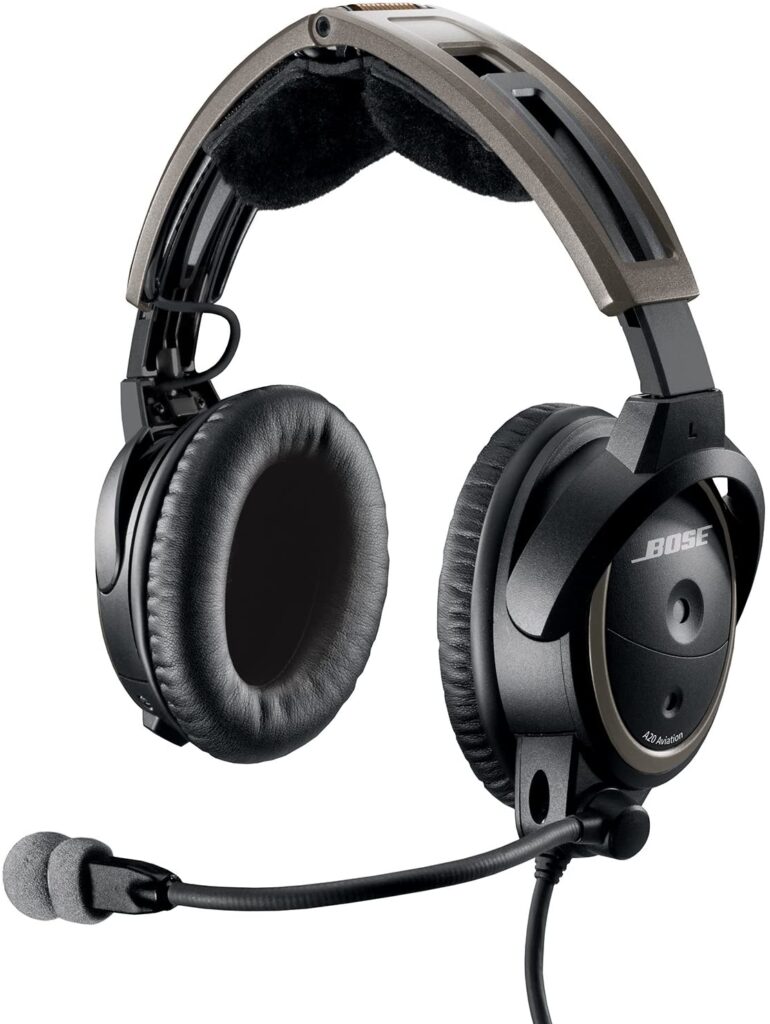 This BOSE A20 headset cancels more noise than any other regular headset.
It has significantly lesser clamping force on your ears than its other counterparts.
BOSE A20 headset also offers Bluetooth connectivity for the pilot during flight.
It is really up to you which headset you pick, but it will be wiser to choose BOSE A20 headset or the David Clark H10-13.4.
There are many other headsets available online, but I would not buy anything other than the two I mentioned.
Map.
A student pilot learns about cross-country flying and makes a navigational flight plan in their ground class.
So without locating the departure airport and destination airfield, it will be impossible to create your flight plan.
You have to check into your local pilot shop for the designated map of your area. Ask your flight training school, and they can suggest something too.
Having a map is crucial for pilot ground classes, and it also helps identify reference points during VFR flights.
VFR Navigation Flight Planner.
Not planning your flight ahead of time can significantly impact your flight safety.
Now I am not saying that you must buy it. Often, flight training schools will provide you with that for free.
Although if you intend to have a bunch of flight planners practices VFR flight planning at home, you can order here >>> VFR Navigation Flight Planner.
Rotating Flight Plotter.
Before going for a cross-country flight, you must have a maritime flight plan.
Although you are a student pilot, it is your responsibility to ensure safety.
Getting lost in the air is a fatal option. So, to create a flight plan for navigation, you need a map.

Similarly, a plotter helps measure the distance between your departure and arrival point with the magnetic heading.
The rotating flight plotter is the best because it is easy and fun to use.
E6B Flight Computer.
Metal E6B flight computers are not used during flight training nowadays.
However, it is instead a helpful gadget for student pilots. It is useful during many incidents of actual flight.
Many students prefer to buy an electronic flight computer, which is the right thing to do today. But during flight training ground classes, you will learn to use a manual E6B flight computer.
So having a metal E6B flight computer is a must. It is also a lot cheaper than an electronic flight computer.
Pilots Logbook.
If you fly all the hours without logging in to a logbook, how are you supposed to keep track of your flying hours?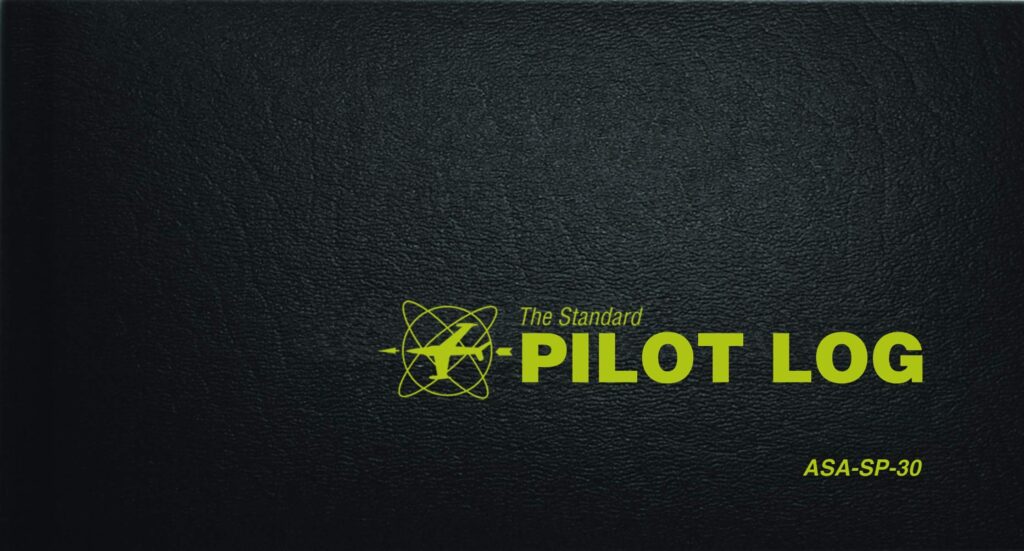 There are no pilots without a logbook. Every pilot has at least one logbook to log all the hours they fly.
You may add more logbooks to your flight kit list as you continue flying and build hundreds of hours.
But first, I can recommend getting one of your first flight logbooks here: ASA Standard pilot log.
There are many choices for logbooks. Choosing one of these standard logbooks by ASA is best for your private pilot training and adequate to log the commercial pilot training hours.
I use this ASA logbook, and it's easier to log flight hours in this logbook than in the more detailed records.
Flight Kneeboard.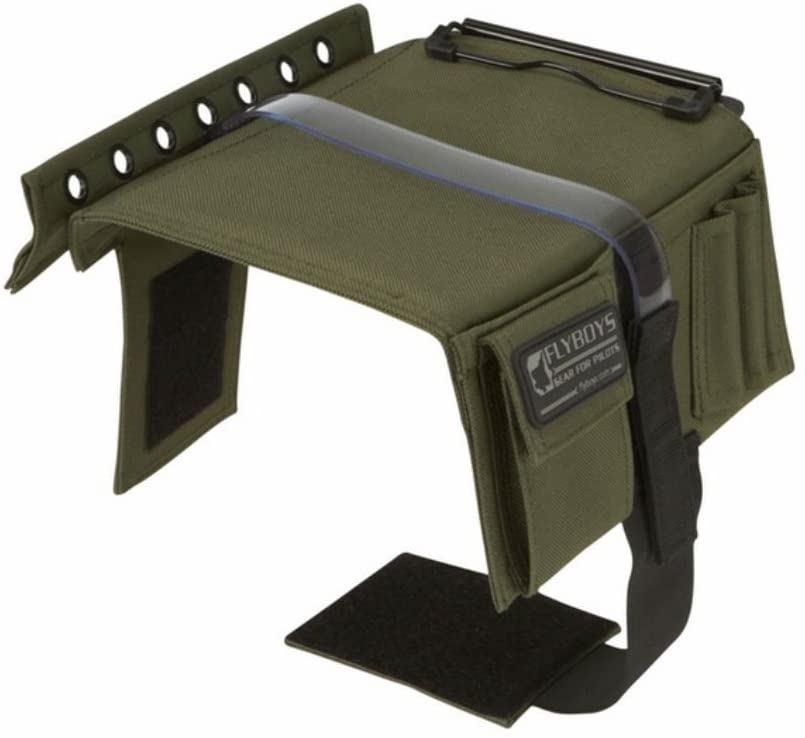 A flight kneeboard is not essential, but some students find it helpful to have a flight kneeboard.
You have to stay aware of so many things simultaneously on the actual flight. You have to stay focused on several things while flying the airplane.
A flight kneeboard eases your multi-tasking capability and contributes to better cockpit management.
An inexpensive option is the Trifold Kneeboard by FLYBOYS.
It has a suitable size to use in all types of cockpits. As well as has plenty of room for your charts and all other papers you need during your actual flight.
You can place your iPad on your knees during your flight training.
Aircraft Fuel Strainer/Tester.
Before each flight, you must test the fuel specifically if it is the day's first flight in that aircraft.
If you do not test for water and contaminants in the fuel, you will be in fatal danger.
So how do you test the fuel? By using an aircraft fuel tester.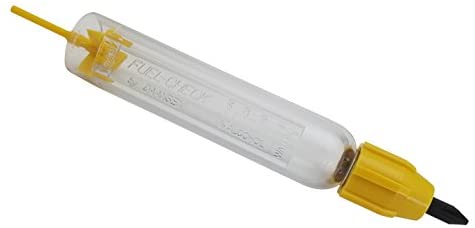 Fuel testers are available in all pilot shops, but Amazon has affordable pricing. Just check the current price here >>> Aircraft Fuel Tester.
It is crucial to test the fuel for contaminants and water. Likewise, check the fuel's color to ensure the aircraft has the proper fuel grade.
iPad.
I guess I do not have to say much about iPads. These days even kids have iPads to play games.
Well, I was not so fortunate when I was young.
However, student pilots can buy an iPad mini to ease their hassle during their flight training.
iPads are a device that can come so handy during your private pilot ground training and your actual flight training in the sky.
An iPad will assist you throughout your entire pilot career, not just for your private pilot training.
Even airline pilots prefer to use an iPad for several purposes. One of the main reasons is the iPad replaced so many paper documents inside the cockpit.
Especially with numerous applications available iStore for pilots of all stages, do not hesitate to invest in an iPad.
Go for it: Best iPad for aviation use if you have the cash.
Aviator Sunglasses.
This one is unnecessary, but I can consider it a bonus choice for student pilots.
You are starting your flight training and getting your first pilot license. It is the right time to invest in an aviator's sunglasses.
Aviator sunglasses are designed for pilots, and hence the name is an aviator.
As you are already becoming a licensed pilot, there is no reason to stop yourself from having a good pair of sunglasses.
You will look stylish with aviator sunglasses.
What are the benefits?
It is necessary to wear sunglasses during hot summer days to protect your eyes inside the open airport.
A good pair of sunglasses will aid you in observing traffic clearly on sunny days.
So grab one for yourself before you start your flight training.
RELATED: Gifts for Pilots.