Flight School Scams | 15 ways to avoid them and find a good flight school.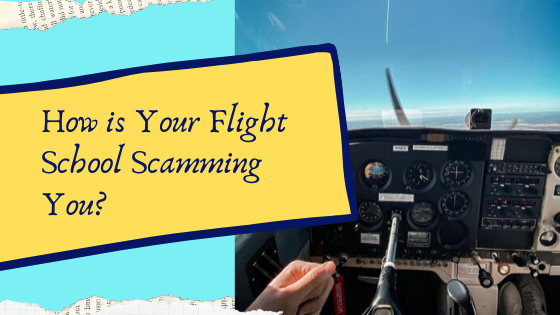 6. Overtraining students on the ground.
Indeed, an intelligent pilot is always learning. However, overtraining student pilots on the ground is not necessary.
A pilot student does not need to learn more than they can absorb. A good flight school will have a structured course that will teach you all the necessary lessons you need to know at your level of flight training.
Learning more than necessary will overwhelm you. As a result, you will forget everything on the actual flight.
The most reliable way to do so is you learn and practice in actual flight.
Overtraining students on the ground can cost you more money. Because if a flight school keeps you in ground classes more than the more you will have to pay.
They may say that your instructor wants you to prepare more for the flight.
Nevertheless, a good flight school will allow you to observe the ground classes of another batch to review your lessons.
So a good flight school will never ask you to pay extra for overtraining.
A good flight school will have friendly instructors who willingly help you and try to share their knowledge from their experiences without you having to pay.
7. Does the school has qualified instructors?
I have mentioned earlier that a good flight instructor will happily share their knowledge and guide you more without paying extra.
A good flight school has experienced flight instructors.
It is a fact that flight instructors often fly to strengthen more hours to step up their careers.
They are here to fly to apply for an airline with sufficient hours to fulfill airline requirements.
Although most flight instructors work in a flight school to build up their hours, some are willing to be good teachers or mentors.
A good flight school will have well-trained, friendly flight instructors.
Good flight instructors will do their best to build a good pilot.
A good flight instructor will be friendly and teach you excellent flying techniques, whether young or old.
So if you believe the flight school has knowledgeable flight instructors who can help you grow your flying skills, take the opportunity to fly in that flight school.
8. Are you going to flights merely for building hours?
It is similar to not having good flight instructors. A good flight instructor will not only fly with you to build hours.
If your flight instructor is always taking you on long cross-country flights and not teaching you anything, it is possible to change your flight instructor.
If you cannot change your flight instructor, it is time to change your flight school.
Going on long flights only to build hours without learning a thing is not beneficial for you.
It signifies that your instructor is flying with you only to fill his logbook and pocket.
It is not exactly a flight school scam but more of an instructor's fault.
However, if you do not like the flight instructor, you can complain to your flight dispatcher or talk to the chief flight instructor regarding this issue.
In a good flight school, the chief flight instructor will take note of that and take action.
You are investing your money and time for a bigger goal, which must be worth your time and money.
9. Is the training institute emphasizing accelerated flight training?
Another way a flight school will try to scam you is by saying that they can enroll you for a quickened flight training if you pay them for the whole package.
It is seldom possible to have accelerated flight training due to numerous factors.
Due to the factors I have mentioned earlier; no one can complete their flight training in an accelerated course.
Asking you to pay for the whole course at once and promising you that you will complete 50 hours of flying time within a month is a lie.
Flight training relies on many factors and not just only money.
Enrolling in an accelerated flight training course is not the best idea. It is just a way for flight schools to get your money at once.
10. Steep cancellation procedure.
Suppose you have paid for your private pilot licensing course all at once, expecting to acquire your license quicker.
Nevertheless, you are unsatisfied with the flight training and want to change your flight school.
NOW
You want to change the flight school and refund what you paid only to realize there is no cancellation policy in the flight school.
It is more common than you may know. Many students sign the contract in flight schools without reading the contract paper correctly.
Interested pilot trainees sign a contract with flight schools out of the excitement of flying and never read the agreement.
Many flight schools have no refund policy, and some may have a cancellation fee.
Read the contract and check whether they have a cancellation policy or not.
A good flight school will have a cancellation policy. You may have to pay a small cancellation fee and get a full refund of your remaining balance from your school account.