How to choose a flight school?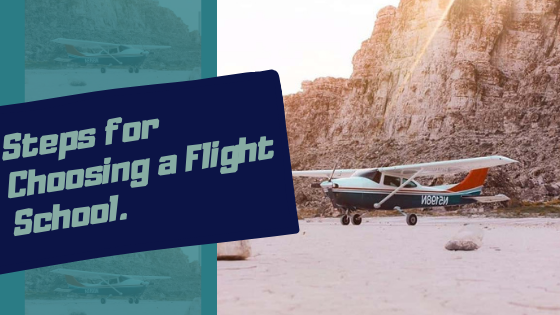 Choosing the right flight school will allow you to reach your aviation goal sooner and save you a lot of money in the long run.
According to your aviation goal, ideas from actual professional pilots and their experience can help you find the best flight school.
In this article, I have shared my idea of the right flight school and a list of things to consider before signing up for a flight school.
After reading this article, you can make your guide to figure out the most suitable flight school for yourself and your flying career.
How to find the right flight school that will help you grow as a better pilot?
Choosing a flight school must depend on two factors:
How fast do you want to finish your flight training and have your commercial pilot license?
OR do you have enough time to take your pilot training course slowly?
The above two points are the most important.
Answer the two questions above and then move on to the article's next section.
In the article's next section, I listed ten things you must do before picking a flight school for your training.
The top 10 steps will help you decide where to start your flight training.
And that depends on how fast you want to complete your flight training course.
Step 1: Create a list of your flight schools.
It is the 21st century, and creating a list of flight schools is easier than ever.
All the flight schools have their websites and information available online.
So make a list of flight schools that you think are good, and at least the information seems legit online.
I prefer to go to one website to find a flight school list: Bestaviation.net.
Go to this website, choose from hundreds of flight schools enlisted there, and figure out which looks like a good one.
Create this list and move on to the next step.
Step 2: Location of flight school.
Now that you have already created a list of flight schools, it is time you decide where you want to go for your flight training.
Do you want to go abroad?
Or do you want to stay in your country?
OR do you want to stay near your current residence?
If you are willing to go abroad for your flight training, consider counting some extra money for your accommodation in a foreign land.
Staying in a foreign land to train as a full-time student pilot will require more money added to your flight training cost.
You must count extra for rent, food, and other expenses.
Another thing to consider is:
Choosing to train at your local airport, despite the weather in your local vicinity, is not always flyable; it is not a good option.
You will get fewer flying hours and might require more flying hours in the long run to achieve your licenses.
So, in that case, you may save money by staying in your comfort, but not being able to fly often will result in repeating lessons in your flight training.
If you have a gap of 1-2 weeks between each flight, you will likely forget your lessons and have to repeat your flying lessons.
That will cause you to fly extra hours and cost you more money.
SO decide at which location you want to train as a pilot carefully.
Whether you want to train in a controlled or uncontrolled airport is also a factor.
Flying in a controlled airport will sharpen your skills. YOu will have to operate and communicate with the tower and understand the responsibility of flying in a busy airport.
The location of your flight school's aerial operations is a factor.
Secondly, the geolocation of the commercial pilot school can alter the time you spend on pilot training. If the weather in your flight school's area is often adverse or gloomy, you will usually have training flights canceled.
Student pilots have restrictions in flying into bad weather. It is crucial to choose a flight school in a location where the weather is good, at least for 11 months a year.
If the commercial pilot school is in an area that snows for two months and has low visibility conditions for six months, you can expect to delay your pilot training.
You will waste years only getting your commercial pilot license in a location like that.
Step 3: Total anticipated flight training cost.
You have filtered out some schools from your initial list due to location. Now you can check and compare the course prices.
Check their website online and compare the prices they are advertising.
Check the price of the commercial pilot license course for each school.
Compare the prices with each other. You will be surprised to see the different rates in various schools.
Some flight school rents their airplane cheaper than others.
In some schools, the ground schooling cost may be less, and in other schools, hiring flight instructors with cheaper hourly fees is possible.
Picking an inexpensive flight school with quality flight training will help you.
Step 4: Contact the flight schools.
Once you have chosen a few flight schools, you can finally send them e-mails.
Contact them and ask them for further details.
Ask them how long the school has been in operation and about their safety records.
Most importantly, it would help if you asked about the duration of the flight training course in their school on average.
How many students do they currently have, and when can you start training?
The school will reply to your mail.
You need to know when to sign up and start your ground classes.
If it is a school abroad, inquire about the visa and visa application procedure.
How is the school going to support you in getting your visa?
Do they provide accommodation for international students?
Know all these and then, if possible, schedule a date to visit the hangar of that flight school.
Step 5: Visit the flight school hangar.
After you have scheduled a date to visit a flight school, it is time for you to ask for even more details about the school.
You can ask things such as:
How many students do they currently have;
How many flight instructors do they have;
How many aircraft are available for flight training;
Are there any students from the school presently working as a flight instructor there;
Which airlines have hired the previous student pilots of this flight school;
What is the payment method? Do you need to pay all at once, or can you pay in installments;
Do they plan to expand their flight school to a different location?
As you are already in flight school, you can ask all the questions before signing up for a school.
The right flight school will happily answer all your queries.
If possible, try to talk to the owner of the flight school.
Step 6: Airplane-to-student ratio.
You have already asked the flight school the number of flyable aircraft they have, and you can now figure out how often you will get to fly in that school as a student pilot.
Because if a flight school has only two airplanes and has 20 students, inevitably, you will not fly often.
If one aircraft is grounded for some reason, all these 20 students will be waiting to fly in the same airplane.
Twenty students getting flight schedules for only one aircraft will delay your flight training.
Even with two aircraft, it is challenging for flight schools to accommodate twenty students and complete their flight training courses on time.
Usually, one aircraft for five students is a good ratio.
However, this is not a common practice for flight schools. Hence, it is impossible to complete your flight training course in time.
No matter how much a flight school promises that you will complete your flight training within a specified period, that is not always the case.
The reason for that is not always the aircraft-to-pilot ratio. Other factors like weather as well cause your flight training to delay.
A commercial pilot school without airworthy aircraft delays training.
Choosing a commercial pilot school that doesn't have adequate aircraft in its fleet in coordination with the number of students then causes your pilot training to be delayed.
Weeks will pass, waiting for your turn to get a flight schedule if the school has to accommodate numerous students in a limited number of airplanes for flight training.
Step 7: Talk to other hangars about the flight school's reputation.
You can visit other hangars as you are already there at the airport.
Visit the other hangars near your chosen flight school and talk to people there.
They can tell you a lot about the flight school's reputation.
And other characters from various hangars do not have any motive for lying to you about anything.
Unless an individual is affiliated with a flight school, the person has no reason to lie to you.
They will tell you all the truth, and they will tell you things you need to know.
If the flight school has inadequate safety records, the people from different hangars will tell you without hesitation.
The flight school may not want to share things with new student pilots.
These things you can only know from other people.
Usually, most companies have all the latest news about other hangars in general aviation.
Unlike in airlines and the airport terminal area, news in the general aviation sector spread quickly.
Step 8: Talk to the current students of the flight school.
There is some news that you can only know from the current student pilots of the flight school.
Current students are the ones who can tell you about the quality of the flight training in the school.
They can share their happening in the school, whether it is a good or bad experience.
If the flight instructors are not teaching well, the existing students will tell you that.
Is the flight school trying to scam you?
If you are not enrolled there, you will not know the secrets only these student pilots can tell you.
Listen to them and take their suggestions about other schools in the local airport.
Bonus Step: Ask the flight school if they are affiliated with airlines.
Some flight schools have contracts with some airlines and refer fresh commercial pilots straight to the airlines.
Ask the flight school administration, including the current students, about the previous student pilots working now.
After graduation, which significant airlines have hired student pilots from this flight school?
You ought to know whether you have equal opportunity or not.
Does this flight school place a job guarantee?
You ought to know whether you have equal opportunity or not.
Does this flight school place a job guarantee?
Will they assist you in any way to land your first job?
Know all the details before you enroll in a flight school.
You may feel overwhelmed about how to choose a flight school. But remember funding your flight training is one of the most significant investments you will ever make.
Flight training is expensive. So you do not want to spend your money without proper inquiry first.
Many students quit aviation or struggle so much because they chose the wrong flight school.
I do not want that to happen to anyone. Hence I have shared the steps for how to choose a flight school.
Choosing the right flight school will make or break your career.
RESOURCES: