How many years for a pilot course in the Philippines?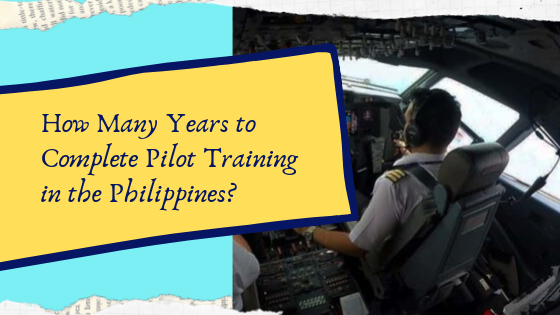 Unlike most other courses, the flight training course, also known as the pilot training course, requires lesser time. Similarly, there are techniques that you can implement to land your first airliner job sooner.
This article will guide you on how to complete your pilot course in the Philippines faster and get hired sooner.
There are various reasons why many pilots delay their course. It might be for personal reasons or due to flight school scams.
Reading this article will not guarantee you a job. But there is a critical takeaway from this article:
From this article, you will know the techniques of how not to get held in the pilot training course longer than usual.
How many years does it take to become a pilot?
Becoming a commercial airline pilot is not as easy as it sounds.
Can you imagine a profession that one can be successful in only a year? Is there any college course that prepares individuals for a line of work in just a year? I bet not.
Likewise, the pilot course duration is not as short as many anticipate. The years it takes to become a commercial airline pilot vary and depends on the individuals taking the course.
Some are dedicated to finishing earlier than others. However, not everyone can consistently achieve their goals in a short period.
To understand how many years a student pilot takes to become a commercial airline pilot, you must first acknowledge the steps of becoming a pilot.
What are the steps before becoming a commercial airline pilot?
A student must get a private pilot license first.
Next, the private pilot has to build enough hours to apply for a commercial pilot license. The hour requirements for a commercial pilot license vary depending on the Location Civil Aviation body. A private pilot can apply for a commercial pilot license with barely 150 hours in the Philippines. But in India, DGCA requires pilots to fly at least 220 hours before applying for a commercial pilot license.
After getting a commercial pilot license, you must get your Instrument rating. Instrument rating prepares a pilot to fly in low visibility conditions;
Then you have to do your type rating to work in the airlines. Type rating trains a pilot to fly a specific airliner safely.
Accomplishing all the licenses and ratings will prepare you for your first airliner job.
Typically acquiring all these licenses and the ratings will take around three to four years. You can fly in an airliner cockpit within three to four years as a commercial pilot.
Nevertheless, the path is not the same for everyone.
Numerous pilots take a break after receiving a private pilot license. These pilots might go back to flying again after two years. For such individuals, the pilot course duration differs from dedicated aspiring pilots.
From the beginning of pilot training, students can become commercial airline pilots within four years. One can become a pilot in less than four years with effort and devotion.
But let's make the condition a bit more complicated.
What if there are no available jobs for pilots? The journey is not always as simple as it sounds.
Unfortunately, many pilots do not get an airline job after they finish their commercial pilot training and instrument rating.
To get an airline job, unemployed commercial pilots spend money either for hour building or for a type rating.
They spend money in the hope of landing a job quickly.
Not all airlines will hire pilots with a new commercial pilot license and the minimum hours they have.
Pilot opportunities for seizing a job become higher if they have more flying hours and possibly a type rating.
So I will break down how many years of school it takes to become a pilot and the possible duration of becoming a captain to the first officer.
The duration of the pilot course mentioned below is subjective to a full-time student:
Private pilot license: Three to four months;
From Private to Commercial pilot license: Nine months to one year.
Instrument rating duration: Two months.
Total time to get a commercial pilot license with an Instrument Rating:
4 months + 12 months + 2 months = 18 months.
On average, you can become a commercial pilot with an instrument rating in one year and six months.
The duration I mentioned here is the maximum duration one might need. Finishing commercial pilot training quicker than one year and six months is possible.
To become an airline pilot in countries like the Philippines, India, Maldives, Nigeria, and the Middle East, pilots need to pay for their type rating.
Thus you have to consider the time for your training on type. Such as the type rating for Boeing 737.
It will take another three months at least to become type rated pilot. I am considering the maximum time required.
So add another three months after you complete your duration of the pilot course in a flight school.
Not all pilots choose to do a type rating. Many pilots prefer to build flying hours before applying to airlines.
All commercial pilots must have at least 1500 hours of flying time in the United States before applying to an airline.
That's the minimum requirement.
Building 1500 hours is not an easy task for pilots. It takes two years from the time you get your commercial pilot license to make 1500 hours.
How to build 1500 hours in two years?
Usually, pilots work as:
Unlike the United States, in Asian and African countries, such as:
Philippines;
India;
Indonesia;
Maldives;
Nepal;
Egypt;
Nigeria;
Morocco;
Oman;
Pilots can apply to airlines within a mere 500 hours. So building 500 hours of flying time will take lesser time than making 1500 hours.
RELATED: How to get flight hours as a pilot?
How long does it take to become a captain from the first officer in an airline?
There is no precise answer to this question as the regulation varies from airline to airline.
In some airlines, one can become a captain in two years, and in another, it may take five years to become a captain.
Promoting a pilot from the first officer to a captain depends on multiple factors:
Sometimes airlines give a higher position to their first officers after they fly thousands of hours on a specific airliner;
Similarly, first officers get promotions if they have excellent performance in the cockpit;
Many airlines decide to promote first officers to captains because they do not have enough pilots in the company. Thus they recruit new pilots and advance senior first officers as captains.
But these are only some examples. Numerous factors decide whether a first officer is ready to take the responsibility of the captain or not.
What is the completion period of the pilot training course in the Philippines?
To become a pilot, aviation enthusiasts mostly prefer going to flight training institutes for a shorter completion period.
Flight training schools in the Philippines will always promise that a student can get a private pilot license, Commercial pilot license with an instrument rating in 14 to 16 months.
In reality, they are not lying about it. A full-time student can undoubtedly finish pilot training in a flight school within a year.
The completion period varies depending on an individual student's potential. On the other hand, the weather is also a factor to consider.
Not allowing student pilots to fly in hazardous weather conditions to ensure safety and prevent fatality is typical in flight schools.
On the contrary, if you enroll in a graduate course offered by several universities in the Philippines, The completion period for that will be a minimum of 4 years.
It is up to the trainee which institution to choose to become a pilot. I always suggest aspiring pilots choose the flying club or flight school path.
From my experience, I can say that completing flight training in the shortest time is vital for landing a job sooner in airlines.
When recruiting pilots, any airline prefers younger pilots who will stay with the airline for longer.
I am not saying universities are not excelling at building pilots. I believe it is unnecessary to wait four years to get all the pilot licenses.
Because the faster you complete your studies, the sooner you get a job.
My opinion is this:
If you are willing to be a pilot and work hard towards your goal, you will land a job in an airline regardless of being a graduate.
By saying working hard towards your goal, I meant that as a trainee pilot, you would study hard and pass all the exams sooner.
Having complete focus during your flights;
Before every flight, consider all the challenges you may face and prepare for that;
It would be best if you took note of all the mistakes you made during your last flight;
And correcting all your errors on your next flight.
If you follow these simple steps and instructions from your flight instructors in no time, you will become a good pilot.
However, always remember an intelligent pilot is always learning. Flying is fun and comes with a big responsibility.
If you know what you are doing during your flights, you will learn quicker, and flying an airplane will seem very simple.
You will be more comfortable with the aircraft control and will not be fatigued after your flight. As a result, you will enable yourself to fly more often every week.
If you can fly more often than most students, you will be able to finish your flying hours quicker than others.
During the early stages of flight training, it is pervasive to be stressed.
Because the student is unaware of the environment they are flying, failure to utilize all the provided instruments will cause extra pressure.
These things occur due to a lack of knowledge and not studying enough.
Or you are not revising to correct your mistakes from your previous flights.
As I have mentioned earlier, feeling overwhelmed by operating an airplane in the air is typical for new pilot students.
And in case you are not well prepared, you will feel drained out of energy every time after the flight.
Flying an airplane is an enjoyable experience.
However, you must be prepared and consider the following steps during your flight.
Failure to multi-task can be another reason for pressure during training.
That is why it is also essential to study the weather. It would help if you prepared yourself for the weather you may encounter during your flight.
Following the instructions above will help you become less stressed on the flight.
Preparing on the ground beforehand is better than stress in the sky. These above techniques are the very few of them that can help you accelerate your flight course duration.
What is the duration of the pilot course in the Philippines: International students VS Local Students?
While you are an international student, expect it will take a little longer to complete your pilot course in the Philippines.
Because as an international student, to become a pilot here, you will have to wait a little longer for documentation.
Such as, you may have to wait for your Special Study Permit, NBI clearance, etc., before starting.
On the other hand, local students do not have issues with visas or NBI clearance.
Therefore local students can start ground classes and flight training before international students.
If you are an international student, starting your flight training course may take a few weeks longer than for local students.
Other factors that may result in a more extended completion period:
Regardless of an international student or a local student, to become a pilot, you need an ample amount of cash.
It may take a little longer to finish your course if you do not have all the cash.
Usually, during your flight training course, you will pay as you fly. However, some school has a different set of rules for international students and local students.
Many schools do not allow international students to pay as they fly. Unlike the local Filipino students, they can pay as they pass.
International students are often required to pay in 3 to 4 installments.
But the point here is regardless of how you pay:
If you delay paying the flight training school, the school will stop scheduling training flights for you.
NOW:
Getting distracted in the Philippines is very common for foreign student pilots.
Mainly international students here in the Philippines like to go out swimming, have a day out on the beach, travel to different islands, and hang out with new friends they make in bars, which causes them to linger in their pilot training here.
If international students can stay away from distractions and only focus on completing the course in the shortest possible time, the pilot training course can finish within twelve months.
If you have the cash in hand and the motivation, then go for it. Start your pilot training course in a flight school now.
In a period of twelve months to sixteen months, you can have a Commercial pilot license with an instrument rating.
Sixteen months is adequate to fly 200 hours of flight time if you have the dedication.
RESOURCES: