The only books you need to become a brilliant private pilot.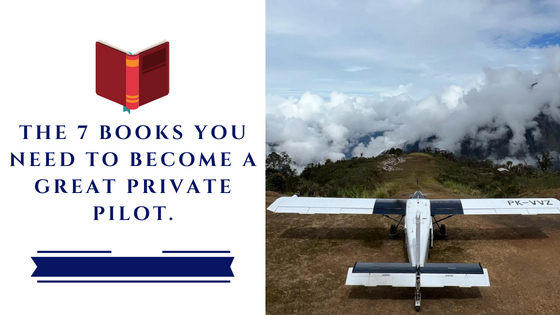 Student pilots are mainly on a budget and can't spend on private pilot license books they don't need. Buying books with fancy hardcovers and not reading them is common among student pilots.
Every time you see books on the shelf of a pilot store, you decide to become a fantastic private pilot and want engaging books to acquire knowledge.
You don't need to study hundreds of pages to become great at something. If you grasp everything from what a book reveals, only a few books are enough to become good at your job.
Nonetheless, I listed books that would genuinely help your training and flying.
So, what category of books do you need to become a superb private pilot?
Comprehensive books in transparent language;
Engaging books to capture readers' attention without being tedious;
A book containing lots of illustrations and images for the explanation.
For those who have a hard time focusing for an extended time, the first two books in this least would help.
Which books do you need for private pilot license training?
There are countless books for private pilot training from different authors and publishers. However, I shared seven books from various authors in this post to create the most suitable list for student pilots to obtain a private pilot license.
Each book is necessary to improve in different stages of private pilot training. You can purchase all seven books at once or buy them in order as you progress towards a private pilot license.
All these books are acceptable for pilot training in the United States and Globally.
1. Private Pilot Handbook by Rod Machado.
The Private pilot handbook is the first book you must buy to become a private pilot.
You'll get an introduction to the fundamental of aeronautics from this book. Without studying an aeronautical handbook, you shall not begin your flight training.
You may acquire knowledge from an online PPL ground school and get an endorsement for the FAA private pilot knowledge test, but reading a book makes facts more rational.
You may pass your FAA private pilot knowledge test by taking an online ground school, but a private pilot handbook will further boost your aviation knowledge.
Rod Macahdo did an excellent job of using humor and transparent language to discuss topics in this book.
If you intend to become a competent pilot, there is no better option than reading books and applying in actual flying.
What is the alternative to the private pilot handbook?
The most popular alternative to Rod Machado's private pilot handbook is Pilot's Handbook of Aeronautical Knowledge (PHAK).
The PHAK is an excellent book for student pilots. However, this book lacks all the detailed facts to become a competent pilot.
A pilot continuously learns throughout his entire career. Thus to become better at your job, you need to acquire information from a sound source.
2. How to fly an airplane handbook.
Every student pilot has difficulty controlling the airplane at the beginning of flight training.
The worst part is when a student pilot struggles to descend and maintain the centerline while steadily landing the aircraft.
A student pilot doesn't know the simple tricks to operate an airplane smoothly.
In the How to fly an airplane handbook, you'll find many simple yet helpful pieces of advice to operate smooth flights.
A flight instructor doesn't always remember every necessary information to share with student pilots during flight training. I don't blame flight instructors for doing so because student pilots are also responsible for learning from different sources.
Therefore, reading and learning from a book like this can drastically enhance your flight performance.
Imagine learning everything from your flight instructor; you can't be further from the truth.
Your flight instructor may be an excellent pilot but doesn't have the moment or patience to teach each trick during a flight.
In the How to fly an airplane handbook, you can learn all the details about operating an airplane. You'll identify why the aircraft behaved as it did on your last flight and how to prevent it from happening the next time.
A flight instructor may think sharing a piece of information is unworthy, but the author of this book generously shared everything.
After reading this book, your flight performance will improve, and you'll readily get your first solo flight. As a result, you would be ready to get your PPL before many others.
What is the alternative to the How to fly an airplane handbook?
Yet again, the best alternative book to learn practical flying is the Airplane Flying Handbook from FAA.
You can find the airplane flying handbook on Amazon. The book is inexpensive in contrast to the How to fly an airplane handbook.
The airplane flying handbook by FAA is in comprehensive language, but this book contains significantly less content than the first choice.
3. FAR/AIM.
FAR/AIM stands for: Federal Aviation Regulations/Aeronautical Information Manual.
As a pilot, you must know the aviation regulations to maintain a safe flight.
The FAR/AIM contains all the rules and regulations for flying in American airspace. Thus it's an essential book for all pilots operating in the USA.
Pilots flying in other countries must refer to their respective Civil Aviation regulation books. Though Federal aviation regulation is the mother of almost all civil aviation regulations, it's best to refer to individual regulations to avoid treacherous situations.
Following improper regulations can jeopardize the safety of your flight. However, having this book is a must if you're operating in the United States.
This book also has all the Aeronautical Information required to fly and operate in various airports in the USA.
Having all this information in your spare is critical at times.
4. Gleim private pilot knowledge test prep.
You must pass the FAA private pilot knowledge test to obtain a private pilot license. It's a straightforward exam that checks your knowledge of aeronautics.
You could answer all the questions by studying the books I mentioned above.
The challenge most student pilots face during the exam is answering all sixty questions in the given period.
RELATED: How hard is the private pilot knowledge test?
Many PART 61 student pilots take flying as a hobby and encounter a theory exam after a long time. Student pilots who have already forgotten the sense of taking a written exam must practice ahead of time.
To experience the feeling of taking the MCQ exam, you need a Private pilot knowledge test prep.
The book has hundreds of questions on aeronautical subjects and prepares you for the exam.
Nevertheless, I recommend all student pilots practice using this book to further instill the knowledge in their brains.
Study this book like you are taking a mock test and look for the correct information on the right column of the book to understand why an answer is wrong. That way, the facts would get drilled into your brain.
What issues may you face without studying this book?
Many student pilots underestimate the use of a knowledge test prep before the exam. Without practicing this book, the student pilots have no clue of what they will see in the written exam.
Even though they study the Private pilot handbook and have the intellect, they fail to process the correct answer within the limited time.
In this situation, student pilots become more confused and answer incorrectly. As a result, many student pilots fail the private pilot knowledge test.
What are the alternatives to Gleim's private pilot knowledge test prep?
There are many alternatives to practice for the private pilot knowledge test. Free and paid practice tools are available online, similar to the FAA private pilot knowledge test.
However, the best alternative to Gleim's knowledge test prep is a test prep book from ASA. It's an excellent alternative to preparing for the private pilot knowledge test.
RELATED: Best private pilot knowledge test preps.
5. Oral exam Guide by ASA.
To pass a private pilot knowledge test, you need a test prep to practice the questions and answers. An oral exam guide functions similarly to preparing for the checkride oral exam.
The purpose of studying an oral exam guide is to familiarize yourself with the questions designated pilot examiners (DPE) typically ask.
After reading this book, you'll know what to expect on your checkride oral exam and how to answer them briefly to make the grade.
At this stage of private pilot training, a student pilot knows most of the information but explaining it to an examiner in an organized way makes all the difference.
What issues may you face without this book?
This book is essential to pass your private pilot checkride. If you can't meet your Designated pilot examiner's high hopes, you'll fail the checkride.
As a result, you must wait until you're ready to re-take the checkride and obtain a private pilot license will be delayed.
6. ACS – Airman Certification Standards.
The ACS is a must-have book to prepare for the private pilot checkride. The Designated pilot examiner would ask you to demonstrate different flight maneuvers during your practical exam.
The designated pilot examiner will examine your performance.
It's essential to know all the basic maneuvers and perform them precisely to satisfy the DPE.
The DPE's priority is to ensure you're well experienced in performing maneuvers and conducting safe flights.
The ACS gives you the big picture of what to expect and perform in your practical exam for a private pilot license.
What issues may you encounter without this book?
Without this book, you would not know the basic standards for becoming a private pilot. Naturally, you would stick to knowing what you learned only from your flight instructor. So, to have an overview of the airman certification principles, you must go through this book.
7. Pilot Weather.
Weather is a crucial aspect of flying. Yet, many VFR pilots don't realize the need to understand the weather. Private pilots may think understanding the weather is explicitly for IFR pilots only. This ignorance can lead to a catastrophe for pilots.
There is a book about aviation weather and rarely do private pilots consider reading this book.
Reading this book would keep private pilots out of danger.
Imagine you take off one day, and before you know it, the weather changes. What would you do in this situation?
I know private pilots train to avoid adverse weather. Remember this: weather is unpredictable, and a lot happens in nature surrounding us.
If you read this book, you'll learn precisely when and how to prevent exposure to adverse weather and perhaps even save your life.
Despite having experienced pilots in the cockpit, many airliners had fatalities only because of bad weather.
Indeed, IFR pilots must learn about aviation weather and decipher weather reports and forecasts.
It's not any less critical for a VFR pilot to predict the weather and how the airplane would react in such weather.
Pilot Weather is a meteorology book explicitly published for pilots to become great at their profession.
Both meteorology and aviation are fascinating subjects, and this book is a must-read for all pilots regardless of their stage of training.
What issues may you face without reading this book?
A seasonal private pilot who flies once in a while and selects the best weather for flying may not need this book. However, a pilot that flies regularly or private pilot building hours to become a commercial pilot undoubtedly needs this book.
Without knowledge of weather and wildly predicting the weather can be fatal for you and your passengers.
This book is to help all pilots, from students to professional airline pilots.
What are the alternatives to Pilot Weather?
There is a popular book among pilots about aviation weather. It's the Weather Flying. It talks about the journey of a pilot and shares his experience flying in various weather.
Though the book is an excellent read, many materials in that book are irrelevant today.
In this age, advanced technology makes many things more manageable, and Weather Flying is not the best book to refer to if you want to become a great pilot.
Yet, if you have the time and want to look at this book, you can find it in any pilot store.
Image Source: flythetail via Instagram.