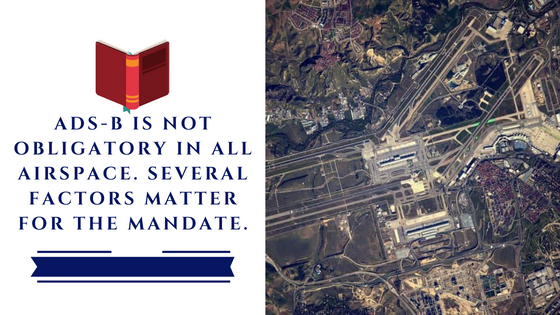 ADS-B has become the standard for aircraft surveillance globally. It offers numerous advantages when compared to standard radar-based airspace surveillance.
Accordingly, most regions with heavy air traffic already mandate ADS-B or are in the process of phasing it in.
What ADS-B is and how it works is best understood by unpacking the different components of the acronym:
ADS-B stands for:
Automatic – The system is automated because it requires no pilot input or external interrogation.
Dependent – The system depends on positional information and other data from onboard GPS and navigational equipment.
Surveillance – The system provides 3-D position, flight ID, and other information to enable real-time airspace surveillance.
Broadcast – The system continually broadcasts information to ground stations and nearby aircraft equipped to receive that information.
Undoubtedly, ADS-B vastly improves the situational awareness of ATC and pilots, particularly in remote regions where radar coverage is inadequate.
This improved real-time awareness of the air traffic situation has benefits both from a safety and efficiency perspective.
ADS-B requirements vary from region to region.
Nevertheless, there is a general trend toward ADS-B becoming a universal requirement in all airspace regions—particularly those with high traffic levels.
In the following, we discuss regional ADS-B requirements around the globe in more detail.
This list of mandates is current as of 2022. Please note that this list is not exhaustive and only covers some airspace regions.
You should consult the official documentation if your region of interest is irrelevant to this post. 
United States
All 48 contiguous states now require ADS-B when operating inside controlled airspace or above Flight Level 100. This mandate excludes airspace within 2,500 ft Above Ground Level.
Furthermore, ADS-B is required at or below Flight Level 100 when operating in type B or C airspace or within 12 nautical miles of the Gulf of Mexico coastline at or above 3,000 ft Mean Sea Level.
Non-contiguous US states or territories, specifically Alaska, Hawaii, Puerto Rico, and the US Virgin Islands, have different requirements.
ADS-B is mandatory at or above Flight Level 180. At or below Flight Level 100, ADS-B is required when operating in class B or class C airspace or within 12 nautical miles of the coastline. Class E requirements do not apply to those areas.
ADS-B has been a requirement for flights in US airspace as of January 1, 2020.
Nevertheless, the FAA grants exemptions to some flights not equipped with ADS-B within a specified framework.
Europe
ADS-B is mandatory for all IFR flights for an MTOW of 5700 kg and above, likewise, for aircraft with a max cruising true airspeed (TAS) greater than 250 knots.
For the remainder of the present transitional phase—which ends on June 7, 2023—exemptions to the mandate can be made if the case is in line with a specified framework.
Canada
From August 10, 2023, all flights within Canadian Domestic Class A airspace—essentially all domestic flights at or above Flight Level 180—will be required to have ADS-B.
From May 16, 2024, and onwards the mandate will extend to include all domestic class A and class B airspace—essentially all domestic airspace at or above Flight Level 125. From 2026, the commission will extend to class C, D, and E airspace.
Australia
ADS-B is mandatory for all IFR flights at all flight levels over mainland Australia and nearby airways.
Hong Kong
ADS-B is obligatory for all operations above Flight Level 285.
China
ADS-B is required for operations at or above Flight Level 290 in the following Urumqi CTA sectors: ZWWWAR02, ZWWWAR03, ZWWWAR05 and ZWWWAR06
India
ADS-B is compulsory for operations at or above Flight Level 285 on Air Traffic Service routes over continental India with the following designations: L, M, N, P, Q, T, as well as routes A201, A347, A465, A474, A791, B211, B466, G450, R457, R460, R461, W15, W19, W20, W29, W41, W43, W45, W47, W56S/N, W67, W111, W112, W114, W115, W118, W153.
United Arab Emirates
ADS-B is obligatory in the UAE FIR for all IFR flights. 
Taiwan
ADS-B is mandatory for all flights operating at or above Flight Level 290 within the Taipei FIR.
Sources:
● Davidson, J. (2022, October 6). ADS-B update 2022 – Where Are We Now. Universal® Operational Insight Blog. Retrieved November 21, 2022, from https://www.universalweather.com/blog/ads-b-update-2022/