Find a suitable ADS-B receiver for your flight needs. Compare the best 5 for features.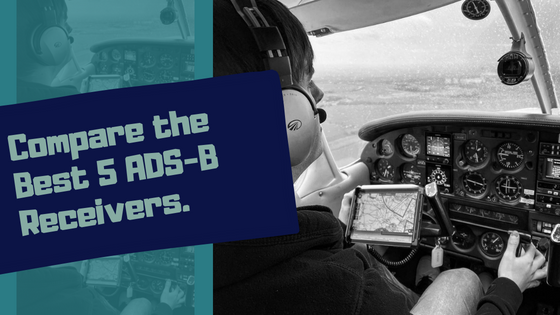 Unlike ADS-B Out, ADS-B In receivers are not mandatory by law. Nevertheless, there is a long list of reasons for having ADS-B In receiver.
ADS-B In receivers give you subscription-free access to timely and accurate weather and traffic reports.
The situational awareness that can be achieved by pilots when pairing a simple iPad and an off-the-shelf ADS-B In solution is incredible, and aviation experts claim it as "game-changing."
Greater situational awareness translates to more excellent safety.
It isn't just pilot banter and shop talk—a 2019 study by AOPA found that flights equipped with ADS-B In had a 50 percent lower accident rate and an 89 percent lower fatal accident rate.
Yes, the numbers are in, and ADS-B receivers are lifesavers—literally.
Pair that with low prices, plug-and-play integration with iPads and tablets, and easy-to-use flight apps make everyone a winner.
Like all piloting peripherals, there is considerable variation in the ADS-B receiver market.
Although this is undoubtedly a good thing, it can leave first-time buyers needing help as ADS-B receivers vary in many respects, including features, app compatibility, durability, battery life, size, and price.
To help you understand the jumble of products, we have put together our list of what we believe are the best ADS-B receivers out there today.
All of the products on our list get the job done, yet they still vary in several important respects and are suited for different flying styles, budgets, and requirements.
When putting together our list, we made choices regarding each product's overall balance of features, build quality, and cost.
We also considered customer ratings and reviews to understand better what pilots in the field had to say about each product.
So, here they are:
Foreflight Sentry – 599 USD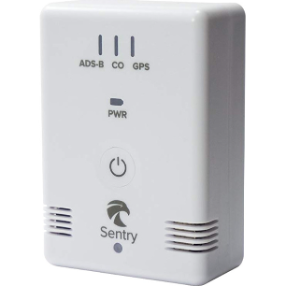 Sitting halfway between the Mini and the Plus, the Sentry is second in line after the Mini in the Foreflight line.
Given that the Mini is a budget product, whereas the Plus is the flagship of the Foreflight line, this product should be a compromise between budget and premium features.
Nevertheless, and for all senses and purposes, the Sentry is a premium product in every respect.
The Foreflight Sentry ships with a spacious and stylish case which is perfect for pilot use and fits all of the components of the Sentry; additionally, it leaves room for you to pack in some other flying essentials. The suction cup mount is the same as that used in other Foreflight products and has a solid reputation for being reliable and secure.
Like its smaller cousin, the Sentry Mini, the original Sentry is also light, compact, and can fit snugly in any flight bag.
Although it is limited to the Foreflight app, its interface is exceptionally user-friendly. All you have to do is switch it on, and it will connect to your iPad via Bluetooth on its own.
Like other top-tier ADS-B In solutions, the Sentry brings premium features such as AHRS and CO detection to the table.
The CO detector is common sense from a safety perspective, and the AHRS is also neat.
The Sentry's AHRS readings get compliments for being very accurate. The AHRS display on your iPad changes your setup into a glass cockpit.
Although you should never use it as a primary reference, it is of value as a backup reference, particularly for IFR flights.
The integrated battery of the Sentry is undoubtedly first-rate.
The manufacturer claims it will give you 12 hours of flying time, which is more than enough for most piloting uses.
Conveniently for many, the receiver charges through a USB-C port. USB-C is a big plus from the perspective of versatility.
Of course, if your aircraft has a panel-mounted USB-C port, that would mean that you can set the device while flying and never have to worry about running out of battery power.
Out in the field, flyers have mostly had nice things to say about the Sentry.
The Sentry received special recognition for its small size, portability, accurate readings, and excellent reception. 
Like the Mini, however, the Sentry was criticized for its limited compatibility and reliance on the Foreflight app.
Specs:
FIS-B Weather
Dual-band ADS-B Traffic
WAAS GPS
12-hour battery life
AHRS
CO detector
Barometer (for Pressure Altitude)
Firmware Updates through Foreflight
Onboard Storage for Weather Replay
Appareo Stratus 3 – 749 USD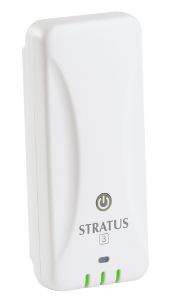 The Stratus 3 is the latest iteration of Apparaeo's famous Stratus line of portable avionics. As such, the Stratus 3 brings the same quality build and precision measurements that are a hallmark of the brand. In addition, Stratus 3 comes with some new features.
Combine this with lower-than-ever pricing, and it is easy to understand why the Stratus 3 is one of the best-selling ADS-B receivers in the market.
The Stratus brand also offers two fully certified panel-mounted ADS-B Out solutions: the Stratus ES and the Stratus ESG.
The Stratus 3 can be interfaced with these transponders, allowing the receiver to use the aircraft's antennas for better ADS-B reception and GPS performance.
It also allows the receiver to run on the aircraft's power, providing a fully integrated ADS-B In/Out solution. This setup is a no-brainer for pilots who already rely on Stratus transponders.
As an evolution of the Stratus line, the Stratus 3 retains compatibility with Stratus accessories. In particular, the Stratus 3 can use the same mounts and suction cups used with previous Stratus models.
One of the new features of this model, "The Automatic shut-off," is admired by pilots despite its simplicity. This option ensures that the device will automatically shut down once it has detected that the flight has ended.
The Stratus 3 is a great backup tool if you often need to remember to press the shut-off button at the end of a flight. The receiver can also turn on automatically once it receives power from the aircraft if correctly configured.
Like all portable devices, the battery on an ADS-B receiver will give out after a few years. The continuous cycle of charging and discharging will inevitably degrade the battery. Seeing as this problem is universal to all receivers, the replaceable battery of the Stratus 3 makes plain sense. Once the battery has been exhausted, users can order a replacement battery kit and have a new built-in battery working in short order.
Another plus point for the Stratus 3 is that it is more versatile than previous models in the Stratus line. Although Foreflight is still the "go-to" app for Stratus 3 users, the device now supports more flight apps than before, including some on Android systems.
However, remember that the Flight Data Recording feature will only work with the Foreflight app.
Like previous products in the Stratus line, aviators have received this device well, with many praising its user-friendly interface and long battery life.
However, some have noted that the device can get quite warm after prolonged use, so it's best to mount it away from sunlight.
Another criticism the Stratus 3 gets is the lack of a CO detector which should be standard at this price.
Specs:
FIS-B Weather
Dual-band ADS-B Traffic
WAAS GPS
8-hour battery life
AHRS
Flight Data Recorder (Exclusively on Foreflight App)
Pressure Altitude Sensor
Smart WiFi
Auto Shut-Off
Garmin GDL 52 – 1199 USD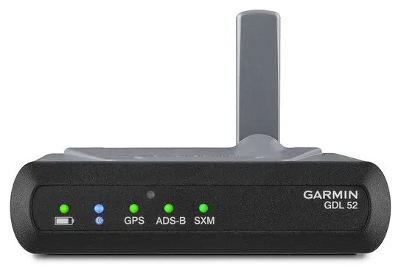 This product is excellent—no doubt about that. However, it is also quite pricey and is—by far—the most expensive ADS-B In solution on our list.
Of course, paying more for reliability and safety in aviation makes sense. After all, Garmin avionics has a solid reputation for accuracy and reliability, which explains the price.
Regardless, the question of whether this product is still overpriced remains open.
Underneath the lid, it is clear that this is a quality receiver.
It has excellent features, and the flip-up antenna at the back has great ADS-B reception. Apart from the superb build quality, the product is highly user-friendly and easy to set up. 
The GDL 52's compact size and lightweight construction make it very portable—fold the antenna at the back, put it in your flight bag, and you're good to go. Like all quality products, this receiver achieves high portability without compromising build quality.
From a compatibility perspective, the GDL 52 is alright. It is compatible with several apps on Android and iOS—including Foreflight—but as a Garmin product, it has more features on the Garmin Pilot app.
As a premium product, it is expected for GDL 52 to have premium features such as AHRS— and indeed, it does.
However, it may fall short of some buyers' expectations due to its lack of a CO detector. 
The battery is also unremarkable. The manufacturer claims its typical operating time is 5 hours, but in practice, it is closer to 4.
Nevertheless, what sets this device apart from other receivers is its ability to receive SiriusXM satellite weather.
In the past, aviators had to choose between ADS-B weather and Sirius XM weather. Fortunately, the GDL 52 receiver lets you have both simultaneously, which is the GDL 52's ace in the hole and what sets it apart from the competition.
But why would a pilot even want a subscription to Sirius XM weather when they have access to subscription-free ADS-B weather?
Well, for several reasons.
Firstly, Sirius XM weather is satellite-based, whereas ADS-B weather is ground-based. Accordingly, you must be at least several hundred feet in the air to get reception for ADS-B weather.
The Sirius XM is accessible without taking off and on the ground. Sirius XM has your back if you are in a remote location and want to check the weather before takeoff.
There are other reasons too.
Sirius XM weather has some international coverage in Southern Canada and Northern Mexico. It is also available instantly nationwide across the USA. Wide availability means you can check the weather conditions at your destination before taking off.
Finally, SiriusXM offers more weather products than subscription-free ADS-B weather. These include information on lightning and freezing levels, among others. 
Of course, a SiriusXM subscription doesn't stop at the weather—it also gives you access to a range of radio stations, perfect for passing the time on a long flight.
Overlaying Sirius XM and ADS-B weather may lead to information overload and confusion. In reality, the software makes this integration hassle-free, and users can customize which weather features to overlay through an easy-to-use interface.
Looking at what pilots have had to say, most seem to like the GDL 52, with many praising the increased versatility it provides by combining ADS-B and Sirius XM reception in one handy gadget.
Specs:
FIS-B Weather
Dual-band ADS-B Traffic
WAAS GPS
SiriusXM Weather and Radio
4.5-hour battery life
AHRS
Compatible with Garmin Pilot, Foreflight, and FltPlan Go app on iOS and Android
Foreflight Sentry Mini – 349 USD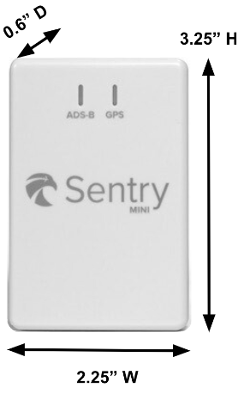 Light, tiny, and highly affordable, the Sentry Mini makes it easier to integrate an ADS-B In solution into your flying routine.
Despite being about the size of a deck of cards—and weighing even less—this product brings you all of the essential features you would expect to find in an ADS-B In solution.
The Mini receives dual-band ADS-B traffic and has an integrated WAAS GPS—a feature lacking in its discontinued predecessor, the Foreflight Scout. It has good performance across the board and even adds advanced features such as Integrated Weather Replay.
Integrated Weather Replay allows you to turn off your iPad screen and get an update on weather information that you missed once the screen is back on. This simple—yet handy—feature allows you to extend your iPad's battery life.
Coming in such a small package, the Mini has no built-in battery and must rely on an external power source.
Naturally, this comes with some pros and cons.
Although it makes the product smaller and lighter, it does mean that you will need to hook it up to a portable battery or the good old cigarette lighter. Another option is power from a panel-installed USB port.
At any rate, the Mini does not consume much power compared to other ADS-B receivers. 
As the most miniature product in the Foreflight Sentry line, the Mini carries over the same high standards of build quality found in the more expensive Foreflight Sentry and Sentry Plus.
Accordingly, the Mini has excellent dual-band reception and outstanding performance.
The Mini comes with the same suction cup mount familiar to Sentry users. User experience has shown that this is an excellent mounting option.
Of course, coming in at close to half the cost of the Sentry, the Mini lacks several critical features found in the Sentry line's more expensive options. Aside from the absence of an internal battery, the Mini also lacks the AHRS and CO detector features found in the Sentry and Sentry Plus.
Regarding what pilots in the field have had to say, most agree that the Mini is a quality product.
However, the quality product has the caveat of lacking AHRS and CO detection. AHRS is, of course, beneficial, especially as a backup reference in an IFR flight.
Nevertheless, pilots who only fly VFR could do without an AHRS and will likely find that the Mini is more than enough for their needs—especially given its price.
Aside from requiring an external power source, another criticism against the Mini is that it is only compatible with the Foreflight app.
Foreflight is a market leader in flying apps and integrates advanced features such as audio and visual traffic cues.
However, the Mini provides excellent value for money as long as the buyer understands that it doesn't have some standard features for premium products.
Its compact size and light weight are also a plus from the perspective of portability.
Specs:
FIS-B Weather
Dual-band ADS-B Traffic
WAAS GPS
Firmware Upgrade through Foreflight
Onboard Storage for Weather Replay
Crew Dog Stratux Dual-band ADS-B Receiver – 384.99 USD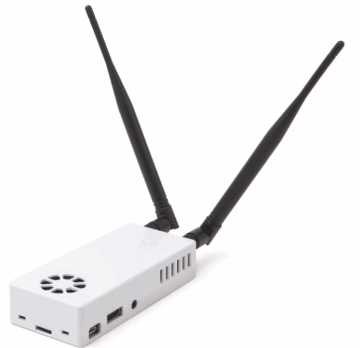 Even though it ships partially disassembled, putting together this receiver is child's play and can be done in under 5 minutes. Like any complete ADS-B In solution, this product has integrated WAAS GPS—but that's just the beginning.
Like the Sentry Mini, this budget option delivers similar performance to substantially more expensive receivers. In particular, the accuracy of the Stratux's readings and the quality of its reception are on par with top-tier receivers. 
Of note is that the Stratux does not have a built-in battery. Instead, the product ships with an external battery fastened to the central unit by a velcro strap.
Although this has its advantages and downsides, some users have remarked that an external battery is more accessible to replace than a built-in one and allows more versatility.
The battery should safely give you over 4 hours of flying time. As it is removable, you can pack a spare for longer flights or as a backup.
The central unit is attached to a mount that you can secure to a surface—such as a window—by suction cups. The support is very stable and doesn't slip off easily.
Unlike the Sentry Mini, this budget option does have built-in AHRS.
It is also small in size, and the modular design of the battery, antennas and central unit makes it convenient from a portability perspective.
It's hard to downplay Stratux's versatility, and it is somewhat of a DIY self-build platform as users can add more sensors as needed as long as they keep them in line with what is compatible with the Stratux's hardware and software. However, proper calibration is essential for the platform to use this device to its full potential.
Another plus point for the Stratux is that it is compatible with Android and iOS devices. Naturally, this makes it easier to interface with various flight apps. 
Offering excellent value for money, the Stratux has received great reviews. Flyers who choose to go with the Stratux particularly appreciate its low cost and versatility.
Specs:
FIS-B Weather
Dual-band ADS-B Traffic
WAAS GPS
AHRS
4-hour battery life
Compatible with Foreflight and other apps on Android and iOS
Do student pilots need an ADS-B receiver for iPad flying?
Now that I have already given you a general idea of ADS-B, you can decide whether you need an ADS-B.
But as a pilot myself, I think having a portable ADS-B receiver is excellent for flying.
Using the portable ADS-B receiver and getting access to more information as a student pilot will help you.
Even if your aircraft is not equipped with ADS-B, you can still see weather changes or the weather en route.
As I said, having a portable ADS receiver will increase a pilot's situational awareness.
Having great situational awareness and getting used to the information available will help you become a better pilot.
Regardless of whether your aircraft has ADS-B out, you can see the benefits of using a portable ADS-B device once you start using it.
And once you fly an aircraft equipped with ADS-B in and ADS-B out, you will be much more comfortable using this next-generation air transportation system.
Nevertheless, having a portable ADS-B receiver is not required in an airplane.
On the contrary, FAA regulations don't allow aircraft equipped with ADS-B to enter ADS-B rule airspace.
Thus if you as a pilot expect to fly in ADS-B rule airspace, having a portable ADS-B receiver and an iPad will not help you.
But as the use of ADS-B increases every day, soon expect to see ADS-B out components installed in all airplanes.
And as a student pilot flying an airplane with ADS-B out and your ADS-B portable receiver with an iPad will enable you to have a new experience in flying.
Image Source: adventuresofahuman via Instagram.