5 David Clark aviation headset compared for pilots of all arenas.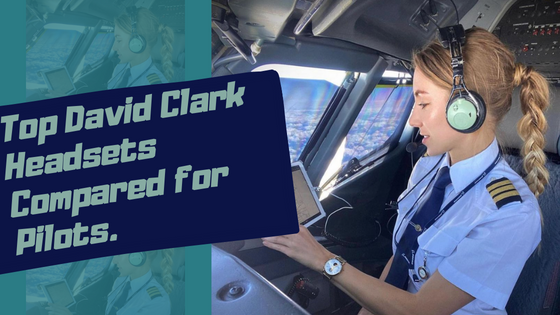 David Clark has been an industry standard for quality aviation headsets for almost half a century. It is no wonder that the distinctive aquamarine ear domes have become a hallmark of the brand and have inspired the respect of everyone in the pilot community.
David Clark headsets also come with a five-year warranty, have TSO authorization from the FAA, and are produced in the USA.
All this means is that although David Clark products come with a hefty price tag, their quality and longevity make them a worthy investment for experienced and student pilots alike who are prepared to go the extra mile budget-wise.
That being said, not all David Clark headsets are the same.
Which David Clark headset is best is a tricky question – they are all good in their ways. The answer largely depends on your expectations and how much you want to spend. The manufacturer offers a broad range of products to cater to different feature requirements, standards of comfort, pilot experience, and budgets.
With that in mind, I considered the overall balance of the products in terms of:
Features;
Price, and;
Comfort when compiling this list;
Customer ratings and reviews to better understand which headsets pilots in the field took a shine to.
So without further ado, let's get right into our ranking.
Number 5: DC PRO-2, Single Ear
Cost: ~ 335 USD
You must be thinking: Where is the rest of my headset?
This model uses a supra-aural (rest on the ear) single-ear design. The single-ear design makes it highly compact and light, allowing the pilot to hear ambient sounds without taking off their headset. 
Of course, this model is unsuitable for all cockpits – it only makes sense for experienced pilots flying in the low-noise cockpits of jet-powered aircraft.
As a result, the design is not as versatile as some other models and is certainly of limited use to students.
However, the DC PRO-2 can be perfect for some pilots in the right conditions. At less than 8 ounces in weight, the product is much lighter than other David Clark headsets. The head pad and ear seals also retain the same heat-absorbent technologies used in flagship David Clark headsets.
Light and resistant to heat build-up – this product is ideal for commercial pilots who frequently fly long-haul routes—the only caveat being that the cockpit environment must not be overly loud. 
Number 4: DC PRO-2 Both Ear & Foldable.
Price: ~ 380 USD 
The DC Pro-2 is a fine product with a reasonable price – albeit with some limitations.
The model's strong points lie in comfort and robustness as it provides for comfortable wearing while also retaining David Clark's high standards for durability and strength.
The model's supra-aural (rest on the ear) design makes this headset incredibly compact and shallow in weight. When folded, the model is straightforward to store and travel-friendly – in fact – it may even fit in your jacket.
The DC Pro-2 is exceptionally light (8.5 ounces) due to the alloy materials used in the headband and the suspension. As a pilot, you can adjust the suspension to fit your head perfectly.
Moreover, the model retains the premium model's heat-absorbent headband. Its ear seals are also specially designed to resist heat build-up.
The DC Pro 2 features and its light weight make it suitable for long-haul flights. 
The microphone – attached to a flexible boom – is also excellent and equipped with noise-canceling technology to ensure clear transmissions. 
However, the supra-aural design also means that there is more noise leakage.
One major drawback of the DC PRO-2 is that it is unsuitable for fixed-wing piston engine cockpits.
Although it fairs well in commercial jet cockpits and delivers excellent performance in that environment, it is simply not designed to handle the noises a piston engine aircraft makes. 
The manufacturer is very clear about this caveat, which means the model is unsuitable for student pilots still in training.
Number 3: Model H10 – 13.4
Price: ~ 475 USD
Tried and tested, the David Clark H10-13.4 is a student favorite and one of the best-selling aviation headsets ever. Many new students earning their wings don't have the cash to spend on a fancy ANR headset but also want something that lasts and can take being banged around in a pilot's bag. Thus, this product is a big win in terms of bang for your buck. 
Users report that although the sound quality may not be as good as that found on ANR headsets, it is still generally good. The patented Comfort Gel ear seals are very comfortable and do a great job blocking external noises. 
Moreover, the model's double-foam head pad has a larger surface area to distribute the set's weight more evenly over the wearer's head.
Another strong point of this model is the microphone attached to an adjustable boom. Users report that the sound quality of the microphone is excellent.
Perhaps the only serious drawback to this model is its weight.
At just over 1 pound, this model is on the heavier side of aviation headsets. Pilots report that the weight is not problematic for short flights but can become annoying over long cross-country flights.
Nevertheless, the David Clark H10-13.4 is sturdy and well-built and delivers excellent value for its price. It also comes in different cord lengths and plug-type configurations.
Number 2: DC PRO – X2
Cost: ~ 750 USD
The runner-up in our ranking is an evolution of a previous design – the DC Pro-X – which was David Clark's first supra-aural (over-the-ear) model. The Pro – X was popular in its days, and this model has sought to make the design even better. 
Retaining the supra-aural design of its predecessor, the Pro–X2 is small, light, and super compact when folded. The magnesium alloy used in the headband and suspension is now replaced with aluminum, which, although a tad heavier, is more robust and resistant to scratching. Thus, despite being slightly heavier than its predecessor, the model is still very light and compatible with sunglasses. 
The speakers have improved, and the design uses the same ANR technology used in David Clark's premium flagship models. Moreover, the Pro–X2 goes one step forward and utilizes a different system called Automatic Gain Control (AGC). AGC serves to smooth the transition to high noises, thereby leveling the noise peaks that occur when, for example, pushing the full throttle. 
The model is also Bluetooth-compatible and has good battery endurance. 
Like all supra-aural designs, it inevitably comes with a compromise – more sound leakage in exchange for a lighter weight and more compact design. Pilots operating in quieter cockpits who have made this compromise seem satisfied, and reviews for the product are overwhelmingly positive, particularly among regional airline pilots operating jet-powered aircraft.
Number 1: DC ONE-X
Price: ~ 900 USD
The crème de la crème. This headset has it all. Not only does the ONE-X bring you the latest sound technology – but it also manages to fit all of its advanced features into a robust and sturdy magnesium alloy casing that saves on weight. Although the steep price tag, this bad boy is worth every last cent. 
The model features Hybrid Electronic Noise Cancellation – the best in its class regarding ANR. Digital Signal Processing (DSP) further bolstered and refined the sound quality. Some pilots even describe the model as one of the quietest headsets they have ever tried.
The DC ONE-X's Bluetooth feature seamlessly integrates smart and mobile devices. Furthermore, the backlit, touch-key interface is intuitive, hassle-free, and easy to use. 
This premium model also goes a long way toward maximizing pilot comfort. Despite the brand's impeccable reputation, many pilots have reported that previous David Clark headsets tended to 'clamp' over the wearer's ears.
The clamping pressure can get uncomfortable over long flights and is incredibly annoying on humid days when it causes sweat to build up around the ears.
Now, the DC ONE-X ear pads are specially designed to absorb heat while also being snug and comfy to overcome the clamping pressure problem. Moreover, the head pad is also heating absorbent to negate the effect of heat build-up on the top of the head during long flights. 
Most importantly – from a comfort perspective – the headset weighs only 12.3 ounces. According to the manufacturer, it is the lightest in the class of ANR headsets.
These comfort features ensure that the set provides a snug and secure fitting while also being comfortable. A snug fit is critical on long flights as it saves pilots the trouble of having to readjust the headset or bear the irritation of weight and heat build-up.
Comfortable, ergonomic, and offering superior sound quality, the DC ONE-X is undoubtedly the best David Clark provides. It integrates the latest audio technologies into a light but sturdy package. It is no wonder that pilots who have invested in a pair of these headsets can't stop talking about how great they are. 
Thus if you can afford it, I highly recommend the David Clark One-X headset.