Best 5 Aviation headsets for pilots' distortion-free communication.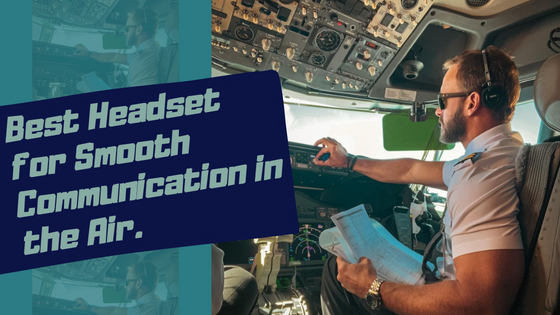 Let's get one thing straight: communication is vital for a pilot. It is one of the essential requirements for good pilotage. To guarantee good communication, you need a good headset.
Pilots also need to take measures to protect their hearing. Sitting in a noisy cockpit for hours at a time, day after day, can take a toll on your hearing over the years. The resulting hearing loss is not only inconvenient, but it also degrades your ability to do your job as a pilot. A good headset considers this pressing need and shields your ears – as much as possible.
4 Best aviation headsets for pilots.
Having laid these baseline requirements for a good pilot's headset, the range of options available in the market differs in several ways.
Headsets cater to various feature requirements, standards of comfort, pilot experience, and budgets. With so many choices, choosing the right headset can be daunting. After all, the question of which headset is right for you is tricky – it all depends on your requirements and how much you are willing to spend.
To make this task a tad easier for you, we have compiled a list of 5 of the best headsets available on the market. We have ranked the headsets in terms of their overall balance of features, comfort, and price. Furthermore, we have considered customer ratings and reviews to see which headsets pilots in the field liked.
However, before diving into the ranking, you should digress a little to discuss how these headsets work and understand the difference between ANR and PNR headsets.
Number 4: David Clark Model H10 – 13.4
Price: ~ 475 USD
The DC H10-13.4 is an old-school veteran and a classic and the go-to headset for thousands of pilots. Despite lacking PNR, this model deserves a place in our ranking because it is tested and tested. For good reasons, it is one of the best-selling headset models of all time. 
Students, in particular, love this piece of equipment. Despite lacking the hi-tech performance of flagship models, it is still significant in piston engine aircraft and – most importantly – sturdy and well-built.
Although more expensive than its counterparts in the same technological tier, the Model H10 makes up for its sturdy build and longevity. 
Although not the most comfortable set out there, partly due to its noted clamping effect, designers have nonetheless not ignored comfort features. In particular, the headset includes a super soft head pad which considerably reduces the build-up of weight and pressure on the head, becoming a nuisance with the passing hours. The head pad's large surface area also does an excellent job of distributing the headset's weight over the wearer's head. 
The Comfort Gel ear seals effectively prevent noise leakage without applying too much pressure on the ears. Moreover, the mic boom is flexible, and the pilots can adjust to the best position. 
The sturdy build of this DC model is not just talking – it is backed by FAA TSO certification and a 5-year warranty. David Clark builds its products to last, and it shows.  
However, at just over 1 pound (450 grams) in weight, this headset is a little heavy—however, not a problem for short flights. Long flights with such a weight of equipment hanging from your head can get to you.
Whatever the case, robust build, value for money and a solid reputation makes this set particularly popular among students who want something reliable to get through flight school in one piece without having to pay an arm and a leg for a fancy ANR-equipped headset.
Number 3: DC ONE-X
Price: ~ 900 USD
The distinctive aquamarine domes of David Clark feature once more in our top 5 list, this time with a premium product. This headset is the flagship product of David Clark and the best the brand offers. That's a lot, given that David Clark is a founder in the industry.
The DC One-X goes all out. It brings you the latest ANR sound technology housed in a sturdy magnesium alloy casing that saves weight. According to the manufacturer, this makes it the lightest in its class regarding ANR-equipped over-the-ear headsets. As a matter of fact, the set only weighs 12.3 ounces. 
But the comfort features don't end there. The ear pads utilize slow recovery foam to guarantee the wearer a snug and comfortable fit while limiting sound leakage. The head pads are also specially designed to prevent heat build-up and keep the wearer's head cool. These excellent comfort features have allowed the DC One-X to overcome the brand's reputation for unwanted clamping. 
Finally, the sound technology on the set is top of its class. It features Hybrid ENC and Digital Signal Processing to ensure the highest audio quality.
Although it is still a toss-up among pilots as to which offers superior sound quality – the Bose A20 or the DC One-X – with more pilots choosing the A20. That the DC One-X can challenge the Bose A20 in this respect says a lot about this quality product.
Number 2: Bose ProFlight Series 2
Cost: ~ 1000 USD
Let's get something straight from the get-go. The Bose ProFlight Series 2 is an excellent piece of equipment. Then why is it not in the first place?
The logic is simple. Despite having excellent ANR and sound technologies, this headset only belongs in jetliners' cockpits.
After all, the Bose ProFlight Series 2 is an in-ear model.
Although that maximizes comfort, it also limits the appropriate platforms for this set. This loss of versatility bumped this fine piece of equipment down to the runner-up position in our ranking. 
Having got that disclaimer out of the way, this is a remarkable set.
The Proflight Series 2 is the successor to the Series 1, which was widely celebrated when it first entered the pilot headset market. In almost all respects, Series 2 has taken its predecessor further by leaps and bounds. 
What makes the Series 2 stand out is that it offers the renowned Bose ANR but in supremely comfortable and lightweight housing. Weighing in at only 5 oz (142 grams), one would be right to wonder how Bose fits so much advanced technology into such a compact and light housing. Moreover, the set gets points for style as it is compatible with sunglasses. 
The cord has also been improved over the Series 1, making it lighter, thinner, and less likely to tug at the wearer's head. 
When handling a hi-tech product adapted to a compact and lightweight housing, one would get the impression that this is achieved by compromising the robustness of the build.
On the contrary – despite its lightness and flexibility, this set lasts. Bose's confidence in the longevity of the model's manufacturing is backed up by a 5-year warranty and FAA TSO certification.
Number 1: Bose A20
Cost: ~ 1100 USD
To say that the Bose A20 is the industry standard for aviation headsets is not empty lip service – it's the truth. What testifies to this truth more than anything else is that many leading aircraft manufacturers deliver their aircraft to customers with sets of Bose A20 pre-installed. How's that for a brand image?
And their confidence is not in vain. Bose is the industry leader in ANR and was the first firm to pioneer the technology. It should come as no surprise that many pilots believe the Bose A20 is unmatched regarding its ANR capabilities. Compared to other premier headsets that are flagships for other brands – the Bose A20 consistently achieves first place in sound technology.
The Bose A20 is also ahead of the race in terms of comfort. At only 12 oz (340 grams) in weight, this model is one of the lightest over-the-ear headsets on the market. Bose emphasized the design to reduce clamping pressure.
The lightweight and reduced clamping combination makes this set comfortable to wear, even on long flights.
Of course, the over-the-ear design and winning ANR mean that this set is versatile and suitable for all cockpits – including helicopters. This is a claim that the manufacturer confidently stands by.
Finally, the A20 is also cutting edge regarding its Bluetooth functionality. The set offers a customizable audio prioritization feature that either taper down or mutes the auxiliary audio when incoming communications occur.
Perhaps the only drawback to this excellent piece of technology is its price. You must understand that this is a top-of-the-line product. Although it may not be within reach of student pilots or amateurs, experienced pilots who have invested in a pair of Bose A20 have never looked back. 
All-in-all, a wide range of excellent headsets are available in the market. Whether you are a student pilot or a seasoned expert, there is a headset that is just right for you.
Think carefully, though, before committing to a choice, and remember.
However, paying for premium noise reduction technologies may set you back a pretty penny, but maintaining your precious hearing over the long run is worth the extra bucks.
Image Source: @pedroguima737 via Instagram.