5 Best handheld aviation radios for pilots for cut-above communication.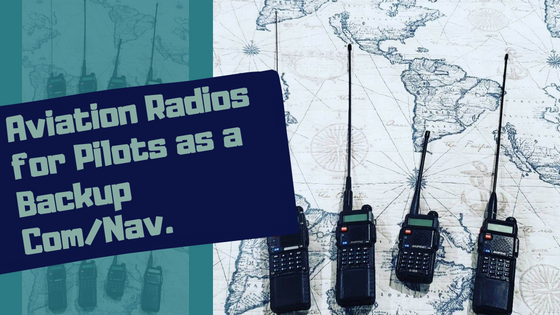 Being a good pilot goes hand-in-hand with placing the utmost value on your safety and the safety of others. For this reason, pilots place great importance on backups and redundant systems.
When facing an emergency—such as the unexpected failure of one or multiple systems—these redundancies offer pilots options and fail safes. When not in an emergency, backups still have value by giving pilots the peace of mind that comes with knowing there is always a "Plan B" at spare. That peace of mind is priceless and goes a long way toward making a pilot's job less stressful.
Because communication is an integral part of flying, it makes sense that there should be a backup in case an aircraft's panel-mounted radio fails. No pilot—regardless of their experience level—wants to find themself smack dab in the middle of an IFR flight with no communications. Nothing is lonelier—and more dangerous.
Emergencies aside, handheld radios also have many day-to-day practical uses.
Pilots will often want to ask ATC a question, get a clearance, or do something as mundane as listening to the weather report without needing to boot up their aircraft's avionics.
The ability to carry out these necessary communications without powering up the aircraft can save you time and bucks.
For this reason, many pilots use handheld radios as part of their preflight routine. Having a handheld radio makes plain sense, whichever way you put it.
So, you've had a one-on-one with yourself and decided to make the intelligent and responsible decision to get a backup handheld radio.
Congratulations.
5 Best handheld aviation radios in the market for uninterrupted communication & ensure safety.
Like all piloting peripherals, the market is full of different brands and price tiers. With so many specs available, you need clarification on which features genuinely matter. Now comes the more intricate part—choosing which handheld aviation radio to purchase.
For one, you want to look at memory storage. Different radios vary in terms of how many channel frequencies they can store. Most radios will—at a minimum—store 100 channels. However, many will keep considerably more than that.
Another thing to consider is whether the radio is only for communication purposes or both navigation and communication.
All of the radios included in our list are, at the very least, capable of two-way communications. However, some have added navigational features as well as GPS.
You also want to take into account your radio's battery life. You want to avoid being halfway through your flight only to find that your backup radio has run out of juice.
Finally—and if you are like most people—you will also want to consider the price.
A top-of-the-line radio with the latest and most advanced features might cost over 500 USD. However, in many cases, and depending on what your requirements are, you will be able to find a radio that is more than adequate for effective two-way radio communication for closer to 200 USD. 
Considering all of these factors, an extensive range of aviation radio is available in the market. And faced with so much variety, choosing the best radio may seem somewhat daunting.
But don't fret. We have put together our list of what we consider to be the five best handheld radios for pilots available in the market today. 
We considered the radios' overall features and price balance when putting together this list. We have also taken note of customer ratings and reviews to get a sense of what pilots in the field had to say.
So, without further ado, here are our choices for the five best handheld aviation radios.
Icom IC-A25N VHF Airband (Comm & Nav) – 529.25 USD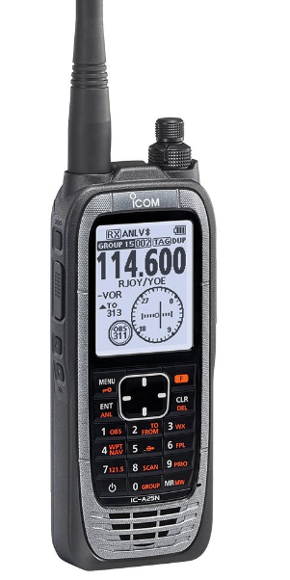 Specs:
Comm & Nav
2350m Ah Li-ion Battery
300 Channels
IP57 Waterproof Rating
2.3″ × 2.3″ LCD Screen
6W Power
Is it pricey? Yes. However, this radio has earned first place in our ranking for good reasons.
This premium flagship product covers features, build quality, and power.
The A25N has all the features you would expect to find in a top-of-the-line aviation radio.
Despite being packed with features, the model is also highly user-friendly. It uses features such as backlighting for the keypad and day/night modes to make the radio easy to handle regardless of the lighting conditions. Its audio is also clear and loud, making communication easier in noisy environments such as the cockpits of piston-engined aircraft. 
The 2350m Ah Li-ion battery with this set is one of the most powerful in the market and allows up to 10.5 hours of battery life.
The set also has advanced water and dust proofing, further increasing the set's reliability and durability. 
Far from simply being a communications platform, the A25N has integrated GPS for navigation and NOAA weather alerts.
Overall, pilots received this model very well, with many praising the improvements made over the last iteration in the series and others affirming that it is, in fact, the best backup radio out there for pilots. 
Yaesu FTA – 850L (Comm & Nav) – 449 USD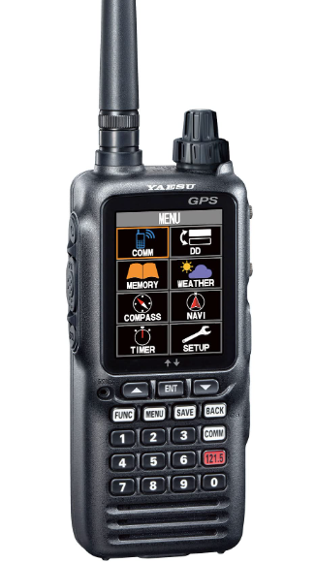 Specs:
Comm & Nav
2200m Ah Li-ion Battery
400 Channels
IPX5 Waterproof Rating
2.4″ × 2.4″ TFT Color Display
6W Power
As the closest competitor to the Icom IC-A25N, the Yaesu FTA 850L has many similar features to A25N and even exceeds it in some respects.
The 850L is the newest and most evolved model in Yaesu's famous FTA line and supplants its predecessor—the 750L—which was well-received in its time.
This versatile model has many advanced features.
Among the stand-out features of the 850L are GPS and an array of communication and navigation capabilities. Its memory bank is also impressive and can hold up to 400 channels.
The TFT color display is a breath of fresh air in the aviation radio market.
Aside from making it easier to use, it also has the added benefit of giving the set a sort of character. All of the information on the display is transparent and visible, even in sunny conditions.
Moreover, the radio also has a headset adapter for integration with the user's headset.
Pilots received this model well, praising the vibrant color display, the alpha-numeric tags displayed when scanning locks onto a frequency, and the speed and accuracy of the GPS functionality. 
Yaesu FTA – 550 L (Comm & Nav) – 289.95 USD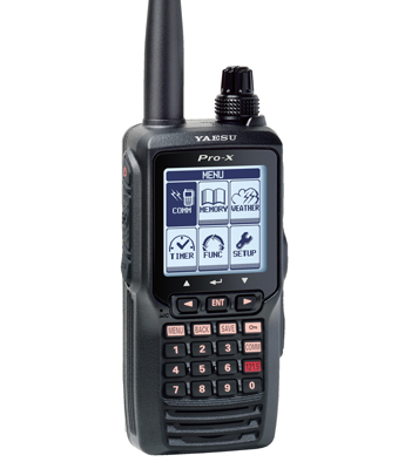 Specs:
Comm & Nav
Li-ion Battery
200 Channels
IPX5 Waterproof Rating
1.7″ × 1.7″ Full Dot Matrix Display
5W Power
Despite being somewhat outdated, the 550L is notable for having communication and navigation capability and offering many of the same features found in flagship models—but at nearly half the cost.
A reasonable price makes the 550L an excellent mid-range product and superb value for money.
In contrast to other pricey handheld radios, the 550L has 200 storable channels and a backlit keypad.
The display—despite being simple—is excellent. Another high-end feature available on the 550L is NOAA weather alerts.
One notable downside of this radio set is its lack of integrated GPS. Accordingly, the navigational features are somewhat limited and rely on VOR navigation.
Another caveat with the 550L is that its battery is smaller than that found on premium sets and only gives 8 hours of battery life.
Nevertheless, this is an excellent product for its price and a great choice for pilots who want high-end features but are on a limited budget. 
Pilots who reviewed this model were satisfied with their experiences and affirmed that it offers excellent value for money. 
Icom IC-A25C VHF(Comm Only) – 489.95 USD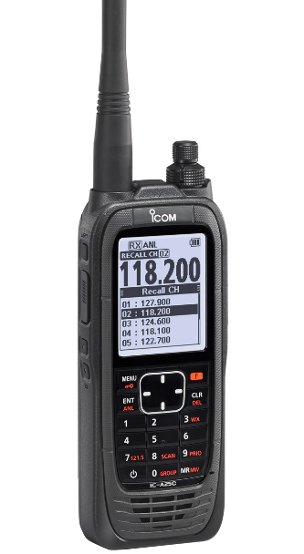 Specs:
Comm
2350m Ah Li-ion Battery
300 Channels
IP57 Waterproof Rating
2.3″ × 2.3″ LCD Screen
6W Power
The A25C is the communications-only version of the A25N mentioned at the top of this list. It has the same excellent build quality as the A25N and identical features, minus navigation.
Thus, the set also has 300 storable channels, a backlit keypad, and other user-friendly features. As mentioned previously, the 2350m Ah Li-ion battery is a market leader.
Despite being excellent at what it does, this model is still relatively expensive for a radio that lacks navigational features.
Nevertheless, users were enthusiastic in their endorsements for the A25C noting its high sensitivity and excellent build quality. 
Yaesu FTA-450L Airband VHF (Comm Only) – 255 USD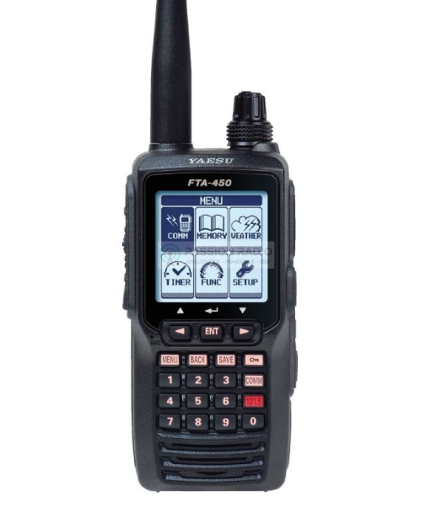 Specs:
Comm
1800m Ah Li-ion Battery
200 Channels
IPX5 Waterproof Rating
1.7″ × 1.7″ Full Dot Matrix Display
5W Power
Being on the budget end of aviation radios, the 450L lacks any navigational features. However, this could be a good choice if you don't need those features and are only looking for a radio for communication purposes. 
The 450L has 200 storable channels and a backlit keyboard, among other user-friendly features. It also has good battery life. 
Pilots wrote many enthusiastic reviews and received this product very well. Call it bare bones—that's fine—its features are more than enough for many pilots. Despite having a limited functionality scope, it is excellent at what it does and is easy to use.
Image Source: tanieluidaho via Instagram.