Best planes to learn flying quickly & easy flight training sessions.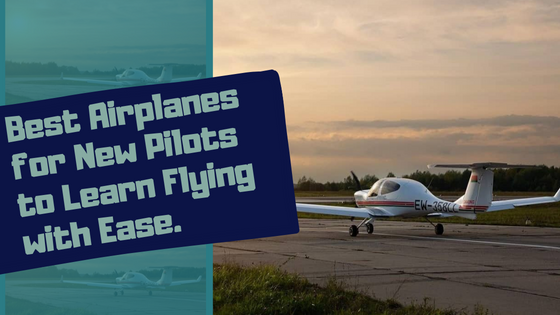 When you learned to drive a car, did you begin with a Ferrari or Lamborghini? Not because they are expensive and rare but even more – they are too hard to be in the saddle for a beginner driver.
When you learn to fly, you want to keep it as simple as possible.
If you start your flying journey with a complex, challenging plane, you'll likely call it quits quickly.
Here we will look at some of the most accessible airplanes beginner pilots use to learn to fly.
Cessna 172
Since 1955 Cessna has produced 44,000 units of Cessna 172, one of the most manufactured aircraft today.
It's the most popular single-engine aircraft in general aviation still today.
The Cessna 172 is a flight training aircraft ideally suited for student pilots with standout flight characteristics. The plane has excellent visibility, slow landing speed, and a forgiving stall. A G1000 avionics can be installed to develop the cockpit of a Cessna 172.
The Cessna 172 is based on an earlier design called the Cessna 170.
Yet, the earlier design was so clean and aerodynamic that the marketing department of Cessna called it the "land-o-Matic" as it was too easy to fly and land.
Diamond DA40
The Diamond DA40 is an Austrian single-engine, four-seater, light aircraft built from composite materials. The safe handling characteristics of the Diamond DA40 make it an ideal primary training aircraft, and the modern design allows it for a cruise speed in overfreight of 140 knots.
The superb visibility from the cockpit and the traffic awareness provided by the Garmin G1000 comprehensively enhance its safety, especially when flying in congested airspace.
The Diamond DA40 was the first plane to use G1000, which has become the standard in the new aircraft.
Piper PA-28 Cherokee
The Piper PA-28 Cherokee is the most well-known worldwide low-wing training aircraft.
Piper PA-28 Cherokee is a two-seater or four-seater light aircraft built by Piper Aircraft and specially designed for flight training and personal use. The Piper PA-28 Cherokee is all-metal, single-engine, unpressurized, piston-powered aircraft with tricycle landing gear and low-mounted wings.
Piper PA-28 Cherokee has a single door on the right side that you can use to enter the airplane by stepping on its wing.
Cirrus SR20
The Cirrus SR20 is an American piston-engine, four-to-five-seater composite monoplane built by Cirrus Aircraft.
The Cirrus SR20 is a popular choice for flight training schools.
Similarly, private individuals and companies prefer this aircraft for their day-to-day use.
The Cirrus SR20 was one of the first aircraft to offer "advanced technology" avionics, and it was a whole new endeavor for in-flight instructor training and awareness for the students.
The Cirrus SR20 was the first aviation aircraft decorated with a parachute to land the plane safely to the ground if there is a loss of control, mid-air collision, or structural failure.
Diamond DA42
The Diamond DA42 is the first new European twin-engine aircraft in its category. This propeller-driven aircraft with two engines and four seats allows the pilots to have a backup machine if one of the engines fails in flight, which ensures a high safety level.
The Diamond DA42 offers conclusive stability, handling, control, system and propulsion redundancies, ease of operation, and structure. All together with a sublime degree of crashworthiness.
In addition, The Diamond DA42 is the first fixed-wing diesel-powered aircraft.
The Diamond DA42 has active and passive safety features that help avoid accidents in the first place and minimize the injury's probability and dimensions.
This aircraft is primarily designed to facilitate flight training of pilots and aircrew. It has definitive characteristics like excessive safety features such as a simplified cockpit arrangement and tandem flight controls for beginner pilots. Those characteristics allow the trainees to safely and slowly step up their airplane operations and navigation skills.
Image Source: diamond.avia via Instagram.