The best watches to steal the show & for pilots to be flying high.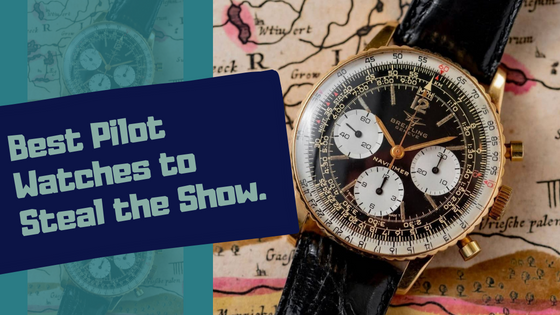 When pilots try to find ONE perfect watch that will respond to all their needs, demands, and desires, they may become confused and in awe at the sheer breadth and range of products this world offers.
Various aspects are involved in choosing their watch, from smartwatches to analog pieces, from aesthetic to functional, and cheap to expensive.
One may find one soul searching to decide what watch suits them instead of searching across the board for ideal pilot watches.
So, various functionalities and individuals can lend themselves to multiple ideals of watches.
In this article, we shall look at a few such watches.
Our viewer here would be an experienced aviator – who knows the realms of aviation and aviation watches alike. Hence, this article will not look at budget student watches and other value-for-money products.
We shall focus solely on this craft's peak, the most coveted aviation watches.
Breitling Navitimer B01.
Any connoisseur worth their salt is acquainted with Breitling's close history with the very idea of aviator watches.
The Aircraft Owners and Pilots Association of the United States of America has recognized this as their official watch.
It has a built-in chronograph that may function as a stopwatch to record the time taken for a particular activity.
Furthermore, it has a bezel that can rotate in both directions.
It also has a slide rule, three registers, and a primary clock. All of this may help a seasoned aviator make essential calculations.
The presence of more than a dozen timepieces in the cockpit may detract from the need for an aviator watch, which is also not a smartwatch in this case.
However, a watch provides more than functional benefits.
It is an affirmation of the pilot's identity and an artifact and totem that may connect them to a long and rich history of flight.
On the outside of the watch, one sees the consistent Navitimer aesthetic that has existed for decades.
This comes in several color combinations, but the primary tried, tested, authentic design shines forth in all cases.
One may buy a model with a transparent back case to witness the pure craftsmanship of the artisans who have formulated and designed this watch.
The external and internal view makes one witness and possess a significant chunk of aviation history in, or rather around, their palms.
Rolex GMT Master II.
Few other watches come to mind when one tries to bridge time across past and present and across two time zones.
Once introduced with retrospectively simple features like showing the time in two parts of the globe, this watch now boasts more incredible advancement.
The Rolex GMT Master II includes a battery lasting around 70 hours.
It is fascinating and enriching to see how this watch has kept its sense of antique value while appealing to modern quests of aesthetics and functionality.
The bezel can come in various colors and materials, borrowing from Rolex's unique history and inventions.
The 'Cerachrome' bezel, a mixture of ceramic and chrome – is used to make the blue and red sides of the bezel.
The ceramic bezel can rotate in two directions, with bicolored halves that indicate day and night.
Alternatively, one may find a version called 'Rolesor,' a mixture of gold and steel.
This Rolesor is paired with 18-carat gold as another pair of options for the bezel.
Another watch version is white gold, with a dial made from a literal meteorite. 
This watch was designed and released during the early boom of aviator watches in the mid-1950s.
Being developed in collaboration with Pan Am, the "Pan American (World) Airways), it became its official watch.
While Rolex's pioneer oyster case of old and Rolex's pioneer Calibre 3825 – this watch is a force to be reckoned. Furthermore, it is certified by COSC, the Contrôle Officiel Suisse des Chronomètres".
The great difficulty of obtaining and owning such a watch makes it a product that is both exclusive and elusive.
Indeed, the Rolex GMT Master II is an apex watch for every connoisseur aviator across the earth's distance and the far reaches of time.
IWC Big Pilot's Watch IW501001.
The name of this watch may strike the uninitiated as funny, and the looks of it may seem ordinary.
Furthermore, seeing the price of this watch will bamboozle one who is not a connoisseur. For the initiated, however, this watch needs no introduction.
While the calfskin strap and the stainless steel case may strike as a downgrade from the gold and meteorite pieces of the previous watch on the list, this watch is no stranger to history.
IWC was one of the five companies that made watches for German Axis Aviators, the "Luftwaffe," in the Second World War.
The leather, Flieger, and stainless steel work to create a watch that shows time and allows you to participate in history.
Just like the original, this utilizes a Flieger dial.
The watch is essentially a remake of the 1940s models by the same company, but there is no doubt that this boasts a variety of new features.
Most notable among its 21st Century features is its monstrous battery life lasting seven days. This power reserve is visible on display alongside the main dial.
In other features, it possesses a convex sapphire glass that is highly resistant to changes in cabin pressure, and its coating presents distractive reflections.
It has automatic winding and an inner case of soft iron to protect it from magnetic fields.
However, one cannot deny that they must buy this watch for its history and legacy.
That, and the intricate craftsmanship, give weight to its enormous pricing. A simple need for a high battery life should not, and definitely will not, elicit one's desire to buy this timepiece.
Bulova Lunar Pilot.
The beauty and configuration of this watch do not precede the remarkable story behind it and are derived from this tale.
As the name suggests, this watch has something to do with Luna, our Moon.
It may be an accepted fact among connoisseurs that NASA issued Omega Speed masters to their crewed missions to the Moon through its Apollo program.
However, Astronaut Dave Scott of Apollo 15 had the crystal of his issued watch popping off.
So, he switched to his backup watch, made by Bulova.
While the Speed masters were US Government Property, this same Bulova watch was auctioned in 2015 at the whopping price of 1,625,000 USD.
However, Bulova issued an updated copy of that original watch on the 50th Anniversary of the Apollo 15 landing. This watch is the Bulova Lunar Pilot.
Despite not being the primarily issued watch to NASA Astronauts, Bulova created the original Lunar Pilot watch according to the specifications of NASA.
The new High-Performance Quartz replaced the original mechanical functioning, transcending the use and functionality of regular Quartz in this historic timepiece.
This watch is highly pleasing from an aesthetic standpoint – as it resembles the allure of the Moon in the depths and darkness of black space, with the rotation of its dials mimicking the path of our lonely satellite.
The allure of its parent watch making its way to the real Moon increases its beauty for those versed in the story and the significance of this timepiece.
However, one must note that the meaning of this beautiful watch will be lost to someone unaware of its background.
But, the chance of a lack of passing glances at your watch need not detract you from your connection to its significance.
The presence of different dials may further aid an aviator.
Its parent's tried and tested survival in the harsh environment of space provide further proof of its crystal and dial functioning in situations of duress.
In Conclusion.
We have looked at four pilot's watches, mainly through the eyes of the discerning airman/airwoman.
Versions of these watches have been assigned to the airforce, navy, and space cadets.
These watches are tested in the harshest environments and the grandest of parties.
And they survived unscathed the spectrum of stressful scenarios between the two.
These watches have changed forms several times, yet these timepieces have timeless value – in the hands of a discerning connoisseur to one who is ambitious enough to dip their toes in the weird and wonderful world of watches.
While they boast several updates from their original editions, their long and extensive history provides value to possessing one or more of them.
So, which of these four watches pulls your fancy? Which one will you choose as your timepiece? And far more importantly, which one will choose you as its timekeeper?
Image Source: italianwatchspotter via Instagram.