Best flight bag for Student Pilots to maximize your aviation journey.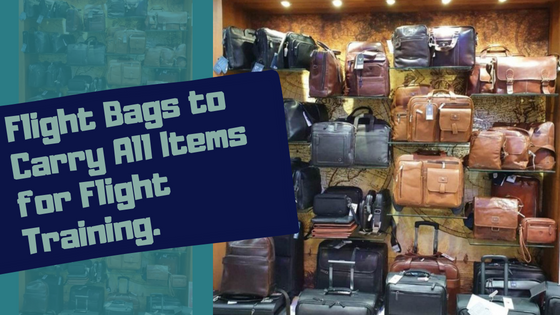 As a student pilot just earning their wings, there is no shortage of "stuff" you need to carry around with you—headsets, charts, pilot certificates, you name it.
At the same time, you must always be conscious of how much bulk you are lugging around.
Accordingly, you should seek to minimize the volume and the weight of your gear and make its transportation as comfortable and hassle-free as possible.
With that in mind, it is easy to understand why you should consider which flight bag is best for your needs. Factor in budget constraints and, ideally, some semblance of style, and it is easy to see how you could get bogged down when making a decision.
Don't panic, though—we've got you.
Although there is no "perfect" flight bag for all students, you can undoubtedly find one more than suitable for your demands.
A good starting point is to list everything you must carry during your flight training. This will, of course, vary from pilot to pilot, but most aviators like to have the following handy:
Pilot and medical certificate
Identification
Medical gear
Backup batteries or charger
iPad or some other tablet
Charts
Pencils or pens
Flashlight
Water and snacks
Sunglasses—along with their case
Fuel tester
Kneeboard
And that's not all. Many aviators also prefer a backup handheld radio and extra backup/emergency equipment for extra measure. You can also add an ADS-B receiver to the list.
Have you got everything? Now you can move on to determining which bag is best for you. Of course, it has to have enough room for the things we just listed—and probably a little more.
Don't forget that student pilots often need educational aids—such as reference books—which more experienced pilots don't have to carry in their flight bags.
Roominess isn't the only thing you must keep an eye for—durability is just as important.
In general, luggage and flight bags are often handled less than delicately. That means a lot of being thrown around and squashed into tight compartments.
Your flight bag must be rugged enough to survive this treatment and not give out after a few months.
Having laid these baseline requirements for a good student flight bag, the range of options available in the market is numerous.
In the face of so much variety, picking which flight bag is right for you can seem daunting.
To simplify your job, we have compiled a list of our three favorite flight bags for students.
We have made choices regarding the bags' overall utility, comfort, and price balance. We also took note of customer ratings and reviews to get a sense of which products student pilots in the field took a liking to.
So, without further ado, let's get right into it.
Flight Outfitters Lift Bag – 99.5 USD
Bag Dimensions: 12" × 10.5" × 9"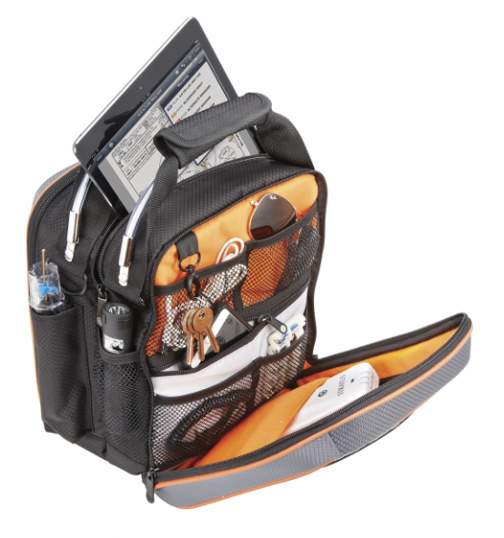 Flight Outfitters is a brand that has earned a solid reputation in the market thanks to its "by pilots, for pilots" mindset, which is at the heart of the brand's philosophy.
Founded by a real-life airman, the company strongly emphasizes producing designs that are in tune with the day-to-day needs of aviators.
The Lift Bag is a clear example of this philosophy in practice.
Conveniently for pilots, this compact bag is packed with compartments. Despite its relatively small size, users should have no problem fitting their tablets and headsets in a safe and snug arrangement and a host of other items.
The orange, fleece-lined interiors are attractive and easy to see in the dark. They also provide padding to protect your tablet, headsets, and other expensive gadgets from bumps and scratches.
Mesh organizers line the interior to make storing cables and other loose ends easier.
The outside of the bag contains handy pockets suitable for different needs.
The side-mounted handheld radio pocket can double as a water carrier, and there are also pockets for a flashlight and fuel testers. Two zippable outside compartments (front and back) are perfect for charts and other documents.
Build quality is another decisive point of this product:
The carrying handles are steel-reinforced and thus able to withstand cumbersome loads.
Although usually hand-carried, the bag comes with a sturdy adjustable shoulder strap.
The bag's sides are sturdy to guarantee durability for years.
Interestingly, Flight Outfitters offers a custom embroidery service whereby pilots can have their names, initials, or aircraft tail numbers embroidered on the bags they purchase.
Compact, durable, and ergonomically designed, the Lift bag has one sore Achille's Heel—it's not exceptionally spacious from the inside.
It should be fine if you are not lugging too many books around. However, the bag's interior might get cramped quickly if you carry several books.
MYGOFLIGHT Flight Bag PLC Lite – 229 USD
Bag Dimensions: 14" × 11" × 6"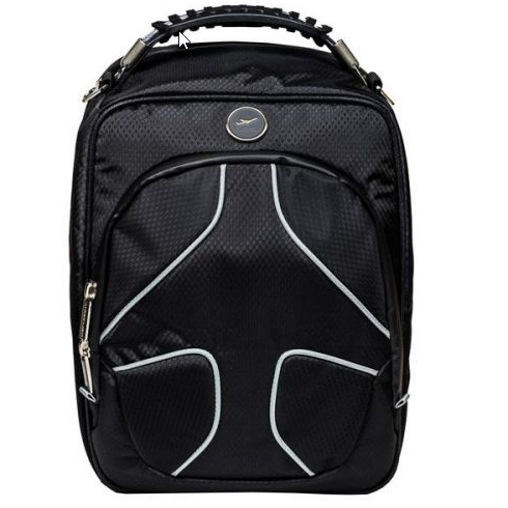 This flight bag is designed with the notion that an iPad—or some other tablet—is one of the essential items in a pilot's inventory.
Naturally, there is a massive market for this kind of design as most pilots carry around some tablet or another. Accordingly, this bag was designed primarily with that purpose in mind.
The bag features a large iPad pocket with a pass-through slot for a charging cable, allowing pilots to charge their tablets while on the go.
Alternatively, the ample space can also accommodate a laptop.
The MYGOFLIGHT flight bag also has ample space for storing your headset, backup batteries, and other electronics.
Assorted throughout the inside of the bag are numerous options for storing flashlights, fuel testers, phones, and other pilot essentials.
There are also wide and flat compartments at the front and back—perfect for carrying charts and documents.
The front of the bag unzips to reveal a sort of mobile "office" with meshed spaces for stationary, a cellular phone, business cards, and more.
The rear of the bag also unzips to allow immediate access to your tablet and headset.
What is apparent right away when looking at this bag is that a lot of thought has gone into how to get the most utility out of its compact size. Accordingly, the bag has an array of expertly structured and clearly defined compartments for various specialized uses.
This bag sports a very trendy design and wins points for style. Pilots tend to be somewhat conservative in color choices, and the bag only comes in black for conventional buyers. It does, however, come with an option for adding custom embroidery to the front of the pack. 
In addition to being stylish and filled with conveniently arranged storage options, the bag is also durable. Its design is notable for being constructed out of waterproof materials.
On the flip side, as its dimensions imply, this bag is too compact. So what are the minuses of MYGOFLIGHT flight bag?
Stick in your headphones, tablet, and other electronics, and you will have little additional space for books, snacks, and other items students might wish to carry.
Another drawback is that the bag has no external pockets. Sorry, but you must carry your water bottle in your hand.
The bag can be carried by hand or shoulder using the included strap. 
Flight Gear HP Captain's Bag – 128 USD
Bag Dimensions: 18" × 10" × 13"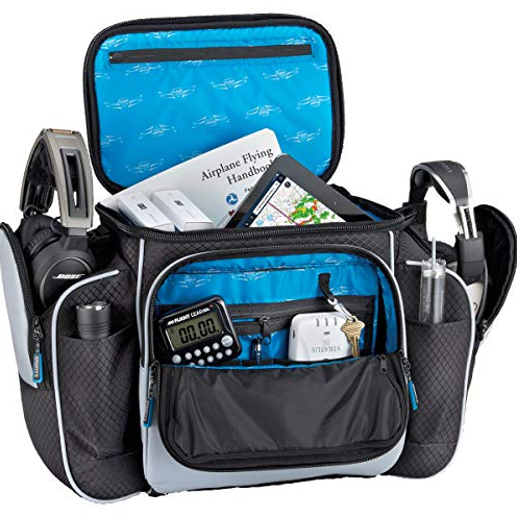 The Flight Gear HP Captain's Bag is as good as it gets for roomy, well-built, and competitively-priced student pilots.
The flight bag has a massive main compartment (12″ × 8″ × 12″) which can easily fit books, a tablet or laptop, other electronics, and even a change of clothes.
The compartment neatly divides into four subsections with internal padding for an iPad or other delicate electronics.
A pass-thru entry on the top flap enables easy access to your iPad—without needing to gut the whole bag's contents.
But that's not all.
The design also features not one but two padded side pockets specially designed for carrying headsets.
Add to this two quick-access chart pockets and external pockets for a flashlight and a fuel tester, and it is easy to see why spaciousness is one of this product's main strong points.
Flight Gear has earned a concrete reputation in the market and has been around for almost three decades.
Trusted by thousands of aviators, the brand looked to its primary customer base when designing this product.
Flight Gear considered Feedback from numerous pilots and what they wished to see in a new flight bag.
Similarly, customer reviews from previous flight gear bag users were also considered, and the feedback results were applied when designing the flight bag.
Like any ideal flight bag, this product is durable.
The ripstop nylon material used in the bag's construction is solid and can handle less than a delicate treatment.
It is also moderately water resistant and can keep contents inside the flight bag dry during light rain.
The manufacturer is so confident of this bag's build quality that they will back it up with a three-year warranty.
Spacious, durable, and generously priced, the Flight Gear HP Captain's bag is the best choice for student pilots.
The spacious inner compartment is perfect for students that don't want to leave their trusty reference books behind when they hop into the cockpit. Moreover, the bag's solid build means that students can rely on it to get the job done for several years down the road.
Furthermore, I would like to add two more Flight bags which are suitable for student pilots:
Image Source: gopalsluggage via Instagram.