Best headset for a student pilot. Don't compromise anything in your budget.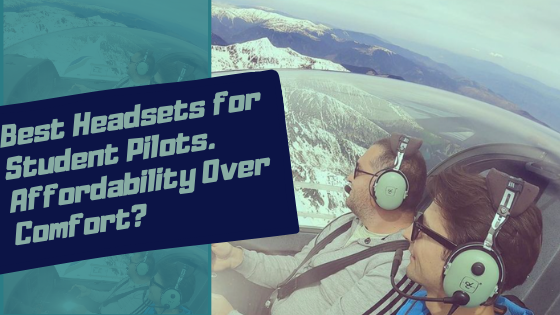 You are likely overwhelmed with many headset options for student pilots and tired of seeing different terms like ANR and PNR. I know buying your first headset can be confusing.
The best headset for a student pilot can withstand all the abuse during pilot training and is price tagged within the student's budget.
Like most student pilots, perhaps you are only concerned about getting a headset in your budget and starting flying. It's a common scenario for student pilots looking for the cheapest option. As a student pilot, I prioritized buying the least expensive headset to manage money for my flight school.
Hence, I listed the student pilot headsets from the inexpensive to the most pricey ones.
As there are multiple options in various price ranges, considering a few factors before buying your first headset is wise. Buying a headset is an investment, depending on your flying goals in the future.
You must understand that "you get what you pay for" is valid for a headset.
Though I organized the list from the less costly headset to the pricey ones, you can expect the inexpensive ones to be less durable.
Cheaper headset manufacturers can't include additional functionality due to the higher cost of production.
However, you can't pick a suitable headset without knowing what to expect from an aviation headset .
What is the best headset for a student pilot?
The cheap headsets are at the top of my list because that's what typical student pilots prefer for their first headsets.
Eventually, as they understand more about the cheap headsets' discomfort, they realize they could have invested more in a better headset that might last for years.
Regardless of your budget, you can find a suitable headset for your pilot training needs in this list post.
Rugged Air RA200 is the cheapest headset for student pilots.
Rugged Air RA200 is a headset that costs less than 100 USD. Honestly, what would you expect from something so affordable? I wouldn't expect much.
But you will be surprised if you approach buying this headset with poor expectations.
It's the cheapest headset on my list and trendy among student pilots.
Its popularity is due to the price and its performance with the price.
Cheap headsets compensate for canceling noise by clamping pressure on your head.
For long cross-country flights, the clamping pressure can become painful. Nevertheless, you can pull the headset outwards to fit your head size perfectly. Not too tight and too loose. It's already explained in the instruction manual.
So, if you are only starting in aviation and don't want to use the headset at your flight school, this Rugger Air RA200 is a blind buy.
Buying this headset for your professional pilot training is not ideal. On the contrary, no other headset can beat its price to obtain a private pilot license. In the worst-case scenario, you can upgrade to a better headset and give this to your passengers to use.
KORE Aviation Headset KA-1.
A headset under 200 USD sounds like a charm for a student pilot. It's indeed a good headset for the price.
Student pilots commonly have difficulty wearing a PNR(Passive Noise Reduction) headset during cross-country flights. A PNR headset uses the clamp pressure on your ears to reduce outside noise entering.
Thus naturally, the clamping pressure can be uncomfortable during a long flight.
However, student pilots who use the KA-1 headset say that the clamping pressure is bearable due to the gel ear seals.
Though KA-1 is the best PNR headset, the gel ear seals prevent air ventilation resulting in sweaty ears during long cross-country flights.
The significant issue with the KA-1 aviation headset is that student pilots complain the microphone often breaks down and doesn't transmit audio properly.
Proper communication is the key to safe flights. Your faulty microphone can lead to fatalities if other pilots and the traffic controller can't receive what you said.
The KA-1 is the best option if your aviation goal is to have a cheap headset until you get your private pilot license.
Though It's a sturdy headset and can get you through entire commercial pilot training, the KA-1 headset's performance in flight is unreliable as you progress towards commercial pilot training. For CPL, there are better alternatives.
FARO Aviation G2 is the only inexpensive ANR headset for student pilots.
A headset of around 350 USD for a student pilot is affordable. Like a headset over 600 USD, the FARO G2 has ANR (Active Noise Reduction).
At this price point, you can't expect an excellent headset. This headset is perfect for getting your private pilot license only.
If you are thinking of getting your commercial pilot license, then, as always, I recommend investing in a pricier headset.
Buying an ANR headset for less than 400 USD can't take you through your professional pilot training program.
There are numerous complaints about this headset's passive noise cancellation.
Unlike other cheap headsets, FARO G2 PNR is not very effective.
Thus, FARO Aviation suggests replacing the leather air seals with gel ear seals from FARO.
According to the users, the FARO G2 headset gel ear seals by FARO Aviation wonderfully reduce ambient noise.
Most student pilots look forward to buying a different headset before trying FARO's gel ear seals made for FARO G2.
As the name suggests, it's an active noise-reduction headset powered by batteries.
The biggest drawback is the active noise reduction consumes a significant battery charge. Some claim that a dual battery doesn't last more than 3 hours.
So, if you are purchasing this headset, you must consider that you can't use this headset for a long time with active noise reduction as the batteries dry up quickly.
Secondly, if you buy this headset, buy gel ear seals to replace the leather ear seals for this headset to reduce passive noise to its full potential. It would be best for a pilot that intends only to get a private pilot license.
If budget is your concern and you want a cheaper headset, go for the Kore Aviation KA-1 headset. It's affordable and performs well.
If budget is not your concern, continue reading for the best headsets for student pilots.
The best thing about FARO is that they offer three years Warranty and replace your headset if you have issues with it. They also give a lifetime free service for wear and tear.
They have excellent customer service, unlike expensive headset manufacturers.
So if you are determined to get this ANR headset, ensure you get a gel ear seal for your headsets.
If the battery drains up quickly and your passive noise reduction isn't working to its full potential without gel ear seals, you might jeopardize your flight's safety.
Lastly, I want to mention FARO G2 has an auxiliary input for you to connect to any device and listen to music or whatever you want. I don't know how practical this is for a student pilot, but I assume you deserve extra functionality with a 350 USD price tag.
David Clark H10-13.4 Pilot headset tested for durability by student pilots.
David Clark is the headset brand you need if you prefer comfort and sound quality over fancy functionality.
David Clark H10-13.4 is a passive noise-reduction headset.
Typically passive noise reduction headsets have uncomfortable clamping pressure, but pilots who use H10-13.4 headsets claim they are very comfortable.
The clamping pressure is not as stiff as other PNR headsets.
Thus as a student pilot, you can fly long cross-country flights without becoming tired.
This headset comes with gel ear seals which perform very well to cancel the outside noise of a propeller aircraft.
The price tag is almost 400 USD for this passive headset.
400 USD sound like a lot for a PNR headset compared to the above-mentioned headsets. David Clark is a pioneer in the aviation headset industry. So I suppose the brand value plays a role in the pricing.
Nevertheless, this headset has been tested by thousands of pilots globally and has a reputation for being durable.
David Clark gives a five-year guarantee for their headsets, which means you can use this headset as a student pilot and many more years later.
You can certainly buy this headset for your professional pilot training.
The sound quality of this headset is transparent. You will communicate smoothly with other pilots and controllers with gel ear seals and excellent audio quality.
H10-13.4 is not a cheap headset, and David Clark is a reputed headset producer globally. I would buy a more inexpensive PNR headset if I were only getting my private pilot license and upgrading to a pricey ANR headset in the future.
However, the David Clark H10-13.4 is a blind buy for big-budget beginner pilots.
Lightspeed Sierra ANR.
Now it's time to reveal the ANR headset with great functionalities and is budget-friendly. It sounds like Lightspeed Sierra is the best headset for student pilots.
Let's discuss all the positive sides of this pilot headset first, and we'll get into the downsides later.
The Lightspeed Sierra headset is 650 USD and is the least pricey in the ballpark. The audio quality of the Lightspeed Sierra is on par with the Bose A20 audio quality. Similarly, the active noise reduction performance is very good with dual batteries that give forty hours of backup.
Pilots who use the Lightspeed Sierra claim it is very comfortable. No clamping pressure exists, yet the plush gel ear seals prevent adequate outside noise from communicating better.
If you are a student with long-term aviation goals, this headset will serve you until you finish your professional pilot training.
This headset has BlueTooth for connecting audio devices and listening to music during your pilot training or hour building. It has a Compriority, so the music will cut off automatically when the intercom transmits anything.
There are complaints about the sensitivity of the Compriority that even a minor static cuts off the Bluetooth audio, which makes it bothersome to use.
Though I mentioned this is a good headset for student pilots, there are issues with the durability of the Lightspeed Sierra. Many users say it's not a durable headset, and the gel ear seals wear off quickly.
Replacing the gel ear seals is an option, but you may need multiple replacements over the years to keep using this headset, and ultimately it would cost you extra money.
The headset has a factory warranty, and students say it's not always beneficial as the sender has to pay for the shipping.
Ultimately, I take the Lightspeed Sierra as an excellent headset for the price, and with a 650 USD price tag, Lightspeed couldn't make it sturdy.
Another common problem with the headset is that the boom mic doesn't hold firmly after a few months of use. It could be particular to faulty pieces, but I heard about the issue from multiple pilots.
Though it's not the best ANR headset, you can use it comfortably throughout your training. The Bose A20 and Lightspeed Zulu 3 headsets are slightly better than this.
If you upgrade from your 100 USD headset to the Sierra, you will be satisfied with its active noise reduction and volume control for each speaker.
Bose A20 Aviation Headset is the best for all stages of pilot training.
If you want one headset to begin your pilot training and use it as long as you fly in general aviation, invest money in the Bose A20 headset.
The Bose headset prices are around 1100 USD.
Bose didn't compromise anything in constructing this headset for pilots. This headset might seem like an advanced headset for student pilots, but as I said, this headset will last forever in general aviation.
So far, I haven't heard many complaints from the users of Bose A20 headsets.
The average functionality of aviation headsets is almost the same, but a pricey headset stands out in performance.
When you pay over 1000 USD for a pilot headset, you expect it to be extraordinary performance-wise.
It's an active noise-reduction headset with 50+ hours of battery backup. Compared to other ANR headsets in the market, Bose A20 is a beast.
Once the active noise reduction is turned on, your Bose A20 enhances communication by providing transparent audio.
No outside noise can cause disturbance while listening to ATC transmissions and what your flight instructor says.
Bose claims this headset has 30% less clamping pressure than other aviation headsets. With less clamping pressure, you can operate the long flight without pain and discomfort.
A headset must be comfortable for long flights because allowing a headset to hinder your communication is a fatal mistake.
Also, it's the lightest ANR headset that contributes to the comfort of pilots.
Bose must add Bluetooth in all their A20s without exception. You need to pay extra for a Bose A20 with Bluetooth connectivity, which I don't like. You already pay a hefty price for the headset, and Bose asks more for add-ons.
Who needs this headset?
For student pilots that fly Cessna 152 or 172, Bose A20 is a great choice. Bose A20 will prevent you from damaging your eardrums in the long run.
If a student pilot upgrades from a cheap headset from this list to a Bose A20, they would notice a significant drop in outside noises.
Understanding ATC communication early in pilot training can be challenging for a student pilot whose first language is not English. For those students, the Bose A20 headset can indeed work wonders.
The silence inside the earcups and exclusively listening to the transparent audio communication helps understand each detail clearly.
What are the complaints?
Though Bose A20 is a great headset, there are a few complaints.
I noticed most of the issues are about defective units.
Many times pilots that order online receive a defective headset. A faulty unit is not on par with an effective headset.
Another problem arises when the user returns the defective unit. Bose has responsive customer service, but having a store near you would help.
Because Bose wants their customer to pay for the return shipping, the entire procedure for getting your replacement headset may take around 30 days.
What does Bose expect from a student pilot with one headset? Do they think the students must pause pilot training, waiting for their 1000 USD investment to return?
Another issue with Bose A20 headset is that the plug is not universal for all airplanes. You may look online for a suitable adapter to connect this headset to your aircraft.
My verdict overall:
It's not the best headset to start your pilot training. However, it's the best upgrade for any student pilot who intends to be in general aviation for years.
I also heard about airline pilots using these headsets and had a good experience. So I can say if you invest in this headset, you can probably use it together with other headsets throughout your career.
Conclusion.
There are plenty of headsets for student pilots. Some are pricey, and others are very reasonable. It would help to choose only a headset that suits your needs and aviation goals.
Most student pilots buy an inexpensive headset and upgrade to an expensive headset for the best benefit.
Once you upgrade your headset, you can keep the cheap ones as your backup headset or for the passengers.
Choose a sturdy, good-quality headset, and you won't regret it. Because missing communication as the PIC is not something you want. Hence, I only listed the few best headsets for student pilots in the market.
Image Source: horeastraut via Instagram.