101 Details of private pilot checkride explained in an easy language.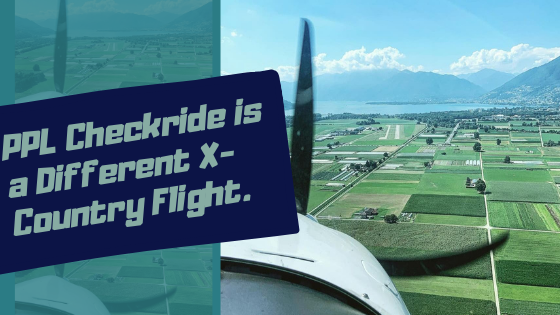 The private pilot checkride is nothing more than a regular cross-country flight. A good student pilot knows everything and can easily pass the private pilot checkride.
The private pilot checkride is difficult for those with poor aeronautical knowledge.
What is a private pilot checkride?
A private pilot checkride is the oral and practical exam to get your private pilot license. To simply put, once you pass your private pilot written exam and accumulate enough flying experience, you can schedule a date for your private pilot checkride.
The checkride divides into two parts, and the Designated pilot examiner (DPE) evaluates your skill through:
A PPL oral exam: Takes about one hour and a half;
A practical cross-country flight; Takes another hour and thirty minutes.
How long is a private pilot checkride?
The checkride is a straightforward exam that only takes 3-4 hours out of your day.
Most student pilots fret over the duration of the private pilot checkride. If you're well prepared for your private pilot checkride, hours will pass quickly.
As I already mentioned, a checkride has two segments: The oral exam and the actual flight test.
Thus let's begin by discussing the private pilot oral exam part.
What is the private pilot oral exam? How hard is it?
The oral exam is the ground part of your private pilot checkride. During the oral exam, the DPE will test your aeronautical decision-making.
To be more specific, the oral exam is about safe flight operations.
You can easily pass this stage if you understand basic flight planning, navigation, and communication.
During your oral exam, you'll have to plan your entire cross-country flight for your checkride with your DPE.
Though the DPE has no malicious intent for you, don't expect him to assist you in any way with flight planning. You're the pilot in command (PIC) on your checkride day.
Planning a cross-country flight is basic and essential for flight operations.
I assume if you're an experienced pilot and your CFI endorsed you for a checkride, you already know the whole nine yards of flight planning.
As cross-country flight planning is a trivial task, you can already figure out the simplicity of the oral exam.
Similarly, the DPE may want to know about flight operations. If you have passed your FAA knowledge test, this part of your exam won't be difficult.
RELATED: Know the questions your DPE may ask on your private pilot oral exam apart from flight planning.
Later comes the private pilot's actual flight exam. How do you pass the practical exam?
What to expect on your private pilot checkride practical test?
You did your flight planning during your oral exam, and now it's time to implement those plans in reality.
You'll take the DPE to the sky and travel cross country.
You must do multiple landings in a different airstrip and prove you're worthy of a private pilot license.
All the time during your cross-country flight, the DPE will observe all your actions. Especially the DPE would focus on safe maneuvers and emphasize more on the operations abiding by the Airman Certification Standards (ACS).
Thus do everything by the book (I mean ACS), and you're good to go.
Don't expect your DPE to speak to you or correct you on your checkride practical test.
If your DPE speaks to you or tries to correct you on a maneuver, it only means you may have done it inappropriately. This doesn't mean you have failed your checkride.
You have to be patient and wait until you finish your flight to know the result. Don't fret over the things that went wrong before. Focus on demonstrating the next maneuver properly.
Thus crucial planning before the checkride is essential, and you have the time to do so during your oral exam. So utilize the time during your oral exam, and don't try to hurry through the process.
Take your time and plan precisely; eventually, it'll show the DPE your diligence as a pilot.
A quiet DPE always signals that you're doing great on your checkride practical test.
However, you can only know the final result after you complete your checkride.
If you notice your DPE is quiet throughout the entire cross-country flight, then you have passed the practical test, and there's no more barrier between you and getting your private pilot license with your name on it.
How many landings for private pilot checkride?
The paperwork & documents you need to carry to your private pilot checkride.
How much is the Private pilot checkride cost?
Typically the cost associated with the checkride is the fee for the DPE. There are no other costs associated with a checkride.
It's a tricky question to ask: How much is the cost of a private pilot checkride?
Because there is no fixed rate, different DPE may ask for a different rate. However, 650 USD is the most reasonable checkride cost.
Though the rate has spiked a bit recently, DPEs ask for around 700 to 800 USD nowadays.
Inflation does play a role in this, and I don't blame DPEs because they're just human beings like us trying to make a living.
Understand this: A checkride takes half a day from a DPE's busy schedule.
This is another factor that plays a role in the increasing checkride cost. Designated pilot examiners are in demand and often are booked for checkride months ahead.
Raising your price when there is a demand is only basic economics. Likewise, there is no designated fee recommended by the FAA.
Furthermore, if you find an available DPE not in the exact location as you, you may have to travel to his location for the checkride, which adds more cost for the student pilot.
Typically, student pilots are willing to pay any amount a little higher than the reasonable price because they want to get over with their checkride.
Ultimately, there is no fixed rate that anyone can promise.
However, all flight schools have their favorite DPE. So it's best to ask your flight school about the current fees that their designated DPE charges for a checkride.
You can also contact other DPEs if your school's examiner is unavailable at the time.
SOURCE: How much did you pay for your checkride?
What new facts and ideas can you grasp from a checkride course?
I already mentioned that the PPL checkride prep course aims to prepare students to answer questions that a DPE will ask. An examiner will not ask questions or request a demonstration for a commercial pilot license during a private pilot checkride.
A student will learn techniques from a checkride prep course to answer the examiner's question quickly and guide the examiner to ask questions you want them to ask.
Similarly, a student can refer to the Airman Certification Standards to prepare what to anticipate.
You will not learn anything outside your PPL stage, but you will understand more ways of cockpit resource management and be aware of any complicated situation.
If you passed the FAA PPL knowledge test, you could pass the checkride.
You are probably about to take your PPL checkride next week. If you have come this far, you passed your FAA private pilot knowledge test. Without taking the FAA knowledge test, you can't have an endorsement for your checkride.
Passing the knowledge test proves you are ready for the private pilot oral exam.
The check pilot will not ask for anything extraordinary for your stage of pilot license. The check pilot will only ask relevant questions for the private pilot licensing phase.
If you aced your private pilot knowledge test, you could straightforwardly answer all the questions during the oral exam.
So, stop thinking about failure to answer check pilot's questions. Have confidence in your ability of aeronautical knowledge, and be prepared to answer any question at the private pilot stage.
It is also prevalent for Designated pilot examiners (DPE) not to ask too many questions if a student pilot scores high marks on their private pilot knowledge test.
If you scored over 90% marks, the chek-pilot would trust your knowledge of operating an airplane.
However, the scenario may not be the same for you, and the DPE might ask many questions to verify your understanding. So prepare for any questions by reading aviation books, especially the ACS.
RELATED: Private pilot license study materials.
Your flight instructor endorsed you for a checkride because he trusts your ability.
Without the endorsement from your flight instructor, you cannot take a private pilot license checkride.
Your flight instructor will endorse you for a checkride if he firmly believes you can pass the checkride.
Yet, in rare cases, student pilots fail their private pilot checkride.
Flight instructors will not endorse you if they think you are unprepared for a checkride. If a student pilot fails the private pilot checkride, it will reflect on the flight instructor's capability.
A student pilot's failure means the flight instructor failed to teach the pilot adequately. Similarly, the flight instructor doesn't understand the student pilot's ability to safe flight operations.
So trust your flight instructor when he endorses you. Use the endorsement as a confidence booster for yourself.
What happens if you fail your private pilot checkride?
Failure to pass a checkride is not as common as you may think. The private pilot checkride is very straightforward, as you may already know by now.
However, in the worst-case scenario, if you fail the checkride, you only have to pay again to retake the checkride.
It's not just about paying for the checkride but you have to take lessons on the subjects you couldn't perform. It means paying for extra flight training.
Failing a checkride doesn't mean your dream of taking off has ended. It's only delayed.
Retake your checkride and do your best this time.
Many times it happens that if you take your second checkride pretty soon after your first failed attempt, the instructor is less stringent and only wants you to demonstrate the materials you failed in your previous checkride.
Private pilot checkride questions.