What questions to expect on your private pilot oral exam?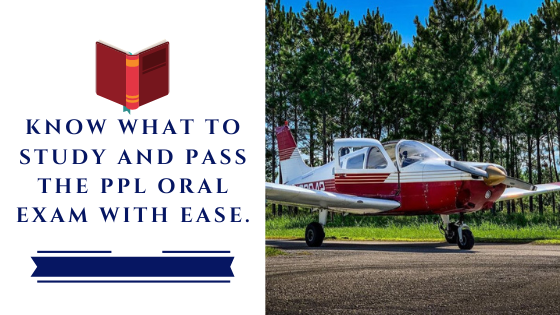 Face your DPE on your PPL checkride day with confidence because I will tell you what to study and how to prepare for the PPL oral exam.
I can tell most student pilots are anxious on their checkride day, and that's one reason why many student pilots fail.
I will not teach you what your check pilot will ask and how to answer DPE's questions. However, I will mention the books which have the questions your DPE may ask, likewise, the answers to any question your DPE has prepared for you.
You can also carry and refer to a few books mentioned in this article during your PPL oral exam. No worries, your check pilot will allow you the time to check on these books if you can't remember a subject.
What questions to expect from your private pilot oral exam?
The private pilot oral exam is the verbal part of your checkride. The DPE will ask questions during the oral exam to test your aeronautical knowledge.
At this stage, you would have already passed the FAA written test. If you scored more than 90% on your written test, the examiner will likely not ask questions regarding aeronautics.
Most of the questions will be relevant to actual flying.
The DPE will focus more on your knowledge of:
Federal Aviation Regulations;
Safety procedures; and
Flight planning.
I can't say that the oral examiner will only ask questions about these subjects. However, I assure you that you will not face any questions outside the ACS.
The DPE can ask questions outside the PPL ACS, but incorrectly answering such questions will not fail your checkride.
Be confident that the DPE is satisfied with your performance and thinks highly of you. Hence the designated pilot examiner asked questions beyond the PPL ACS.
Don't hesitate to articulate information to the DPE because you are only at the PPL stage.
Remember, a pilot can never learn everything. The best thing is to know where to look for the correct information during an urgency.

Capt. Elite.
Therefore you must always carry particular books, and student pilots and examinees can take specific books to their exams.
Which books can you take to your private pilot oral exam?
There are two classic books you can refer to during your oral exam. Your DPE will ask questions, and if you think you need to check the information in your book to verify whether the answer is correct, your DPE will give you the time to do so.
By doing so, you will not disappoint your DPE. The DPE will think you are a safer pilot and want to know what you must do precisely.
The two books are:
FAR/AIM by the FAA contains every detail on Federal Aviation Regulations and maintaining air safety.
The answers to the most basic questions such:
What is the validity of a private pilot license?;
How many passengers can you carry with a PPL?;
What documents must you have as a pilot in command of an aircraft?;
When should you do recurrency training as a private pilot?;
What are airworthiness certificates and their validity?
These are the most common questions your DPE will ask, and as a student pilot, you already know the answers to these questions.
However, there are more uncommon questions you might need to verify the correct answer, and you can refer to your FAR/AIM book.
If you are hesitant about a correct answer, check your FAR/AIM book to find the correct answer.
Regardless, don't spend too much time looking for the correct answer.
Use bookmarks on your book to find the answer to a question at once.
Hence it is essential to study the FAR/AIM book. Similarly, you can use the ACS to create bookmarks in your FAR/AIM.
How to use the ACS?
The Airman Certification Standards have all the information you must know as a private pilot. This book tells you what a private pilot must learn to conduct safe flights. Many answers to the information in the ACS are available in FAR/AIM. Use the ACS as a Syllabus for your Oral Exam study.
You are not obliged to learn more than what ACS indicates for the private pilot license.
Your DPE might ask you things outside of ACS, but you will know the question is beyond your stage if you study using the ACS.
You can either have a free version of ACS on your iPad/tablet or purchase an Airman Certification Standards book.
I always keep a hard copy of the book if my tablet runs out of battery or has trouble.
RELATED: Which is the best iPad for flight school?
The last place to look for private pilot oral exam questions.
You already know what to study to prepare for your oral exam.
But that's not all. There is a quick study guide to learn the questions DPE typically asks student pilots during the PPl oral exam.
Knowing the questions and practicing answering them questions can boost your confidence.
People always fear the unknown. Many student pilots fail their oral exams due to a lack of confidence. You can only imagine how confident you can be during your PPL oral exam if you can only know what type of questions the DPE has in their mind.
You can use a little book PPL oral exam guide to learn the questions and answer to the DPE's satisfaction.
PPL oral exam guide is a book to familiarize yourself with the DPE's expectations. Don't memorize the questions and the answers. Use this book to practice answering and know the possibilities of passing your PPL oral exam.
RESOURCES: