Your Ultimate Courses to Refreshing Your Private Pilot Skills.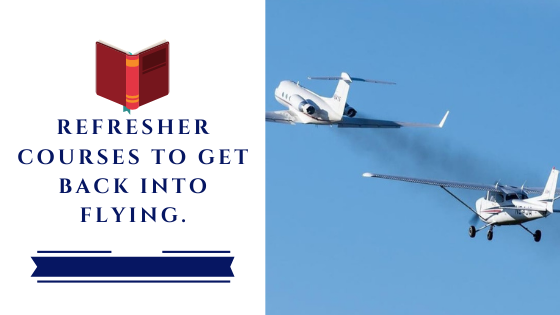 Are you going back to flying after years? I suppose it's been a while since your private pilot license expired.
A perfect private pilot refresher course will bring you back on track, whether you are back in general aviation after a decade or merely to refresh your flying skills. Though studying after a long time requires practice, the ideal system saves time.
Hence, I listed the refresher courses online for all private pilots:
Gleim Pilot refresher course;
Sporty's rusty pilot kit.
Perhaps a decade, it was not as easy as today to do a PPL refresher course online. However, the private pilot refresher materials are available for all iOS and Android devices.
Use Rod Machado's online rusty pilot collection as a private pilot refresher.
Rod Machado has a reputation for creating excellent resources for pilots. Being a veteran flight instructor, he has outstanding articulating skills for student pilots.
Though his rusty pilot collection is not a dedicated online private pilot refresher course, buying the correct book and short courses from the collection can take you ahead of most current pilots.
Rod Machado's rusty pilot collection courses are also great for any private pilot. Especially Rod's 40 hours private pilot eLearning course is excellent for passing FAA private pilot knowledge test.
But purchasing an entire PPL ground school is unnecessary as you seek a PPL refresher.
As a private pilot renewing your license, you need to be aware of the following:
The latest Civil Aviation regulations;
Different kinds of airspace and operational procedures within the airspace; and
Understand essential cross-country flying skills.
You are knowledgeable of the aeronautical information mentioned in the forty-hour course. If you need complete lessons for the private pilot license, purchase the private pilot eLearning course.
I wouldn't buy the entire forty-hour course as a private pilot for my refresher. I would buy the personal pilot handbook by Rod Machado and study at home. Sometimes reading is a better way to refresh your mind with the knowledge you already have. Use this book to read and learn to prepare for your private pilot license renewal or refresher.
The flight review eLearning bundle within the Rusty pilot's collection is the only course I recommend buying for private pilot license renewal. The bundle is less pricey and includes the superior materials essential for safe flight operations after a long time. You can also reasonably purchase a few short courses from Rod's Rusty pilot collection.
The bundle consists of two sections:
Federal Aviation Regulations;
Understanding Airspace by Rod Machado.
You can buy these two courses separately, but buying these two courses in a bundle is less pricey.
To summarize, I would say that if I were going back to flying after several years, I would buy the forty hours course.
But as a pilot preparing for the renewal of my license or only to improve my aviation knowledge, I would buy the book and read it thoroughly.
If planning to improve my flying skills and boost my existing knowledge, I would buy the book and the flight review bundle.
If you want to go through the entire rusty collection, check here.
Sporty's rusty pilot kit.
Sporty's has been in the teaching business for decades now. They also build a reputation by creating excellent online resources for pilots.
If you take the FAA private pilot knowledge test, they have an online ground course that also endorses students for the knowledge test.
However, pilots outside the USA can access Sporty's online courses to prepare for their private pilot license exam.
Sporty's also has an excellent Rusty pilot course, second on my preferred list of refresher courses.
The sporty's course has two different sections:
VFR communications online approach;
Flight review online system.
The first section of VFR communication is a 60 minutes course that allows rusty pilots to refresh their aviation communication knowledge.
Although proper communication is crucial for the safety of flight operations, pilots forget aviation communication quickly.
Flight communication can confuse the pilot and the air traffic controller, leading to fatalities. Thus, it is best to practice proper communication to prevent any air crashes or confusion while operating the airplane.
If you are a pilot who completely forgot how to communicate in the air, I recommend purchasing Sporty's rusty pilot course.
This course has a dedicated 60 mins to improve air communication of pilots to ensure safe operations in the sky and on the ground.
Pilots never forget flying entirely. Most pilots forget only parts of aeronautical knowledge.
If I return to flying after years, I will purchase Sporty's rusty pilot collection to practice communication. You can also find this VFR communication course separately on Sporty's website.
Likewise, The rusty Pilot collection by Sporty's includes a flight review course.
This section can review flight operations by watching animated videos and footage from the actual flight.
You don't have to return to flying to improve your rusty flying skills. Your new journey can start from Sporty's rusty pilot's course—this section is suitable for any pilot at any stage to refresh their stick and rudder flying skills.
Gleim pilot refresher course.
If I go back to flying after decades, I won't pick a Gleim refresher course. After years outside aviation, I would need a complete system to become a safer pilot.
Hence, I would select a course like Rod Machado's forty-hour eLearning course to recall private pilot studies.
However, not everyone is equal. As mentioned, someone needing attention for VFR communication can choose Sporty's rusty pilot collection.
On the contrary, someone who needs to address issues around a specific aircraft must purchase the Gleim pilot refresher course.
 For instance, a pilot must understand the aircraft before taking off. A pilot not paying attention to minor changes or details of the plane can lead to problems in the flight.
The Gleim refresher course emphasized aircraft weight and balance, airplane performance and limitations, and flight emergencies to ensure aircraft safety for rusty aircraft pilots.
King School's Return to VFR flying.
King School's course is the priciest among the rusty pilot courses on my list.
There is probably a reason for the price because this course is dedicated by veteran flight instructor John King for rusty pilots getting back inside the cockpit.
What is a refresher course?
A refresher course is essential for those with aeronautical knowledge, which must refresh their minds and recall the existing knowledge. Most pilots don't need entire lessons from their PPL ground school. A rusty pilot needs a summary of all the aeronautical subjects and prepares themselves for safe flights.
Therefore the King School's rusty pilot collection is an excellent choice because the course seems like a compiled summary of each aeronautical subject. Though it's a bit pricey, John King and Martha King did their best to prepare rusty pilots to return to the sky as soon as possible.
A pilot is flying an aircraft and needs to be aware of many other things to conduct safe flights. Thus the King schools course also contains subjects that matter for aeronautical decision-making.
Conclusion.
Most of the online courses are good. But different pilots have different opinions. Every pilot has a unique way of learning. Hence they give a positive statement about their preferred instructor. A student's select instructor is always the teacher; an individual student understands better than others.
I always liked Rod Machado's teaching style. But if a private pilot wants to refresh his communication skills, he would pick Sporty's rusty collection to improve at VFR flying.
Get up to speed with our guide! Discover crucial topics in a private pilot refresher course for honing your aviation skills. ✈️????