Things you should know before buying Rod Machado's Ground School.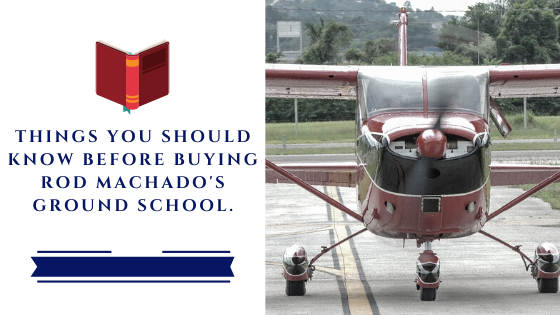 A student pilot's priority is to pass the private pilot license knowledge test and obtain the license quickly.
In this post, let me tell you why Rod Machado's ground school courses are one of the best for student pilots.
I broke down this post into three sections:
What should you expect from a PPL ground school;
What would you get by subscribing to Rod Machado's ground school course;
How did I use Rod's private pilot ground school course to excel in my PPL exam?
Use Rod Machado's ground school to ace your PPL exam and implement techniques you learn from the course in actual flight training.
What should you expect from a PPL ground school?
Student pilots often fail their FAA private pilot knowledge test due to a lack of knowledge. Though a student pilot can have multiple attempts to pass the FAA knowledge test, it's always better to pass on your first try.
A ground school aims to teach you all the necessary information to answer any question from your knowledge.
Before enrolling in a ground school, you must learn about the ground school instructor. An experienced instructor can articulate information better than others. Without a good ground instructor, all the new aeronautical information will be overwhelming to grasp.
A ground school instructor like Rod Machado is not monotonous and makes learning entertaining.
If you are bored while learning aeronautical information, you will likely give up studying. You might miss crucial details if it is hard to follow your ground school lessons. As a result, you will have poor flight training experience.
Having a ground school with separate video clips of each lesson is essential so that you can jump into any section you missed or need review.
Next, an online ground school must endorse students at the end of the course so that the student can register for the FAA private pilot knowledge test.
Lastly, lifetime access with a one-time payment is necessary. If you subscribe to a course and have access only for a year, you can't refresh your knowledge in the future as required.
A private pilot ground school contains fundamentals of flying and aeronautics, and it's good to have access to foundational information anytime you want to revise.
Unlike physical ground school, you can access Rod Machado's ground school online whenever, and from any device you want. Access the aeronautical knowledge if you are a rusty pilot five years from now. And the best part is you only paid once for all the benefits.
What would you get by subscribing to Rod Machado ground school?
Rod Machado frequently updates the ground school to stay current with the latest FAA regulation.
You will know the latest regulations as a student pilot training in the USA or a rusty pilot. Likewise, Rod Machado updates the course following the newest Airman certification standards.
Knowing the latest regulations and Airman Certification Standards, you don't need to worry about the newest question in the FAA knowledge test. You would be ready to answer any question relevant to the latest FAA question bank.
Rod Machado's private pilot ground school is not only to prepare for theory.
You will learn a lot about actual flying. By learning about accurate flight during ground school, you can implement the knowledge to become a competent pilot in aviation.
Practical flights can be challenging and require extra hours for a novice pilot to grasp everything.
Spending more hours is a common problem among student pilots, and many quit flying for this reason. Flying fewer hours means you won't spend more money on actual flights. This ground school may save a few hours in flight training by learning about flight skills during theory lessons.
Participate in quizzes to test your knowledge.
Online courses are designed to pass the FAA private pilot knowledge test and include tests within the system to check your aeronautical knowledge. Rod Machado's ground school is no different.
After each section, you will have a quiz and a comprehensive quiz after each module.
Every time you finish a module, you can test your intelligence using the quiz. You can point out where you lack and go back to your specific lessons to revise.
Practice multiple-choice questions similar to FAA's exams from an early stage. It is crucial to practice answering multiple-choice questions to know what you will face during your FAA exam.
Rod Machado also included an eWorkbook with this ground school.
The workbook contains over 1800 questions for you to practice. You can purchase the workbook separately for 19 USD. However, the book is free with Rod Machado's ground school.
Many students failed their FAA knowledge test because they didn't practice answering multiple-choice questions adequately. So with this ground school course and eWorkbook, I say you would pass your test on your first attempt.
Use the book to practice answering the FAA knowledge exam questions within the time limit. The more you practice, the more intenser you will get with time management during your FAA private pilot knowledge test.
What is better than learning from a pioneer in the aviation industry?
Imagine how much you would spend to take Rod Machado's instructions in person. Instead, you get 40+ hours of ground and flight instruction from a veteran flight instructor without spending thousand of dollars.
The 40+ hours of the ground school includes a lot of lessons. Rod Machado claims that the entire course is equivalent to the classes for one semester of an Aviation Degree. Most online ground school courses are around 25 hours. Though the course is lengthy, Rod Machado's ground school is detailed and teaches every aspect of flying.
I don't mean Rod Machado is better than others, but I say the course is more detailed than other ground school courses. Similarly, the free books you get with this course will help further your studies. With all the resources, you can be a competent pilot.
Sometimes it doesn't matter how good your resources are. If you don't practice adequately, you can't be good at what you do.
Thus, Rod Machado, a pioneer flight instructor, designed this course for pilots to learn, practice, and revise.
You can find each lesson and jump to the section immediately to revise what you need.
Rod Machado's ground school will save you time, and you can access the course from any device with an internet connection. Study in your free time if you are a part-time pilot.
Learning has to be fun. Otherwise, students lose interest, and education becomes difficult. Rod Machado is known for being humorous and making learning fun and interactive.
The comprehensive animated videos are fun to watch and quickly obtain precise information.
You will get an endorsement from Rod Machado to take your FAA knowledge test.
After you finish all the lessons and pass all the tests within the ground school, you will get certification from Rod Machado. An endorsement is necessary to take the FAA knowledge test to verify that you have sufficient ground training and aeronautical knowledge.
Get lifetime access to the course and other resources at an affordable price.
As a pilot, you may need a refresher once in a while. Perhaps you want to revise a lesson after five years. You can log in with your credentials and study as you will forever with lifetime access.
Image Source: felipe_spotter via Instagram.