Private pilot written practice test.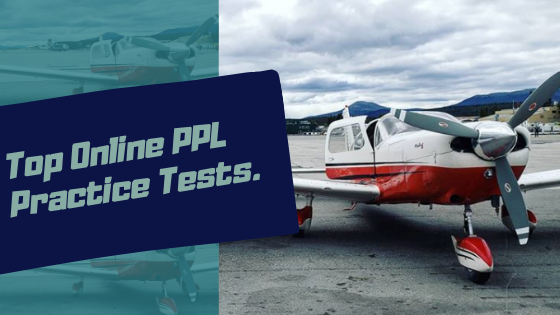 Student pilots need to practice for private pilot knowledge tests.
With the availability of countless resources online, choosing the right one can be a dilemma.
I shared three private pilot practice tests that you can use to familiarize yourself with the FAA knowledge test questions.
I listed the free resources and the paid courses. All of these courses will help you to assume:
The type of questions you will see in the actual test;
How to answer all the questions correctly within the time limit to pass the exam.
In short, paid courses are always the best to prepare for the exam, and I will tell you why at the end of this article.
But first, let's see the free courses you can find online.
Exams4pilots.org
Exams 4 Pilots is an online tool where you can choose the type of exam you will take.
Student pilots can choose the Private Pilot License exam and decide how many questions to generate and practice test duration accordingly.
Immediately, you will see multiple-choice questions with a time limit.
The time limit will be variable depending on the number of questions you choose.
Exams 4 Pilots' FREE practice exam is excellent for familiarizing yourself with the FAA knowledge test questions.
Similarly, you will be comfortable completing an exam within the time boundary.
Nevertheless, merely taking the Exams 4 Pilots' free practice test is not adequate to pass the FAA knowledge test.
FAA does not publish the questions of FAA knowledge tests like they did in the past. Thus free platforms like Exams 4 Pilots have limited questions for student pilots to practice for free.
FREE platforms have limited questions, and they do not update the question bank as frequently as a paid tool. After taking the PPL practice exam in Exam 4 Pilots, you will see a repetition of the same questions, which is futile.
King School's FREE FAA Private Pilot Practice test.
As I mentioned:
Free courses are not adequate to pass the real FAA knowledge test.
Similar to Exams 4 Pilots, King School's private pilot practice test is helpful to get comfortable with perfecting the exam without exceeding the time limit.
In King School's free mock examination, you can choose 60 aeronautical questions at once.
King School designed it like an actual FAA knowledge test, unlike Exams 4 Pilots, where you can pick many more questions at once.
However, King School's question bank has outdated questions like all other free platforms.
Student pilots cannot memorize the free questions and expect to pass the private pilot FAA knowledge test.
These were common for decades:
Student pilots memorized the answer to the questions and passed the FAA knowledge test.
Students didn't need to understand a subject clearly.
Hence, the FAA frequently adds new questions to the knowledge test and clarifies publishing the student pilots' questions.
It is a superb technique to drive student pilots to study harder and progress toward being more thoughtful and safer pilots.
Now, it is essential for student pilots that they:
Clearly understand aeronautical subjects, so they are ready to answer all types of questions;
Don't rely on FREE tools for memorizing questions and answers.
Kings School's practice test page has a bold warning regarding this concern to prevent students from failing their FAA knowledge test.
My first choice for practicing multiple-choice answers is Rod Machado's Private Pilot eWorkbook.
In most of my articles, I mention at least one resource by Rod Machado. He is famous for explaining complex subjects straightforwardly so that students can remember. I like his books because his language is transparent.
He has an eWorkbook which is best if you use it with his private pilot handbook.
Regardless of the Private pilot handbook, you can use this inexpensive book to practice answering questions. The book has 264 pages and almost 2000 questions on general aviation subjects.
The PDF file is only 20 USD, the most inexpensive resource for pilots to prepare for the PPL knowledge test.
By only using the free resources to practice for the PPL test, you will lower your chances of passing the FAA private pilot knowledge test.
Using a workbook like Rod Machado's eWorkbook will train you to remember the tiniest detail of aeronautics. Therefore, any unseen question will not be irrelevant to you anymore. You will learn more than you need to memorize to pass the private pilot knowledge test.
Private Pilot Written Test Bootcamp by FLY8MA.
FLY8MA's private pilot practice test is an excellent tool, and it is not for FREE.
I mentioned two FREE training tests for student pilots. You may already know why the FREE resources are not enough to pass your actual exam.
FAA discourages student pilots from memorizing the answers for the exam. The FAA desires this: Student pilots will study a subject acutely and answer any question relevant to the topic.
Paid private pilot practice tests like FLY8MA's Bootcamp course will train you to answer unique questions.
In FLY8MA's Bootcamp course:
The flight instructors work hard to prepare factual questions and add them to the question bank for the students to practice.
Experienced flight instructors added the most relevant questions to the FAA's recent questions.
FLY8MA's flight instructors consistently update the questions database according to the FAA's new regulations that keep student pilots up to date.
Instructors emphasize brand new questions to prepare student pilots for unseen problems.
Pilots who did not take an exam for a long time will have difficulty during knowledge tests.
Paid practice test courses train student pilots to manage time to answer unfamiliar questions without exceeding the time limit.
FLY8MA's Bootcamp also helps student pilots understand aeronautical information even more clearly.
It is so common that many private pilot trainees did not take any exam in over a decade.
For such student pilots, FLY8MA's private pilot Bootcamp is a must.
Figuring out the answer to a unique question takes time, and someone who did not take any exam in a long time will likely fail because of poor time management.
Using this FLY8MA's private pilot practice test helps student pilots sharpen their aviation knowledge. Likewise, practicing different questions will prepare them for the FAA knowledge test.
In the long run, a paid version is always beneficial for student pilots regardless of when you took an exam the last time.
If you don't want to take the private pilot knowledge test more than once, paid tools are the way.
Conclusion.
Knowing aeronautical subjects in-depth and precisely understanding them will benefit you several ways.
You will become a better pilot;
Can pass your private pilot exam with ease;
Students pilots will be ready for their check-ride.
To become a better pilot, and pass your FAA knowledge test, use an online pilot course and buy a test prep from the private test prep list I created.