Online ground school to get FAA Private Pilot License (PPL).
Selecting the best online ground school for private pilots can help a student pilot in numerous ways, one of which is effortlessly passing the FAA knowledge test. Passing a knowledge test without re-taking is one of the perks of enrolling in a suitable PPL ground school online.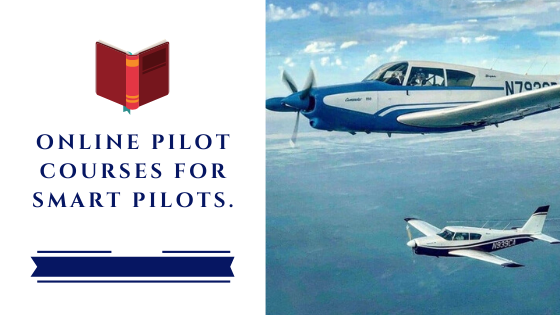 Other factors a PART 61 private pilot trainee must consider before buying an online course are:
Getting released for solo flight quickly;
Acquire aeronautical knowledge without overwhelming;
Endorsement from a CFI to take the FAA PPL knowledge test;
Passing the knowledge test on their first take;
To become proficient in actual flight operations;
Passing the checkride comfortably;
Lifetime access to numerous resources on a budget.
Before landing on this page, you may not have thought about all these factors, but as a private pilot myself, I can tell these factors are critical to quickly obtaining a private pilot license.
Hence, I listed the six best online private pilot license ground schools here, taking all the facts into account:
What are the best online ground schools for private pilots to learn aeronautics and pass the FAA knowledge test?
Before reviewing each online PPL course, I would like you to know why online ground schools are a better option for the PART 61 student pilots.
PART 61 student pilots prefer studying at their own pace.
Unlike a physical ground school, you must not attend scheduled classes.
Pilots can access online ground school anywhere from a device and internet connection.
Similarly, you can review a topic unlimited times if you have difficulty understanding it.
Rod Machado's 40 hours of online PPL ground school has a competitive price and lifetime access.
Although many qualified flight instructors are qualified, only a few can articulate aeronautical information precisely to new student pilots.
The ability to articulate aeronautical information comes from years of experience, and Rod Machado has decades of experience training student pilots.
Rod Machado's online private pilot ground school has the peak spot on my online PPL ground school list. 40+ hours of aeronautical knowledge explained effectively for student pilots to grasp. A little bit of humor to make learning enjoyable and an affordable price makes Rod Machado's course perfect for passing the FAA knowledge test.
Most student pilots have a significant problem: they find aeronautical information overwhelming and challenging to grasp.
Rod Machado knows how to explain topics for students to comprehend and remember for a long time. A ground instructor with little flying experience doesn't know all and fails to explain matters in depth.
You must understand the fundamentals; not forgetting them is crucial to becoming a safe pilot.
I always preferred to take instructions from experienced pilots. Their unique storytelling and sharing of their experiences introduce matters never to forget.
Students often fail their FAA private pilot knowledge test because they don't remember everything they learned in their ground school. The instructor plays a significant role in students learning the fundamentals and passing the FAA knowledge (written) tests.
Rod Machado's 40+ hours of online PPL ground school is an excellent course with quizzes to evaluate a student pilot's progress.
Without satisfactory progress, you won't get a private pilot knowledge test endorsement from Rod Machado.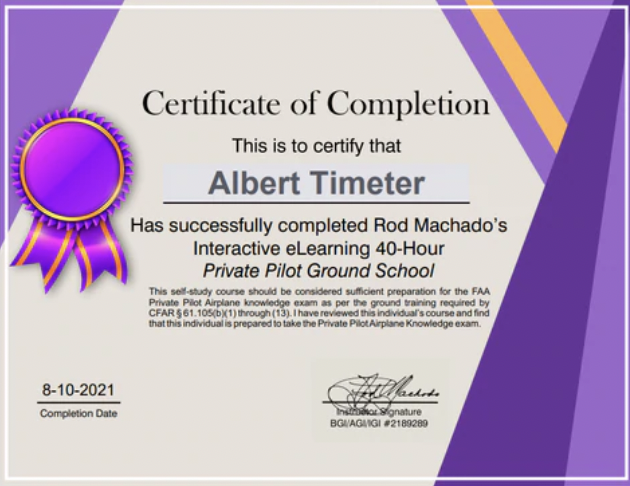 See how Rod Machado challenges you to learn and practice for the Private pilot knowledge test. Without reasonable evaluation, you won't get your PPL test endorsement and can't take your knowledge test.
Thus, as a Rod Machado's online ground school student, you will naturally study harder.
Likewise, Rod Machado gives you lifetime access to his courses. Unlike some online courses, you aren't obliged to finish your ground school in a limited time.
Though the ground school is updated regularly to the latest FAA Airmen Certification Standards, you won't pay extra fees. The only downside of a course with lifetime access is that you can only be lazy and take years to pass your FAA knowledge test.
You can use this same ground school course even after years to refresh your knowledge of flying without paying a dime.
Rod Machado included some eBooks with this course as resources. One of which is an eWorkbook for the private pilot license knowledge test.
The workbook has roughly 2000 questions with multiple-choice answers.
Correctly answering these questions will solidify your aeronautical knowledge and prepare you to take the knowledge test confidently.
You will acquire plenty of knowledge during flight training, but online learning from an experienced flight instructor would keep you ahead of many other student pilots.
Purchase this online PPL course and quickly utilize all the resources to become a proficient private pilot.
I would mention that Rod Machado's online Private pilot course is not fast-paced but 40 hours long, similar to college semesters.
The detailed animated videos allow students to understand the exact details of each topic.
The animated videos are in natural language for student pilots' better comprehension.
With short voiceovers and animated videos, student pilots will learn by watching once.
A course is essential to pass the FAA PPL knowledge test, but a well-structured course will help you become a safe and competent pilot.
RELATED: Read a complete review of Rod Machado's ground school.
Rod Machado bundled this course with essential resources for student pilots:
Flight computer simulator: Learn to use a flight computer from your smart device;
HSI simulator: Practice how to read a horizontal situation indicator for free;
Glide Distance slider;
Rod Machado's How to Fly an Airplane Handbook (PDF): Excellent book to learn actual flying techniques;
Rod Machado's PPL Workbook (PDF): Use this book as a test prep to practice.
You can check the video to glance at Rod Machado's private pilot ground school.
WiFiCFI Private Pilot Online Study Course.
I placed WiFiCFI second on this list because WiFiCFi has the least expensive subscription price. They boast about charging 2.5 USD for an hour of private pilot lessons.
WiFiCFI Private pilot is the second course with 40+ hours of video lessons, similar to Rod Machado's eLearning.
Acquiring 40 hours of video lessons for 149 USD is a fair price for many student pilots, reasoning student pilots are typically on a budget.
Unlike other courses with a hefty price tag, WiFiCFI is an excellent deal for the lion's share of features.
If your priority is to learn about aeronautics, aircraft operations, airspaces, navigation, and communication to prepare for private pilot licensing, subscribe to WiFiCFI without hesitation.
Besides, at the end of the course, you can get your FAA private pilot knowledge test endorsement.
WiFiCFI's priority is to make aeronautical education accessible for a reasonable price.
The unique thing about WiFiCFI's course is that they give access to audiobooks and flashcards.
Use the audiobooks of the standard FAA books, such as PHAK or the airplane flying handbook, to listen and learn on the go.
The second notable item is 1000+ flashcards you can access and use to instill data in your memory. Using flashcards to practice makes matters easy to memorize.
The benefit of memorizing the fundamentals is that you would be ready to answer any question on the subject during the FAA written exam/knowledge test.
Furthermore, you can generate quizzes to test your knowledge and build confidence for the written exam within the platform.
As a consequence of providing tons of value for a low price, the WiFiCFI private pilot course gained popularity among student pilots.
What could happen if you pay 149 USD for lifetime access to a course through their Browser/Apple/Android apps?
To keep your expense even lower, WiFiCFI offers a monthly subscription option. You can access the same course by paying a monthly fee of 24.99 USD.
Yet, if you're selective about spending your hard-earned money, then take pleasure in learning about other relevant courses listed below.
Sporty's Private Pilot – Learn to fly.
Sporty's Learn to Fly course is precisely what the name implies. It's a course focused on learning to flee rather than elaborately explaining aeronautical concepts.
I have nothing up against Sporty's, and the video quality of this course is outstanding.
However, imagine the entire private pilot ground school is crammed into 15 hours of the online course.
Most PPL students have difficulty understanding the fundamentals of aeronautics and remembering them. It's common for students to forget all the information they learned in their previous class.
On the other hand, going through the ground school at a fast pace is neither a PART 61 pilot's priority. Often, PART 61 pilots love to take it slow and won't mind if a PPL ground school is elaborate and comprehensive.
I recommend Sporty's learn to fly course to pilots with prior knowledge as a pilot myself.
Using this course as a refresher for a private pilot renewal would be great. However, for a novice student pilot, not so much.
RELATED: Best Private Pilot refresher courses online.
As a student pilot learning to fly, your priority is to get a private pilot license as early as possible. To do so, the first challenge you must overcome is passing the FAA private pilot knowledge test.
To pass the knowledge test, it's crucial to remember topics you learned during PPL ground school and answer the questions correctly. As I mentioned, Sporty's doesn't do a great job of elaborate explaining in the 15 hours, but they nailed it with the test prep tool within the course.
I must emphasize that regardless of what you learn in Sporty's online course or using supplementary resources, utilizing the test prep in their course with 1000+ questions may allow you to pass the FAA PPL knowledge test with good marks.
Many student pilots fail their knowledge (written) tests because they don't adequately practice answering multiple-choice questions.
They either run out of time or answer multiple questions incorrectly in their FAA knowledge test.
RELATED: How difficult is the Private pilot knowledge test?
Sporty updates its questions database frequently to keep up with the FAA's question bank.
So, if you acquire your aeronautical knowledge from other places, such as books or a different ground school, you can practice using Sporty's learn to fly course's test prep tool.
Without understanding the key concepts, you can't answer questions. Understanding the idea is critical.
Sporty's even allows you to create custom quizzes based on your past sessions. I must say using test preps to prepare for knowledge tests is essential.
If you did some research online, you would notice Sporty's is a popular choice among student pilots.
I assume that student pilots always compare Sporty's learn-to-fly course with King School's Private pilot ground school. Comparing King School's old-fashioned videos to HD-quality Sporty's clips doesn't do much justice.
I mean, King school's courses are fantastic. They do a great job explaining and communicating with student pilots.
I would compare King School's ground school with Rod Machado's. Rod Machado and John King have decades of experience teaching and training pilots.
Not having decades of industry experience doesn't necessarily mean Sporty's learning to fly is a terrible choice.
The course is designed to teach more about practical flying, as the name implies. Sporty includes lessons from inside an aircraft for student pilots to clarify subjects in a realistic setting.
The fundamentals of aeronautics are not explained so much in this course for a novice pilot to grasp.
Considering the same price as Rod Machado's PPL course, I would choose Rod Machado's 40+ hours course with free eBooks and workbooks any day.
As a PART 61 student pilot, I would love to acquire as much information as possible. It helps me to become a safer pilot.
King School's Online Course.
Instructors: John King & Martha King
Course Duration: 15 Hours
Price: $279
Subscription Access: Lifetime
King School online ground school for pilots has various opinions from different users. I see where all the statements come from, especially when an online course has thousands of students.
John King and Martha King have forty years of experience in the aviation industry teaching and training pilots. Let's note: With four decades of experience, I can only imagine the extent of knowledge they acquired and are sharing with novice student pilots.
The King School online private pilot ground school is one of the best courses. However, this fifteen-hour course is designed to pass the FAA PPL knowledge test.
You have to pay extra if you want a course to pass the knowledge test and checkride.
Let's say you were never good at studies. Studying for hours and reading books is not your thing. You have trouble remembering topics when it matters the most.
If you are this person, King School's online course is mainly for you.
King School's students emphasize that John King's interactive, cheesy teaching style implants the topic in their minds and automatically yields when necessary. Therefore, students are ready for the unexpected.
I might sound a bit dramatic, but that's what the student pilots claim, which is how a pilot becomes excellent at decision-making.
Thus, remembering the concept and correctly answering the questions during your FAA knowledge test would make the difference.
After consuming fifteen hours of technical information in video format, you can randomly generate private pilot practice tests—practice, practice, and practice.
This is how you can improve at answering multiple-choice questions on time during an exam.
The footage content is excellent, but for pilots, the video quality of this online ground school is the only drawback. Many student pilots complain about the quality of video from the 80s.
King School also offers a refund if you can't pass the FAA knowledge test within a year of your purchase.
It's an exciting offer and tells how confident John King is about passing the knowledge test.
I mentioned once that I compared King School PPL ground school with Rod Machado's Private pilot ground school.
John King and Martha King are excellent instructors who designed the course to pass the knowledge test.
However, passing the knowledge test is one thing, and becoming proficient in actual flying is another.
Rod Machado's effort to create 40 hours long requires an honorable mention. Rod Machado gives forty hours of theory and practical flying lessons at the same price.
King School has a 400 USD bundle for those who intend to pass the knowledge test and checkride. It naturally means the single King School's ground school doesn't help pilots pass their checkride and become proficient in actual flying.
To become proficient in actual flying and pass checkride, you can check out this combo by King School. The checkride prep by King School focuses on practical aviation and flight planning.
FLY8MA Premium private pilot ground school.
I am trying to make things easier for student pilots in choosing a suitable online PPL ground school. The good ones get lost with a plethora of pilot courses available online.
Hence, I placed Jon Kotwicki's premium PPL ground school on this list.
Jon Kotwicki is a transparent and concise instructor, but FLY8MA doesn't get much attention in the online ground school business. I suppose his online courses get lost among all the veteran instructors in the pilot training field.
Jon Kotwicki is slowly building a reputation for offering courses in various aspects of flight training.
The issue with FLY8MA courses is that I often find them pricier. Though the courses are costlier than the average online private pilot ground school, they have a monthly subscription option.
The monthly subscription option gives you access to numerous courses at an affordable price. But who is eligible to grasp all the subjects in a month, right?
We aren't here to talk about all the other courses. Let's discuss what FLY8MA offers for the PART 61 student pilots.
Jon Kotwicki claims the premium Private pilot ground school is adequate to pass your FAA PPL knowledge test. On the contrary, some student pilots say using this course to supplement another system is best.
That shows this course is perhaps inadequate to prepare for the PPL knowledge test.
I don't know about you, but I don't intend to buy multiple courses and test preps for my private pilot license.
Regardless, let me explain further: This 350 USD course includes 20 lessons, and each class contains multiple video clips on various topics. The video lesson is on the fundamentals of aeronautics and gives you a heads-up on practical flying.
If you put time and effort into learning and passing the quizzes after each lesson, you are ready to take the FAA knowledge test. However, I can't say that you'll pass the FAA knowledge test.
However, Jon Kotwicki included the Private pilot written test Bootcamp in this course, which he sells separately. For 350 USD, including this Bootcamp was essential to making the method worthwhile.
This course aims to get you to pass the FAA knowledge test. Without the Bootcamp online course, I can't be sure you'll pass the exam.
I mentioned in a different post that FLY8MA written test Bootcamp courses are great test preps.
RELATED: Best test preps for a private pilot license.
Thus if you study this packaged course, you'll become knowledgeable in flying theories and have a test prep designed to practice for the FAA PPL Knowledge (written) test.
There are responses from a considerable number of students claiming they scored 90+ after taking this course.
Jon Kotwicki will also endorse you to take the FAA knowledge test at the end of the course.
The only complaint about this course is that occasionally the video freezes or the student can't access the online platform. However, it's getting solved, and I heard the FLY8MA support team is more responsive.
When you spend 350 USD, you expect a smooth service. But there is an option to try out how the course works.
You can enroll using their monthly subscription option.
You have a month to access all the courses. The monthly subscription is cheaper if you dedicate a month to preparing for the FAA PPL knowledge test.
On the contrary, PART 61 student pilots are not racing to get the licenses, so purchasing the course bundle is a better option. You can take your time to study and pass the FAA knowledge test.
Gleim Aviation Online Ground School.
Gleim Aviation did not make a comprehensive pilot training course online for private pilots as a pioneer in pilot goods.
This course is for newbie student pilots to prepare themselves for the FAA knowledge test.
Gleim Aviation confidently promises you a refund of your money if you do not pass the FAA knowledge test on your first attempt.
Sounds fair enough.
You no longer need the course if you can pass your FAA knowledge test with just one attempt.
If you do not pass the test in one attempt, you can ask them for your refund and buy a different pilot course online.
The course is 35 hours long, adequate for your private pilot theories.
However, the course will be available once paid for 12 months. The system will expire if you do not complete the course within 12 months.
Once it expires, you can extend your online pilot course time by paying 50% of the original price.
The course contains pilot lessons on the following topics:
Airplanes and Aerodynamics;
Airplane Instruments, Engines, and Sytems;
Airports, Air Traffic Control, and Airspace;
Federal Aviation Regulations;
Airplane Performance and Weight and Balance;
Aeromedical Factors and Aeronautical Decision Making (ADM);
Aviation Weather;
Aviation Weather Sevices;
Navigation: Charts and Publications;
Navigation Systems;
Cross-Country Flight Planning.
The best online pilot course is the one you find most suitable.
A pilot course may be outstanding for me, but it may not be helpful for you.
I may discover online pilot training very interesting. However, the same pilot lessons can be very dull for you.
Though individual student pilots' preferences matter, I always tell my friends to pick a course from the Top 3 mentioned here.
You have decided to get your pilot license and want a heads up on the ground school syllabus contents.
You want to know which subjects will be taught in the private pilot ground training or prepare yourself. The section of this article will help you stay ahead of your pilot training batch mates.
Similarly, from here, you can evaluate whether you are good enough to start your private pilot training or not.
I have designed this private pilot ground school syllabus as a resource for anyone to guide themselves for personal pilot training.
Before your first flight, you will learn all the subjects during your ground school training.
Use a syllabus as a guideline, study in advance, and prepare before enrolling in a flight training institute.
A step-by-step guide includes the chapters of the Jeppesen Private Pilot textbook and the topics in those particular chapters that are most important for your private pilot training course.
To become a good pilot, you must always keep learning.
The sooner you master the basics, the better you will do in real-world flight training.
Gold Seal PPL.
Instructor: Multiple Instructors
Course Duration: Total 5 Parts = 34 Hours
Price: Complete 5 Parts = $219.95
Subscription Access: Lifetime
This course is not just for student pilots. Pilots at any stage of their flight training can refer to this course as a refresher.
Many students prefer traditional-style explanations on a whiteboard, and this course is right for them.
The veteran instructor claims this course is not just to pass the exam but will develop proficient pilots.
I took the course and like the way this instructor teaches.
Traditional ground school learning might not be your thing, but for many, whiteboard explanation is best, unlike animated footage, to comprehend a subject.
Many topics seem challenging for a beginner pilot during ground school.
Rewind and watching the sections you did not understand is one benefit of PPL online ground schools.
Physical ground school is not affordable for many pilots. Ground instructors get paid hourly, and student pilots must pay extra if they intend to review a subject.
The quality of the videos and audio in this course is perfect, unlike videos from King's school. Although the King Schools course is excellent for acquiring knowledge, its video quality is a turn-off for many students.
Unlike the King School's class, the Udemy course has HD-quality videos.
Why do I like the course?
This course allows students not trained in the USA to look at Federal Part 61 ground school.
Take pilot lessons from an FAA-certified flight instructor, and prepare for the private pilot knowledge test from anywhere.
Is this online pilot course not ideal for you?
Do not buy this course at the commercial pilot licensing stage or your ATPL.
This course teaches only the fundamentals and is excellent for student pilots. Similarly, rusty private pilots can use this course as a refresher.
Top private pilot ground courses are compared. PART 61 students can pick the right one to ace in private pilot training.