Becoming a pilot at 40 is not an impossible task, but it might be difficult for those with health concerns.
I can help you to decide whether becoming a pilot at 40 is too late to start or not.
Well, it is never too late to get your first airplane piloting license.
However, depending on your objectives as a pilot, I tried answering in two different sections in this post.
Regardless of why you choose to become a commercial pilot or merely a pilot for recreation, you will realize which suits you best from this article.
Can I become a pilot at 40?
YES, you can become a pilot at 40. It is a simple process to get a private pilot license. The only thing that prevents you from getting your first pilot license is money and health issues.
There are few other things to consider before getting a pilot license at 40, which is not too late to become a commercial pilot from my understanding.
I will discuss here only the essential factors which can help you to come to a decision very quickly.
I understand you are interested in becoming a pilot, but you are confused because you have reached 40 years old.
There is no need to hesitate to go for your first training flight just to discover how do you feel in the cockpit.
How do you feel while in the controls of an airplane? Do you think just because you are 40 years old, it is going to make you feel better any less?
The answer is NO.
Flying airplanes is a fantastic thing, and regardless of young or old, everyone loves it once they have a taste of the flight controls.
NOW:
Comes the problematic part, becoming a pilot at a later age will require you to maintain a good health.
That is the only concern if you want to become a pilot at 40 or even after 40. To obtain any pilot license, you have to pass some medical tests for pilots.
Once you get your required medical certificate issued by the civil aviation authority of the country you want to obtain a pilot license from, you can start flying to become a pilot.
If you have issues with your medical health, or failure to pass your medical exams will disqualify you from getting a pilot license.
SECONDLY:
It depends on your objective; why do you want to become a pilot at 40.
Obtaining a pilot license for recreation is one thing.
And obtaining a pilot license to have a career in aviation, make a living by flying airplanes is another thing.
So you must ask yourself why do you want to become a pilot first.
Assuming you intend only to fly once in a while, with family and friends, with self-owned aircraft or only by renting one from flying clubs, a Private Pilot license is adequate for you to go.
A Private Pilot license gives you the privileges of flying an airplane as a PIC. However, a PPL prohibits you from accepting compensation for flying.
If you intend only to fly an aircraft for recreation, I suggest you do not hesitate and waste time.
You can start with your ground training by enrolling in a flight training institute right away.
Because you will regret later if you prevent yourself from getting your private pilot license just because you think you are too old to fly.
On the contrary, if your objective is to become a commercial pilot at such a late age or work for an airline, you have to think and take your decision wisely.
That is what I have explained comprehensively for you in the next subheading.
Is it too late to become a commercial pilot?
It is too late to become a commercial pilot if you are medically unfit and have failed to obtain your medical certificate due to medical issues.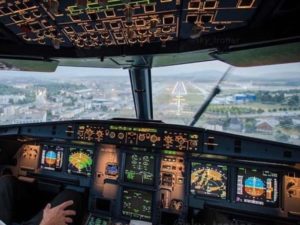 You can finish your ground classes and get your commercial pilot license even if you are 40.
NOW:
The question is, why do you want to have your commercial pilot license at 40 years old?
Suppose you are planning to work for airlines to make a living as a commercial pilot that is going to be a steep path for you. But it is not uncommon for airlines to hire pilots in their 40s.
So the path may be difficult but not impossible.
Most airlines prefer commercial pilots who are going to stay with the airline for a long time.
As a pilot of 40 years old with the same experience as 25 years old, applying for the same job in an airline will put you in a very competitive situation.
Nevertheless, with a growing number of airlines around the world, there are always opportunities for fresh commercial pilot licensees regardless of age.
I have seen so many pilots in their 40s got hired by airlines. Once an airline is growing, they are always in need of new pilots.
Therefore without a choice, and the airlines hire pilots, they receive applications before.
The BEST part:
It is never too late to become a commercial pilot. If you are a medically fit airman and have proper knowledge of aviation, there is no reason for the airlines not to accept your application as their first officer.
For a moment:
Let's assume you got hired by the airline as a first officer when you are in your forties. It is highly likely they will not hire you for their international flights.
AND usually, airlines hire pilots initially for their regional flights or smaller aircraft only—so no need to concern about that.
Sooner or later, depending on a pilot's performance, the airline will decide whether to upgrade you as a captain in the airlines or not.
As a result, in a few years, you will be flying in the cockpit as a pilot for international flights.
Understand different airlines have different requirements for hiring commercial pilots:
Airlines in the USA requires the pilots to have 1500 hours of flight time and an Airline Transport Pilot License to hire them as a first officer in their airlines.
As a pilot who intends to pursue a career in the airlines also has to consider that once you start your training to become a commercial pilot in your 40s, it will take another 4–5 years for you to meet the requirements of most airlines in the United States.
There are also options for becoming a commercial pilot other than in the United States.
There is a growing demand for commercial pilots in the Middle East and Asia.
Unlike the Middle East and in North America, the hour requirements for becoming a commercial pilot in an airline is not as high.
Perhaps you will get your first airline job in Asia with 500 hours logged in your logbook.
But wherever you go to become a pilot, every airline will consider whether the pilot is medically fit or not.
Sometimes the airlines do prioritize older pilots over younger ones. It is an exception, though. Not always, they will consider more former pilots to have better decision making and judgment than compared to younger ones.
Although you may have a priority over younger pilots due to decision making and judgment calls, having required hours and exceptional knowledge is a necessity to satisfy the airline interviewer.
Conclusion:
First and foremost thing to consider before you decide to become a pilot at 40, you have to think of your primary objective.
If you decide to fly for fun and recreation, then you must go for it. A private Pilot License is good enough for that.
Considering becoming a pilot for a change in career in your 40s is the real deal.
There is no guarantee that you can compete with a pilot in his 20s with the same level of experience as you.
To become a pilot requires money, passion, and effort.
After spending plenty of money to obtain your commercial pilot license and trying to shift career at this age can be quite tricky.
All you have to do is decide whether you want this change in your career or not. If you work hard enough and have enough passion, there are possibilities you will get a job in the airlines even after 40 years old.
Also, you can search for many other commercial pilot jobs other than in airlines.