An instrument rating allows you to fly through various weather conditions by limiting restrictions.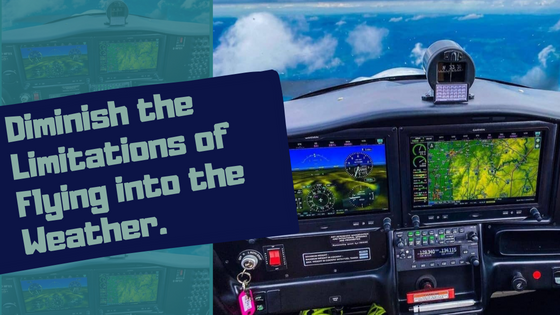 Firstly I hope this series helps you in your journey to becoming an airline pilot, and remember always to help others in their journey as well!
Second, I will help you in every possible way to reach your goal. In return, you will help me share this article across the globe!
Let's continue your journey, and I will assume that you already achieve your first goal, which is a PPL, and we will continue to instrument rating.
According to 14 CFR part 61, you will demonstrate an understanding of certification requirements, recency of experience, and record keeping, and we discuss them in the previous article.
You will also demonstrate the privilege and limitations of issuing the rating. 
The most incredible privilege of getting your instrument rating is that you don't need to delay your flight due to turbulent conditions.
As you know, as a private pilot, you're only allowed to fly VFR, but with an instrument rating, you will take your flight to the next level.  
Some basic terms that are nice to know:
Instrument meteorological conditions (IMC): IMC defines weather conditions, and pilot visibility under IFR & also describes them as less than the minima specified for visual meteorological conditions 
Visual meteorological conditions (VMC): VMC defines weather conditions required and pilot visibility under VFR.
You can fly day or night under IMC or instrument meteorological conditions, which define weather conditions that require pilots to operate by reference to instruments.
If this is an IFR flight, you have the right to fly in cloudy, terrible, or even stormy weather.
After completing your instrument rating, you can also distinguish between weather phenomena, such as crosswind, tailwind, wind shear, mountain wave, etc.
You will learn the limitations of onboard weather equipment, decipher aviation weather reports, and forecast weather using inflight weather resources.
You can also demonstrate the ability to use available aviation weather resources to obtain an adequate weather briefing.
Also, you should be able to correlate weather information to make a competent go/no-go decision; a lot of weather data you will face in this rating, and remember always it's all about instrument reference. 
At the same time, the instructor uses Foggles, and the Foggles are a unique type of goggles that restricts the trainee's view only to the instrument panel.
They simulate flying in the clouds where you have no ground reference and only have to trust the instrument panel and readings!
I remember my first flight with them. It's an enjoyable experience, but you need time to get used to them.
Like a private pilot license, an instrument rating allows you to fly for personnel to business reasons now with lesser limitations as now you can evaluate weather conditions!
Talking about limitations, unfortunately, you have the same limits you don't cross even after you receive your instrument rating; for example, you still need to be ready to charge a fee for flying passengers or cargo!
But cheer up, you are about that close to your next step of obtaining a commercial pilot license, and once you are there, you can look for a proper challenging career.
Image Source: flieger.marco.martin via Instagram.