Best IFR ground school online. 6 instrument rating courses compared.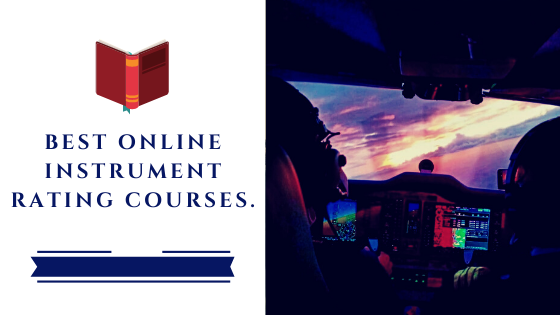 Finding a suitable IFR ground school online is challenging. All their promotions and advertisements confuse IFR-rating students about what to choose online. Especially with many available options, it's tricky to trust them.
I'll help you compare the best instrument rating ground school online and understand what different courses offer for instrument students.
First, figure out your needs for the instrument rating, and then you can identify a suitable online IFR ground school. Therefore what are your needs?:
An instrument ground school to pass your FAA IFR knowledge (written) test;
A ground school to become proficient in actual instrument flying;
Understanding IFR concepts from an experienced flight instructor who can explain topics in detail;
Easy to understand language and engaging content so that you won't forget what you learned;
Lifetime access to revise instrument rating lessons from the online IFR ground school;
Additional resources such as books and online tools to help with instrument flying;
Lastly, a ground school course in your budget.
Having everything in a single course is hard to find. However, you must purchase an IFR-rating system that gives you the most bang for your buck.
Hence, I listed only five online IFR grounds schools in this list because these are only a few I find worth mentioning. It wouldn't help if I listed the 20 best ground schools, yet you can't decide which one to buy.
These IFR-rating courses are great for an instrument pilot, but you have to identify the suitable one according to your purpose of instrument flying and aviation goals.
My first pick is the online IFR ground school by Rod Machado for all levels of IFR training.
IFR training is the most challenging phase of flight training. During IFR ground school, you learn subjects more in-depth. Too many times, the information is overwhelming for instrument student pilots.
Having an experienced flight instructor can significantly impact understanding IFR topics and remembering them for a long time.
Rod Machado can concisely and engagingly explain matters so that studying doesn't feel monotonous.
Rod Machado has a reputation for simplifying complex subjects. Rod Machado's 40 years of experience instructing and flying airplanes has taught him numerous techniques in actual flight.
Engaging lessons keep the focus and prepare students for IFR knowledge tests.
Rod Machado included 686 short video lessons in this ground school. Though the lessons are concise, there is no scarcity of instrument flying subjects in this course. Hence, the course is 50+ hours long.
The best thing about online courses is taking a break whenever you want to avoid being tedious.
Six hundred eighty-six video lessons and a 50-hour course tell about this course's depth. You won't fail your IFR knowledge test with the knowledge you acquire from this ground school.
There are 151 quizzes in this course to track your progress. Take the quizzes and identify the subjects that require more attention and revision.
Finally, you can take three practice exams after completing the entire course.
Practice exams determine whether you are ready for the FAA IFR knowledge test. Pass all three practice exams and get your FAA knowledge test endorsement.
Rod Machado won't endorse you unless you prove worthy of taking the FAA knowledge test.
50+ hours may sound like a long course, but this course focuses on both the theory and practical aspects of instrument flying.
Use this ground school to pass your knowledge test, oral exam, and checkride.
As I mentioned, IFR lessons are overwhelming for instrument pilot students, and it is always difficult to remember each task in actual instrument flights.
Using Rod Machado's IFR ground school to prepare for your IFR training makes instrument flying less complicated.
Don't be the pilot that shambles up everything during an approach to a congested Class B Airspace.
IFR training aims to make flying more challenging and fly to newer destinations. Not knowing how to use approach plates correctly will make your IFR flights unpleasant.
Thus Rod Machado's IFR eGround School has a dedicated section for IFR approaches and departures.
Rod Machado included interactive elements to practice crucial tasks and become proficient in instrument flying.
Another core component of safely flying is understanding the weather. During VFR flights, pilots avoid the weather, but IFR training aims to fly in adverse weather conditions.
Thus if you fly into weather conditions, you must understand how the weather change and behaves.
Rod Machado is good at explaining why and how things work.
So in this IFR ground school online course, you will learn a lot about the weather, how your airplane will react in adverse weather, and how you can maneuver safely through such weather conditions.
This course's dedicated Understanding Weather section will build confidence before your next instrument flight training. You will know precisely which clouds to avoid and how the weather en route might change in time.
It takes time to master instrument flying, but a good flight instructor can teach you techniques to remember procedures during flight. Especially flying an airplane requires multi-tasking, and instrument flight training tests a pilot's proficiency.
As a bundle, you get two books with this course:
Rod Machado's Instrument flying handbook;
Instrument Pilot's survival manual by Rod Machado.
Rod Machado has two excellent books, and I often recommend these books to instrument-rating students. Getting these two PDF books free with the course is the best bargain for 279 USD.
Can you imagine how much it would cost you if you were to do 50+ hours of traditional ground classes in flight schools?
Here, you learn from the industry expert for just a few hundred dollars. Thanks to technology and thanks to Rod Machado.
Rod Machado's Instrument eGround School suits IFR-rating students or any rusty instrument pilot preparing for an Instrument proficiency check. Likewise, any instrument flight instructor can take this course and benefit from Rod's unique teaching style to train proficient instrument pilots.
Sporty's Complete Instrument Rating ground school online.
Instructor: Multiple Instructors
Course Duration: 10 Hours
Price: $279
Subscription Access: Lifetime
Sporty's IFR ground school online is a concise course to prepare for the IFR knowledge test in a short period. At least, that's what I initially thought when I saw the 10 hours course.
Let's be practical here. Do you believe 10 hours of lessons on IFR is adequate to conduct a safe flight in the weather? I don't think so.
IFR concepts are very challenging to grasp compared to private pilot license studies.
During your PPL ground school, the new facts are overwhelming to grasp, and learning all these facts in immense depth during instrument rating is demanding.
Without detailed and in-depth knowledge of instrument flying concepts, you may easily jeopardize the safety of an IFR flight.
Sporty did an excellent job creating an IFR ground school for students with prior knowledge. Using Sporty's complete instrument rating ground school as a refresher or for recurrence is best.
But to pass your IFR knowledge test and become better at actual instrument flying, I suppose it's not the best option.
The course is fast-paced, and according to multiple students, Sporty's IFR course is disorganized. There is no smooth transition from one topic to another. Instead, Sporty expects the instrument students to understand specific terms without explaining them.
Lessons from Sporty's complete instrument course are inadequate to pass the IFR knowledge test. You would need to supplement this course with other resources, such as books, to prepare for the IFR knowledge (written) test.
Nevertheless, this course did an excellent job illustrating maneuvers for practical instrument flying.
All 27 essential IFR maneuvers are explained in this course using 3D animation and narration. The lessons contain details of flying en-route, arrival, and departure IFR charts using an iPad—3d approach videos for better explanation.
Think of it this way this online IFR ground school is to prepare you for actual flying and for someone who has already learned the fundamentals of instrument flying.
Sporty's instrument ground school contains lessons in 7 categories and 31 sub-categories but fails to cover all aspects in-depth in 10 hours.
Regardless, the best part of this course is the quizzes after completing each video lesson. Taking short quizzes helps with memorizing matters. In this IFR ground school, you can generate a test with random questions from 1000+ available on the platform.
Pass two generated tests with at least 80% marks, and Sporty's will endorse you to take the FAA IFR knowledge test.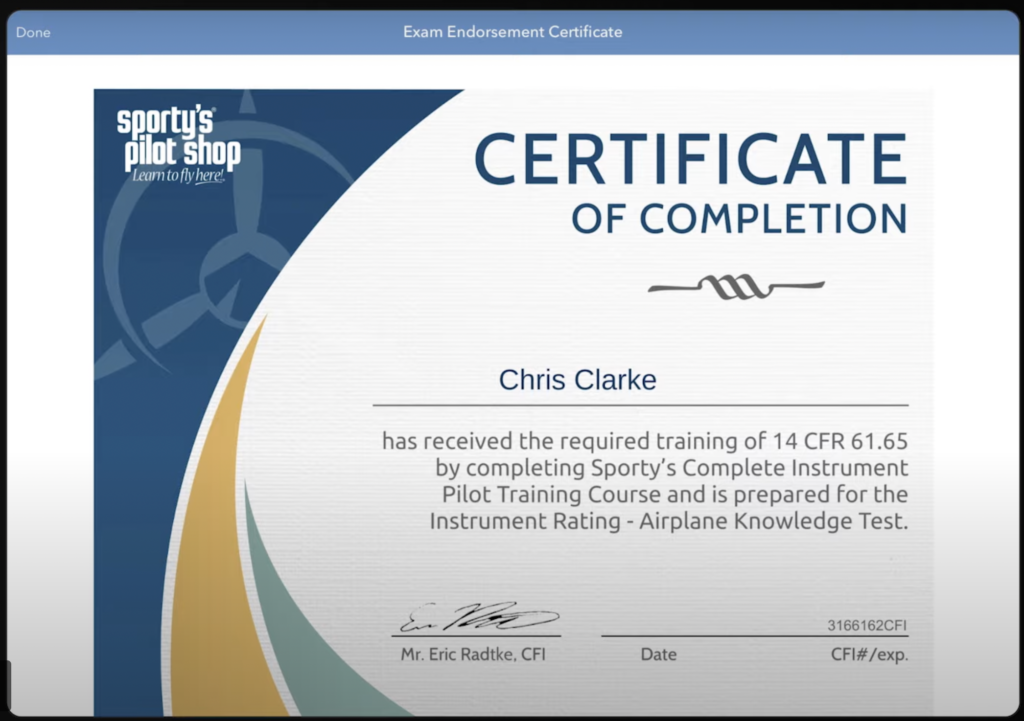 You can generate unlimited practice tests on the platform.
Ultimately, Sporty claims that students pass their knowledge test, oral and checkride, by studying this ground school. Still, they don't mention that simply relying on this course is insufficient to excel at instrument flying.
WiFiCFI Instrument rating ground school.
Due to its inexpensive pricing, I could have listed WiFiCFI ground school as the second spot.
However, WiFiCFI is a relatively new platform to take ground classes, and there are other pioneers in this list, such as Rod Machado and Sportys.
Though a novice in the online ground classes business, WiFiCFI has excellent reviews.
To counteract the competitors, WiFiCFI priced their ground courses the cheapest. Imagine having lifetime access to their IFR ground school for 149.99 USD.
They boast about giving lessons to students for 2.5 USD an hour.
They also offer pilots an affordable monthly subscription option to save even more.
Nevertheless, the best thing about WiFiCFI courses is they have several study resources, such as flashcards and worksheets.
Flashcards are crucial for IFR studies.
It's challenging for pilots to remember instrument rating topics and matters, and flashcards make it easier for students to instill facts into their memory.
Use their test prep tool to practice for your IFR written exam. Lastly, you'll receive your endorsement if you're worthy of passing your instrument rating knowledge test.
It's a new platform for taking instrument ground classes. If you're skeptical about investing 149 USD, you can subscribe to their monthly plan for 24.99 USD.
King Schools Instrument rating course and test prep combo.
Instructor: John King & Martha King
Course Duration: 14 Hours
Price: $279
Subscription Access: Lifetime
King School has been training pilots for over 40 years, and its online courses have helped thousands of students pass the FAA knowledge tests.
The instrument rating ground school and test prep combo are no different. It's designed to teach private pilots essential IFR concepts and practice answering Multiple-choice questions.
King Schools have multiple instrument-rating combo courses available online.
As the name suggests, this IFR ground school combo is to pass the FAA IFR knowledge (written) test. So don't expect this course to help you with your IFR flying.
King School has a reputation for creating easy-to-understand presentations and interactive bite-sized content.
This online instrument rating ground school course is no different. Pilots with difficulty consuming instrument flying lessons and forgetting what they learned shall purchase King Schools ground school.
Like Rod Machado's instrument courses, King School lessons are easy to follow.
However, King School's IFR course is 14 hours long and mentions it's an accelerated ground school. According to many instrument-rating students, the accelerated course often requires supplementary resources, and not easy for a novice pilot to keep up with the pace.
John and Martha King often use the term alien to new IFR students. Private pilots with little experience in IFR flying might quickly grasp all the information in King Schools ground school.
Nevertheless, this course is excellent for passing the FAA IFR knowledge test.
After each segment, there are quizzes that you can take and immediately find why an answer is correct and others are wrong.
Using the test prep included in the combo, you can generate multiple practice tests combining different subjects to test your knowledge.
If you fail your FAA IFR knowledge test within a year of purchasing this online ground school, king school promises to refund your money, and you can keep the course. This is because Jon King is confident about the system and predicts the students will inevitably pass the knowledge test.
The idea implies that this course is specifically designed for those intending to take their knowledge test.
However, there are minor complaints about the course.
Often the graphics within the course is not clear. I understand why some content may seem outdated because King School has been in the business since the 90s, and some of the lessons are universal and don't require updating.
Those video lessons genuinely seem outdated and are a turn-off for many instrument-rating students. In this age, while HD contents are available online, video footages from the 90s are unacceptable.
Though some video footages seem outdated, King School frequently updates its instrument ground school lessons according to the latest FAA regulations.
My Verdict:
Purchasing this course is a good option, but solely relying on the test prep tool included in this ground school is not a good idea.
Use this course with supplementary books and practice using other test prep tools to pass your FAA IFR knowledge test.
Though students claim John King's lessons are always helpful during actual IFR flight training, I think this IFR ground school is inadequate for becoming proficient in IFR flying.
FLY8MA online IFR ground school.
I find Jon Kotwicki to be a knowledgeable, passionate flight instructor. He left Commercial aviation to become a flight instructor because he enjoys teaching others.
Though not everyone prefers Jon Kotwicki's FLY8MA courses, I think he is creative and did an excellent job constructing this IFR ground school course.
Typically pilots have a hard time understanding instrument rating topics, and it's challenging to use this knowledge in actual instrument flying.
Hence, you need a ground school course emphasizing theories and demonstrating practical flying lessons.
Most private pilots are guilty of prioritizing only passing the IFR knowledge (written) test.
They believe once you pass the exam, you can grasp all essential instrument flying lessons from practical flight training as they did during private pilot training. Unfortunately, the instrument flying scenario is not the same as VFR flying.
In instrument flights, too many things happen quickly; without practice, you will fall behind the aircraft and jeopardize safety.
Thus doing what you did as a student pilot might result in flying extra hours in an instrument-rated aircraft to grasp the fundamental knowledge.
On the contrary, remember studying alone can't help you pass a knowledge test. Practice answering multiple-choice questions is crucial. Thus, Jon Kotwicki included the IFR written test prep BootCamp in this IFR course combo.
Let's not worry only about passing the knowledge test. You need information and concepts for conducting safe instrument flights.
The FLY8MA IFR ground school is an excellent resource for learning about real-instrument flying. The course is designed like a journey.
A student learns through the course and begins a journey from Florida. As the student acquires instrument flying knowledge, they also learn how to apply it practically.
The course starts from Venice airport, Florida, and gradually progresses to end on the west coast of America.
It's an interactive teaching technique for students to grasp the theory and practical familiarity simultaneously. Similarly, students don't get bored with challenging IFR subjects and remember the topics to apply in real life.
Many students who took Jon Kotwicki's courses online say his teaching techniques are easily digestible.
Jon Kotwicki claims that 100% of the students who enrolled in the FLY8MA IFR instrument rating course passed their IFR knowledge (written) test. The IFR ground school course is structured to give the Knowledge tests, oral and IFR checkride.
My Verdict:
This online ground school is excellent for learning about practical instrument flying. Though theory knowledge can't help much without practice inside the cockpit, knowing instrument flying applications is better.
The course includes IFR procedures for flying in and out of airports and airspace. Likewise, watching approaches to different airports throughout the course gives instrument-rating trainees what to expect in their IFR flights.
Lastly, the 20 case studies within the course on where pilots may go wrong teach you not to repeat the same mistakes in flight. As a result, you would be aware of the errors and avoid them in the future to conduct safe instrument flights.
Lastly, FLY8MA has fantastic customer support. Once you have any problem or difficulty understanding a section, call them directly or email them. They will get back to you promptly with a solution.
Sheppard Air Instrument courses.
The online instrument course by Sheppard Air is different from the other IFR courses I mentioned. Sheppard Air focuses on passing the IFR written test. Thus the systems are designed as test preps, and instrument rating trainees can practice answering questions.
Sheppard Air promises they have a vast collection of questions, and you will not see any unfamiliar questions in the FAA instrument knowledge test.
Once you take the Sheppard Air instrument course, you can expect to pass the FAA knowledge test, but likely. This course is not the best option for giving your instrument a practical test.
The multiple-choice question database is huge in Sheppard Air, and practice using their tool to learn a lot about the IFR ground school subjects.
If you find anything confusing, you can also contact flight instructors at Sheppard Air online 24 hours a.
The angle of Attack Instrument Ground school.
Lastly, I want to say about the online instrument rating course by Angle of Attack.
Chris Palmer is an excellent flight instructor and aviation enthusiast. Many private pilots don't know much about him, but he knows a lot about flying.
The course he has for IFR flying is an excellent choice.
The course contains 30+ hours of in-depth videos. From what I understand, you will learn much if you take a 30-hour-long method.
From my experience, I believe this course is best for actual IFR flying. Similarly, 30+ hours of lessons will prepare you for any knowledge test.
But I believe Angle of Attack's course emphasizes actual flying. You, as a private pilot, may have a different opinion.
This course also includes test preps to prepare for the FAA knowledge test. Furthermore, you can get all this excellent stuff for less than 200 USD. You will have the opportunity to pay in installments.
Chris Palmer is a knowledgeable flight instructor, and his passion is flying and teaching about aviation.
His online instrument ground school is great for any private pilot taking instrument rating. I recommend purchasing this course, especially if a pilot has difficulty in actual instrument flight.
The Angle of Attack also has a money-back guarantee if you cannot pass your instrument written test.
They will give you the endorsement for your instrument written test, and if you fail the exam during your first take, Angle of Attack will provide you with a full refund.
Chris Palmer operates a flight school in Alaska, and he believes it takes a lot more than an average pilot to become a pilot in Alaska; therefore, he trains student pilots to be competent.