5 Private pilot test preps set side by side to level up preparation.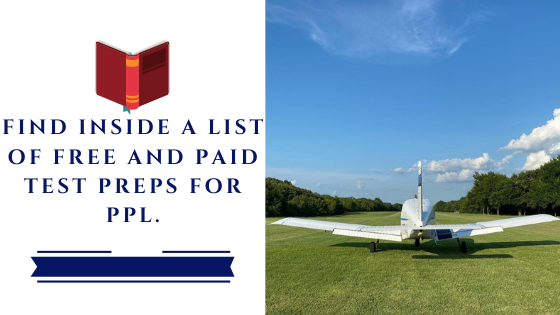 Tired of listening to other pilots talking about test preps? Hardly anyone can mention a test prep suiting your comprehension style.
A test prep book may not be the best choice, but an online application/software might be. I understand many books are monotonous, and software can be challenging for tech illiterates.
So how do you buy the one that serves you best? To ease your trouble, I compared the software and books.
Stick to the end of this article to learn about free cloud applications.
My job here is to clear all confusion and compare the popular test preps in the market for student pilots.
Test preps are significant in passing the private pilot written exam and overall private pilot training.
Commonly two types of test preps are available:
Digital test prep software;
Test prep books.
Not all test preps are made equal, but both forms of test preps serve student pilots equally.
Though the test preps mentioned in this article are meant for North Americans, Indian and Filipino student pilots can use these test preps to study as the respective civil aviation bodies use similar questions for the knowledge tests.
How do you know which private pilot test prep is best for you?
As long as any test prep helps you pass your pilot knowledge test with flying colors and obtain your private pilot license, the test prep is best for you.
However, deciding whether you are comfortable studying a book or using an online tool to practice mock tests would be best.
I recommend pilots subscribe to digital applications for PCs and Tablets. Hence, my first recommendation is a Bundle from ASA.
1. ASA private pilot test prep+ comes with a book and software to practice for the knowledge test.
Who makes better aviation supplies than ASA? Well, there are plenty.
However, ASA stands out because FAA recommends using ASA pilot supplies.
ASA private pilot test prep+ comes in a bundle of books and software. You can use the book to study for your private pilot test prep.
You don't have to decide between books and software using this test prep. You pay once to get both at a low price.
Choosing the appropriate test prep can make or break your preparation. The test prep book is excellent for memorizing and understanding every topic.
On the other hand, use the software to take mock tests.
Do you know why many student pilots fail their private written exam during their first attempt?
It's common for aspiring pilots to take up a new hobby of flying in their late 20s or early 30s.
In these years, many student pilots have been detached from studying and taking exams. Therefore, thoughts of taking an FAA knowledge test bugs many student pilots.
The software to practice mock tests plays a huge role in preparing student pilots for the exam.
Getting used to taking exams in FAA configuration helps many students to build confidence.
Building spirit is one, and knowing the correct answer to multiple-choice questions is another.
Thus, this ASA test prep+ bundle allows you to do the best of both.
You can use the book to study and then use the test prep to sharpen your memory.
The book also describes why one answer is correct and the other incorrect. This helps further instill subjects in your memory for a long time.
As a result, while preparing to take the private pilot knowledge test, you're simultaneously mastering your private pilot flight training.
If you can get so much value for only 60 USD, why bother choosing a different test prep for the private pilot written exam? What could go wrong as FAA recommends it?
The alarming consequence of using private pilot test prep is that student pilots focus on memorizing answers to the questions.
FAA discourages students from memorizing answers to the questions. Because the FAA frequently makes changes to its question bank.
So simply memorizing doesn't seem to work anymore, but it helps in many ways. Test preps give you an idea of the questions you'll see during the exam.
Also, the test prep software helps you practice taking exams within a time limit.
ASA's private pilot test prep+ is similar to Gleim's test prep book. But it seems the student pilots divide into two groups.
2. What makes Gleim's test prep better?
Honestly, there is not much difference between Gleim's and ASA's test prep.
These digital tools are similarly designed and created to help student pilots pass their private pilot exams.
Gleim's is popular in some regions and other places, ASA.
In North America, ASA is popular for accessibility of the bundle from pilot shops. But in countries with long delivery and customs procedures, Gleim test prep holds the lion's share of the market by giving quick access to mock test tools through the cloud.
The primary difference between these two tools is that you can access Gleim's cloud software from anywhere if you have an internet connection.
Purchase Gleim's test prep online and access it online through any device. In contrast, ASA test prep+ would be delivered to your doorstep with the book and the software disc.
Quite old-fashioned. but that's what you get for getting a bundle for paying less.
If you intend to access the test prep tool right now, buy Gleim's private pilot test prep and start taking the mock tests immediately.
Gleim's test prep is structured similarly to the ASA test prep. So, you can study why an answer is correct while taking the mock test to solidify facts in your memory.
For 60 USD, Gleim gives you access to the test prep tool for 12 months. 12 months is adequate to practice for the exam and pass the FAA private pilot knowledge test.
So, it's your turn to decide which tool you would prefer, 12 months of access to Gleim's cloud software or ASA's test prep bundle to study using books and practice using their software on your desktop.
Your option may also vary depending on your location before you buy a test prep.
3. Dauntless-Soft test prep is a pioneer in having an up-to-date database of questions.
We discussed ASA and Gleims test prep tools. However, another test prep software boasts the tool's largest database and always up-to-date questions.
They claim they have the most extensive inventory of questions relevant to updated questions in the FAA.
I don't know why they have such a claim, but I understand it's possible for someone who has been developing pilot training software since the '90s.
Most student pilots fail because they memorize the questions and answers only to discover overlooked questions on the private pilot exam.
The solution is to study and understand the fundamentals of each subject. Contrary to that, you can use a tool that frequently updates its database with the latest questions from FAA.
I don't care how Dauntless access these data as long as they share the information with the student pilots to practice.
Indeed, Dauntless-soft is a worthy rival to Gleim's test prep because having the most relevant questions to the FAA database is their business strategy.
Student pilots can discover many questions they can't find in other tools. Doing so, naturally, students will be ready to face the latest question during the private pilot written exam.
Don't let the outdated software interface fool you. If you can utilize most of Dauntless-Soft's test prep tool provides, you can pass your private pilot knowledge test with flying colors.
4. Rod Machado's PPL eWorkbook is designed to solidify your knowledge.
Rod Machado's products are my all-time favorite. I prefer Rod Machado's products due to his fantastic teaching and articulating skills.
Today student pilots use test preps to memorize answers to the question rather than understand the foundational concepts.
Being a veteran in the industry, Rod Machado did what he thought best for student pilots. He didn't create a test prep. Instead, he designed a workbook to test gaps in aeronautical knowledge.
The workbook has over 1800 multiple-choice questions with answers. This workbook contains numerous images for students to give hints in identifying the correct answer.
This workbook works best if you have Rod Machado's private pilot handbook to acquire knowledge.
Next to each question, the page and chapter number are mentioned from Rod Machado's handbook for the same topic. A student who fails to answer a question in the workbook can refer to the directory for clarification.
Practicing this workbook will instill aeronautical concepts in your memory despite studying any private pilot textbook.
Knowing fundamental facts is crucial in answering unfamiliar questions during the FAA written exam.
Student pilots tend to memorize questions to the answers from test prep. The FAA discourages this and hence changes questions in their database annually.
If you memorize questions using a test prep, you'll pass the exam, but this workbook helps to perfect your knowledge of any aeronautical matter.
Using a workbook like Rod Machado's eWorkbook will train you to remember the tiniest detail of aeronautics. Therefore, any unseen question will not be irrelevant to you anymore. You will learn more than you need to memorize to pass the private pilot knowledge test.
Understanding the basics would help you in theory and practical flying.
No one wants to fail the PPL knowledge test. It's embarrassing, time-consuming to re-take, and costs extra money.
I recommend taking the exam only once and preparing well before taking the exam.
RELATED: Private pilot written exam (FAQ).
Unfortunately, this workbook is only available in PDF format. Only being available in a digital format is a downside for many.
But at this age, many students prefer to study using an iPad. So your smart device can be an excellent tool for using this workbook.
Rod Machado's study materials are not limited to studying only for the FAA exams, but his books are relevant for students worldwide.
Hence, those living abroad or student pilots who can't wait for delivery to take months may choose Rod Machado's eWorkbook as test prep.
In most of my articles, I mention at least one resource by Rod Machado. He is famous for explaining complex subjects straightforwardly so that students can remember them. I like his books because his language is transparent.
Regardless of the Private pilot handbook, you can use this inexpensive book to practice answering questions. The book has 264 pages and 1,800+ questions on general aviation subjects.
The PDF file is only 20 USD, the most inexpensive resource for pilots to prepare for the PPL knowledge test.
5. FLY8MA written test boot camp.
Test prep tools/software are an excellent way to understand topics in-depth, and test preps compel student pilots to answer questions within a time boundary. The system allows students to quickly process answers to questions during their FAA knowledge test.
The FLY8MA written test BootCamp is like a mock test integrated with video lessons and study notes.
It's a source to learn questions and answers to the FAA private pilot written exam.
FLY8MA is so confident in their test prep that about 90% of students from the Bootcamp pass their private pilot written exam on their first take.
RELATED: How difficult is the private pilot written exam?
FLY8MA has several options to subscribe to their test prep through their website. But it would be best to purchase the individual test prep from their website. That way, you can access the MCQs and answer at any time.
FAA discourages student pilots from memorizing the answers for the exam. The FAA encourages this: Student pilots will thoroughly study a subject and answer any pertinent questions.
Paid private pilot practice tests like FLY8MA's Bootcamp course will train you to answer unique questions.
In FLY8MA's Bootcamp course:
The flight instructors work hard to prepare factual questions and add them to the question bank for the students to practice.
Experienced flight instructors added the most relevant questions to the FAA's recent questions.
FLY8MA's flight instructors update the questions database according to the FAA's new regulations that keep student pilots updated.
Instructors emphasize brand new questions to prepare student pilots for unseen problems.
It is so common that many private pilot trainees have taken no exam in over a decade.
Paid practice test courses train student pilots to manage time to answer unfamiliar questions without exceeding the time limit.
For such student pilots, FLY8MA's private pilot Bootcamp is a must.
Figuring out the answer to a unique question takes time, and someone who did not take any exam in a long time will likely fail because of poor time management.
Using this FLY8MA's private pilot practice test helps student pilots sharpen their aviation knowledge. Likewise, practicing different questions will prepare them for the FAA knowledge test.
Conclusion:
There are not many test prep tools available in the market. Most test prep tools are from aviation training suppliers.
Thus regardless, of which private pilot test prep you purchase, they all serve the same purpose of teaching student answering relevant multiple choice question answer.
Typically, one may think test preps are not useful for student pilots because they are well-learned on aeronautical subjects. However, test prep software plays a significant role in passing the written exam by making student aware of the questions to expect on their written exam.
Hence, I compared and described what would get by purchasing the popular private pilot test pre tools. Additonally you can read the other articles to learn more about private pilot training in the resources below:
RESOURCES: