Instrument rating study guide to master all aspects of IFR flying.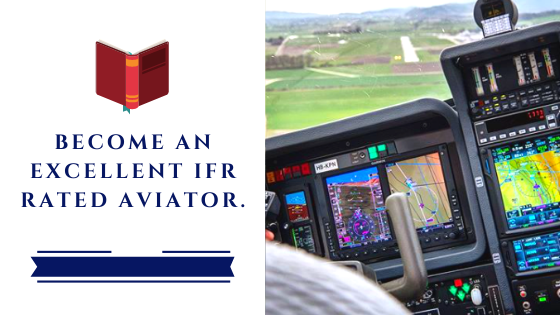 IFR flying is no joke. Pilots need a solid instrument rating study guide to pass the IFR knowledge test and oral exam.
I created this instrument rating study guide to pass the IFR written test, checkride, and everything you need to become a competent IFR-rated pilot.
Instrument pilots' knowledge is not limited to passing the exams. IFR pilots' job is to ace all aspects of flying to operate in any weather condition.
Therefore, I divided this instrument study guide into multiple sections:
Section 1 – How to study for the IFR written test?;
Section 2 – What to study to improve in your actual IFR flight?;
Section 3 – What measures shall you take to prepare for your IFR checkride?
Instrument rating study guide to becoming an intelligent IFR pilot.
Without a doubt, instrument flying is challenging. However, once you obtain your IFR rating, you naturally become a better pilot.
You must follow a guide and study with discipline to improve at any task. Many pilots don't follow proper steps, and their IFR training becomes stressful. As a result, they lose interest and stop pursuing IFR ratings.
It's a significant reason private pilots give up instrument flying halfway because they believe they are unworthy of IFR flying.
The purpose of this study guide is to simplify the process of instrument studies for you.
Section 1: How to study for the IFR written test?
Aeronautical knowledge is amusing, and IFR theory has more depth and breadth. Regardless, I find studying for the instrument rating written test is straightforward.
The IFR written test is essential to check a pilot's aeronautical knowledge.
I used Rod Machado's IFR resources to study for the IFR rating. Rod Machado is one of the best flight instructors, and he is renowned for simplifying complicated subjects and instilling subjects in student mind.
IFR studies contain overwhelming information for any pilot, and applying this knowledge at the right time is crucial. Many pilots fail the instrument rating written test because they struggle to follow too much information from IFR studies.
Nevertheless, these three resources were enough for me to pass my Instrument rating knowledge/written test:
These three sources are sufficient to pass your IFR written test and prepare for your checkride.
What are the required study materials for instrument rating?
To ace your instrument rating written test, you need to study adequately.
Merely flying the instrument hours is insufficient to give all the knowledge to answer the questions.
Though the test is straightforward, it will test your Instrument flying knowledge relying on aircraft instruments.
Similarly, there will be questions about aviation weather.
One of the most critical aspects of safe flying is understanding the weather.
When you fly VFR, you remain out of the weather. However, flying IFR means you will often fly into the weather.
Hence, it is crucial to forecast and understand how weather can affect safe flying.
The FAA wants pilots to become very good at weather flying.
Every private pilot must get their hands on this practical book:
This book will prepare you for all kinds of weather practically. It is an old book but a must-read for any pilot taking instrument rating.
I believe it is a requirement to study this book before getting your instrument rating. This book saved the time and life of many pilots in the past.
Likewise, it is imperative to study instrument rating continuously. To obtain an instrument rating, you must ace your instrument rating written, oral, and practical exam to become a better and safer instrument pilot.
Getting lost in an IFR flight and adverse weather can be fatal for pilots and passengers.
There are tons of materials and resources online for Free. Take time and study and read more books like Jeppesen.
An intelligent pilot needs to keep learning.
Reading more books will make you knowledgeable, but you need tips and applicable techniques to perform better on flights.
So what do you need to become better in IFR flight?
STEP 1: Use an online IFR ground school to obtain IFR study and written test endorsement.
There are two types of students:
Some are visual learners;
Others are readers.
If you are a visual learner, you must purchase Rod's Instrument pilot online ground school.
Watch the entire course and complete the quizzes within to course to get your FAA IFR written test endorsement. PART 61 pilots need an endorsement to qualify for the FAA written test.
Without an endorsement from a flight instructor, you are not eligible to take the IFR written test.
I also compared several online IFR ground schools in a different article.
On the contrary, if you are starving for more knowledge, get your hands on Rod Machado's Instrument Pilot Handbook.
Rod packed this book with instrument flying theories, charts, weather, and airplane systems in-depth. The book has all the fundamentals of instrument flying explained in easy language. You will learn all you need for your instrument rating.
As a private pilot, you learned how an aircraft works and utilized visual references outside to operate flights safely.
As an instrument pilot, you must learn about things that happen in nature and outside the airplane and operate flights without visual references.
You have to master airport operations and predict the Weather for IFR.
Hence I included Rod Machado's instrument pilot's handbook in this IFR study guide for pilots to study subjects extensively after completing their IFR ground school.
Rod Machado elaborately explains why something happens and what you must do to correct it during your instrument flight.
IFR students from the United States, Canada, Australia, the United Kingdom, South Africa, and anywhere worldwide can use the online IFR ground school. However, pilots training in the USA can use the FAA knowledge test endorsement.
If pilots outside the United States prefer to purchase the Instrument Pilot's handbook book, they can order the eBook if they are unwilling to wait for paperback delivery.
STEP 2: Practice for the IFR written test.
At this stage, you need Instrument Rating test prep.
The FAA frequently updates the database of questions for the written test. We all know the FAA database is not the same as it used to be decades ago.
So expect to see many unfamiliar questions.
The key to answering questions correctly is understanding the fundamentals of instrument flying and operations. If you thoroughly complete an IFR ground school, passing the IFR written test would be a walk in the park.
However, it's crucial to practice multiple-choice questions and answers beforehand. That's where the IFR test prep comes into play.
Using test prep for mock tests is an excellent way to practice for the FAA IFR written test. If your answer is incorrect, refer to the right side of the question to understand why one answer is wrong and the other is correct.
One more tip:
Clarify any wrong answer you picked by referring to the section Rod Machado explained in his Instrument pilot's handbook.
Following these steps, you will answer problems yourself and not fail your instrument written test.
To become a safer instrument pilot, one must presume how the airplane will behave and the weather en-route.
Following this studying technique will help you realize all these.
RELATED: A guide to achieving maximum score in IFR written test.
With acquired knowledge from IFR online courses, reading the Instrument Pilot's handbook, and instrument rating test preps, you can confidently answer your Designated Pilot examiner (DPE).
Section 2 – What to study to improve in your actual IFR flight?
Instrument flying is the most challenging phase to overcome in instrument rating. Forget everything you have achieved as a private pilot. Being a better instrument pilot is genuinely something different and nothing impossible.
Anyone reading this instrument rating study guide should pass the IFR written test and then get back to reading this article section.
Passing your instrument written test signifies that you know the instrument flying fundamentals.
Instrument flying theory is not adequate for becoming good in practical IFR flying. IFR flying requires practice with a great CFII.
There are too many things to learn in IFR flights, and quick application makes a better instrument pilot.
It would help if you did the following:
Learn the instrument approaches and departure procedures;
It would be best to memorize the approach plates you frequently use;
Practice acronyms to brief your CFII during instrument flight;
Learning about the Weather is critical for instrument training.
What are the techniques required for better action in instrument flight?
You studied a lot and aced your instrument rating written test, but you can't remember a thing in an actual flight. To forget what you learned in ground school is typical of many IFR trainee pilots.
At the very least, you are not quick enough to multi-task and often find yourself lost in instrument flight.
That's the reason why you might fail your check-ride.
I know you are knowledgeable, but instrument rating requires pilots to act quicker than in a VFR flight.
Sometimes, knowing little instrument flying techniques combined with your knowledge can be powerful in an instrument flight.
That way, you can awe your chek-pilot in actual flight.
To get your instrument rating, you must eliminate all chances of mistakes.
Flying ATC-directed airways is very comfortable.
However, the instrument student mostly gets lost during approach and communicating with the air traffic control tower.
Wonder how airline pilots remember all these?
Well, airline pilots have enough practice already to operate safe IFR flights. If you intend to work in airlines someday, it is essential to grasp techniques, and you need a short course emphasizing the necessary materials. Reasoning, you may not have the time to practice before you go for your first interview.
Therefore take a short course by Rod Machado that only talks about Instrument rating departure and approaches. It will help a lot.
Home simulator practice.
As I mentioned, airliner pilots have hundreds of hours of practice in flying instruments. They are used to the techniques of instrument approaches and departures and communicating simultaneously.
But what about you? Do you think you can be like them with insignificant 40 hours of instrument flying and 15 hours of instruction from a CFII?
I know many of us cannot afford to fly IFR-rated aircraft frequently for practice.
Gladly, we are in the 21st century and have simulator games.
You can set up a home simulator and practice as much as possible without losing a fortune.
Practice, practice, and practice! Though it will not feel like flying, you may think it wastes time.
But honestly, if you practice approaches and the departure procedures many times, you will see a striking improvement in your actual instrument flying.
1. Learn the instrument approaches and departure procedures.
Approach and departure procedures are critical phases of an instrument flight.
Departing from an airport using the instruments, arriving at an airport following the instrument approach, and safely landing the aircraft is the most critical phase of IFR flight operations.
There are many elements to study for instrument pilots. But remembering the procedures and applying them will distinguish you from other pilots.
There are two sources of learning IFR flying procedures that I find very useful for instrument flying:
Instrument procedures Handbook by ASA or Instrument Pilot's Survival Manual by Rod Machado. (Free PDF link here)
Learning from these two resources is sufficient to improve your instrument flying operations. Among the books, choose the one that is suitable for you.
Secrets of Instrument Approach and Departures is an 8 Hours online course by Rod Machado. In the study, he focuses exclusively on Approaches and Departures.
You can find this course in Rod's Instrument Pilot's Ground School. But if you did not purchase Rod's IFR ground school, you can individually buy his IFR approaches and departures course to improve your instrument flying.
Knowing indispensable techniques from this online instrument course will improve your IFR flying and build your confidence for instrument flights.
Second I recommend an Instrument Flying Handbook to learn more about en-route operation and overall instrument flying procedures.
Any one of the two books mentioned will aid your instrument flight training.
You can purchase the eBook here.
Utilizing these resources to study IFR flying will improve your instrument flying performance. Follow a system to research and practice in your actual flight for a better IFR experience.
Even after getting your private pilot license, studying for an instrument rating can be overwhelming, but you'll be close to your rating soon by learning the critical IFR materials.
2. It would be best to memorize the approach plates you frequently use.
Once you learn to follow the instrument procedures and progress in IFR training, level up your instrument flying by memorizing the approach plates.
Just identify the airports you frequently fly to and memorize the approach plates.
If you have difficulty memorizing approach plates, take some time before every flight to review the approach plate and prevent getting lost during the flight.
It's common for novice pilots to get lost in approach plates flying into congested Class B airspace. This could be a fatal error by any pilot.
The purpose of memorizing approach plates is to glance at your chart and be ready for the approach procedure.
3. Practice acronyms to brief your CFII during instrument flight.
Memorizing some acronyms helps during IFR flights. Remembering the flow of tasks or radio communication during instrument flight training may be tricky.
Memorizing acronyms and practicing their application before a flight and during the instrument ease the tasks for pilots.
Take a look at these instrument flying acronyms here and memorize them. By doing so, you can avoid embarrassing situations during your IFR flight.
It is crucial to think and stay ahead of the airplane in an instrument flight. A delay of a few seconds can significantly affect your IFR flight. So think ahead of the aircraft to stay ahead of the aircraft.
Memorizing acronyms will help you:
To think quickly and ease your tasks operating an instrument flight;
To brief your CFII before the approach.
Flight instructors always ask newbies to brief each approach. You don't want to refrain at this stage.
Failure to determine the next step will have a domino effect resulting in an unsatisfying approach and landing. This can even lead to a missed approach if your CFII decides.
Ultimately, poor experience in IFR flight would cause more IFR flight training and delay obtaining an instrument rating.
To grow as a safer instrument pilot, memorize the essential acronyms to ease things for you during training.
Learning about the Weather is critical for instrument training.
Take the time and study Weather Flying by Robert N. Buck. You will be a step ahead of many instrument-rated pilots.
Many of us do not recognize the importance of learning the Weather during instrument rating but learning about Weather flying is a crucial aspect of IFR flying.
If you have some instrument flight hours remaining, you must practice instrument flying in the actual Instrument Meteorological Conditions(IMC).
Flying in harsh Weather using the instruments will multiply your flying experience. If you practice flying in extreme Weather, you will also level up as an instrument pilot.
At this stage, studying the Weather flying book can be advantageous.
We forget that instrument flying is not about operating the aircraft but working safely without visuals in weather conditions. Hence, understand weather behavior and learn when to avoid it.
Section 3: What measures shall you take to prepare for your IFR checkride?
If you follow the instructions in this instrument rating study guide, you will be naturally ready for your checkride.
Yet, I'll discuss IFR checkride preparations to ensure you pass it.
There are two parts to any checkride:
The oral exam;
The practical exam.
Measures to take for your oral & practical instrument test preparation.
There is a reason why many students fear oral checkride. It's common for instrument-rating students to fail their checkride.
We don't know what the DPE might ask a pilot during the oral exam.
However, we can infer the questions. Most questions will be scenario-based on your actual flight plan for the checkride.
Similarly, if you get this far in IFR training, follow Rod's Instrument ground school, and read the Instrument pilot's handbook, you can confidently answer your examiner's questions.
The DPE asks questions relevant to flying using instruments and in meteorological conditions. If you know about Weather flying, you will answer the question without effort.
There is no doubt about your knowledge of the fundamentals of instrument flying.
I was in the same place as you until my friend told me to buy a guide that is in question-answer style. The book contains similar questions that the DPE might ask you on your checkride.
The Instrument Pilot Oral Exam guide is an excellent book to practice answering examiner questions and boosting pilots' confidence. Imagine that you already know what questions to expect on the oral exam.
Not only that, it is typical for the DPE not to ask private pilots too many questions during the instrument rating practical test if they answered the DPE's questions during the oral check.
Every private pilot follows this instrument rating study guide and memorizes the basic flow of an instrument flight.
Compared to VFR flight, there is a lot more to remember and execute in an IMC condition;
Pilot has to act fast, and they need to think ahead of the aircraft.
Therefore, memorizing an instrument flight's basic flow will help you think quickly, and you will not be hesitant on your check-ride.
You can confidently show your DPE the flying procedures during your instrument check-ride.
Likewise, if you act before your airplane, you will have excellent flight performance in your IFR check-ride.
If you are unwilling to fail your IFR check-ride, you must memorize the flight's basic flow and practice them during your instrument rating training flight.
You will never be lost in IMC and acquire your instrument rating with proficiency.
Effort and dedication.
I believe the last requirement to get an instrument rating is the dedication of a private pilot to join a club of advanced flyers.
For many, aeronautical knowledge is overwhelming.
When you study for an instrument rating, subjects get more involved in specifics. Instrument rating teaches and trains each subject more in-depth than private pilot ground lessons.
Without dedication, you are not going to put effort into your studies.
An instrument rating is for you if you are adventurous and want an adventurous flying experience.
The instrument rating's final requirement is to put effort and time into acing your IFR written test and instrument flying. Therefore, with an instrument rating, you will open your doors to newer destinations.