Breaking Stereotypes: Can a Woman Be a Pilot?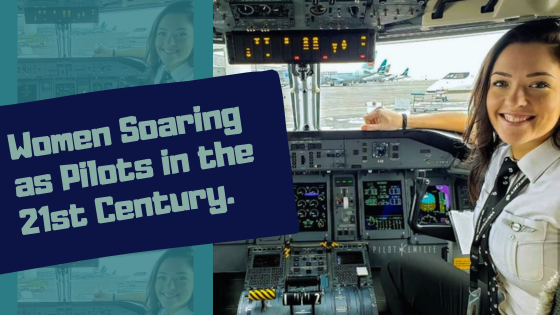 Let's begin with a story. You're in your twenties, living close to an airport, and often wonder what it takes to operate such magnificent transportation.
You remember seeing pilots during your last air travel and didn't notice any female pilots. That misconception stops you from pursuing your dream of becoming a pilot.
You grew up knowing becoming a pilot is not for women. But whoever told you that probably knows nothing about becoming a pilot, regardless of gender.
Thus, I'm here to tell you otherwise.
There is a massive opportunity for women in the aviation industry, specifically as a pilot. The straightforward answer to whether a woman can be a pilot is: YES, women can be a pilot.
A typical suburban person in the USA might tell you that women can't fly airplanes. Women are meant to raise children and look after a family.
On the contrary, some female pilots work long hours and still can get home to their children.
You may wonder why I mentioned the USA despite America being a developed country and the epicenter of human rights because the data tells a different story.
This report from Statista says the percentage of female pilots in the USA is much less than in other countries.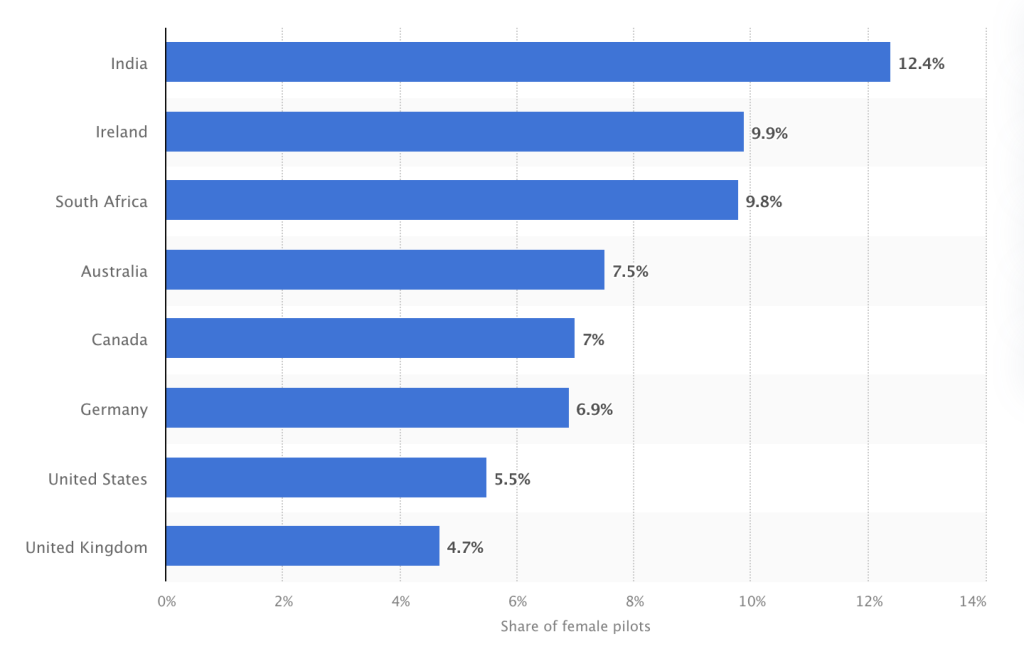 Just because you are a woman in the USA, don't let this data discourage you from becoming a pilot in the USA. Instead, allow this data to motivate you to become a female pilot in the USA.
In contrast to India and Africa, American women have vast opportunities to work as a pilot. I will discuss further why I believe opportunities for female pilots are greater later in the post.
To become a woman pilot and overcome the industry challenges.
To become a pilot, everyone must follow the same procedures by going to flight school and maintaining good health regardless of gender.
The FAA regulations are not different, and flight training is stringent for all individuals.
It is crucial to have knowledge and skills to become a pilot. The more you learn and experience, the more proficient you become as a pilot.
In the 21st century, you don't need others to tell you what you must do as long as you do the right thing.
How to become a female pilot?
Now that you know a woman can become a professional pilot and have a positive outcome in the industry; I suggest you don't get too excited yet.
As a woman, you find this new opportunity and want to start immediately because your dream job in an airliner cockpit awaits you. But the struggle to get that dream job is real, like any other profession.
Like a male pilot, you must build experience (flight hours), work your way up by taking several examinations, and meet essential requirements.
You must get a student pilot license and medical certificates, complete ground school, and pass all the exams. You might need working experience as a Certified Flight Instructor too.
Getting pilot licenses is a fun, thrilling experience, yet the challenges are the same for both men and women. Check out this article on our blog to learn more about the difficulties of becoming a pilot.
Though similar, each Civil Aviation Authorities have separate rules and regulations. Regardless of your location, getting their first pilot license is the most confusing part for everyone.
Once you get your first pilot license, you'll familiarize yourself with the general aviation training and procedures. From there, things will get a lot simpler.
After obtaining your Private Pilot License, you work toward your Instrument Rating and a Commercial Pilot License.
If reading all these terms seems like alien words to you, I urge you to download our FREE eBook and read that first.
Now let's say you have a commercial pilot license and are ready to work. Would it be easy for a woman to work in a male-dominated industry? Allow me to break the ice.
Is it hard to work in the male-dominated aviation industry?
The misconception is women are not capable of responsibly flying hundreds of passengers. But it's far from the truth.
I observed women are admired more in the industry by their male colleagues for playing the same ball game. Likewise, seeing a female in uniform in the cockpit fascinates passengers.
No one is going to judge you by your gender or by your looks. Everyone would judge you by your performance at work.
Instructor pilots in the airlines will assess your performance in the cockpit and not evaluate you by your gender.
Gender discrimination is unacceptable and uncommon in the aviation industry. Praising a pilot for their rational decision-making and skills is expected regardless of sex.
I want to give an example from Middle Eastern countries to boost your confidence. Most Western societies view middle eastern women as oppressed. They are not allowed to do things that are meant for men only.
But there are even female pilots working in middle eastern airlines. In 2022, the first-ever all-female crew flight took off in Saudi Arabia.
It amazes me that the number of female pilots in the United States is still much below that of other nations. But don't let that stop you from dreaming.
Who would have thought India would have the first spot in women empowerment in the Aviation industry? But it's surprisingly good to see so many taking flight lessons in the USA.
So the answer is always a yes. A female can become a pilot. And all pilots would face the same consequence for error during flight regardless of gender.
How ample is the opportunity to become successful in the industry as a female pilot?
At this article's beginning, I mentioned that women pilots have greater chances in the industry. Now I'll explain why I think so.
You know now that female pilots' chances to succeed in the industry are equal to male pilots' window of opportunity.
A shiny career awaits you if you're excellent at your task, worthy, and with adequate flying experience and licenses.
It's not what I think or believe. The statistics tell alike.
According to a report by the U.S. Bureau of Labor Statistics, the employment of commercial pilots is projected to grow by 6% between 2021 to 2031. About 18,000 openings for commercial pilot jobs are expected on average each only in the USA.

U.S. Bureau of Labor Statistics.
With so much opportunity, why women in aviation are not growing in large numbers?
In the past, very few women decided to become pilots because little information was available for women to start flying.
The internet wasn't prevalent fifty years ago, and accessing correct information was limited.
Although there were women pilots then, limited accessibility of news had less impact on motivating younger women to become pilots.
Gender inequality mattered in the past too. Men felt superior and believed aviation was not a place for women. This has changed too. Now, women are as good as male pilots and have successful careers in the industry.
In reality, there has been a presence of female pilots since the 1970s, and the number is gradually growing. According to the records from the FAA database and this article by Air Cargo Week, there has been a massive 52% increase in the number of female pilots in the USA compared to 2017.

Air Cargo Week.
I want to wrap up by mentioning some female pilots who are successful in the aviation industry and have a large following on social media platforms.
Who is the first female pilot?
Becoming a commercial pilot has no difference, regardless of your gender.
Harriet Quimby was the first-ever woman to pilot an airplane and acquire a pilot license. The Aero Club of America awarded Harriet Quimby a pilot's license.
Helen Richey from McKeesport, Pennsylvania, was the first woman to work as a commercial pilot. Born in 1909, Helen Richey learned to fly an airplane by age 20. Eventually, she had to step down from being a commercial pilot as the all-male pilot union did not like having a female pilot in the cockpit.
Emily Howell Warner was born in Denver, Colorado, on October 30, 1939. She disappeared on a flight over the pacific ocean on July 2, 1937, en route to Howland Island.
The first female aviator to cross the Atlantic is Amelia Mary Earhart.
Conclusion:
Women are as good as men in acquiring skills. With enough practice and effort, anyone can become a pilot.
As the time is changing and women empowerment prevails, airlines are also willing to accept more female pilots.
However, the number and data show there are far fewer female/women pilots in the industry. It implies there is still room for female pilots to grab opportunities in the industry.
So if you've only dreamed of becoming a pilot and someone told you otherwise because of your gender, now is the time you decide and embark on a fresh journey towards your goals.