Pilot training with a job guarantee in the USA.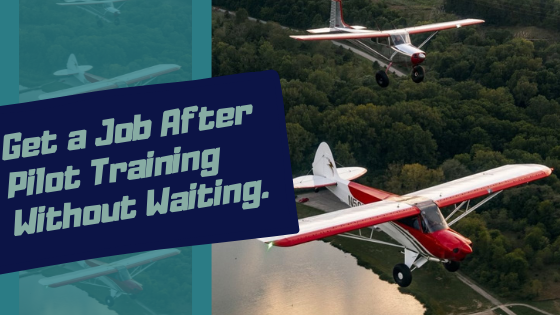 Pilot training with a job guarantee in the USA is standard. The issue arises when an individual assumes to become an airline pilot after graduating from a flight school. As a fresh graduate from a professional pilot program and hardly 250 hours, one can't get an airline pilot job.
Flight schools promising a job placement in the aviation industry don't mean a job immediately after getting a commercial pilot license.
To get a job, one must wait and build hours first. It's a gradual process. Let's discuss the entire process here and how our pilot training program can benefit you in the long run.
What is a job placement by our flight school?
A job placement means the fight school will recommend a fresh graduate for their first commercial pilot job and help them with the interview process.
Some flight schools have an entire program that takes students from zero hours to an airline pilot. It's not so common, and many students don't choose this path for many reasons.
One reason to avoid this program could be the lengthy contract deal by airlines integrated into the program. The contracts can stretch from five years to 10 years. Are you willing to work for the same company for the rest of your life?
If that's what you prefer, then nothing's stopping you.
However, I prefer the second type of job guarantee many flight schools offer aspiring aviators.
Many flight schools offer certified flight instructor jobs to fresh graduates to build hours and get paid.
Our affiliated school in the USA guarantees jobs of the latter kind.
You can choose a flight school that aligns with your aviation goals.
If you are young and want to remain in an airline for years, the first career path is best.
However, we don't have a career pilot job placement in our affiliated flight school.
Yet our affiliated flight school in the USA has a professional pilot program designed considering pilots willing to work in American airline operators.
Let's dive deeper into what kind of job our flight school offers and how it can help you in your career.
In the USA, it's required for a pilot to have at least 1500 hours before applying for a first officer position in any airline. All airlines in the United States require any pilot applying for the pilot job must have an ATPL.
To acquire an ATPL, a pilot must have 1500 hours. Can you see how one item connects to another?
On the contrary, in our professional pilot program, you will obtain:
Private pilot license;
Instrument Rating;
Commercial pilot license;
Certified flight instructor license;
So you may be thinking now, how can you get 1500 hours to apply for your first job?
Your first job doesn't have to be an airline pilot job.
Our flight school gives opportunity to its graduates and a job guarantee to work as a CFI in the flight school and build 1500 flying hours.
It's a gradual process. The mistake is when a student only comprehends half of the process.
Students from India, South Africa, Egypt, Saudi Arabia, Papua New Guinea, Vietnam, South Korea, or individuals with no aviation knowledge deem that airlines hire pilots fresh out from the flight school.
However, that's not how the aviation industry works today. It may have been easier to get a job in airlines with 250 hours before decades.
A commercial pilot has around 250 hours fresh out from the flight school, and with 250 hours, it's impossible to get a job in any airline today.
We cannot promise novice pilots graduating from our partnered flight school a guaranteed job in an airline. Our job is to guarantee our pilot training graduates a certified flight instructor job in our flight school.
Our professional pilot training program consists of 250 hours, and we prioritize our students to work with us.
A pilot can work for us as long as they want. But most pilots don't continue working as a CFI once they accumulate 1500 hours.
Fresh from flight school, you can have a job that pays up to 2000 USD and build at least 80 hours every month.
It's an excellent place to start for any pilots worldwide to work in the USA.
Although our job guarantee is not for an airline, a pilot who can accumulate 1500 hours through our system will inevitably find a job in any airline worldwide.
The best part is you don't sign up for a lengthy contract for pilot training with a job guarantee.
In contrast, you are working with us; if you see a better opportunity to build hours, you can take the job and quit working as a CFI with us.
Though there are many exceptions, an exception cannot be an example.
To have a job placement is a standard way to get a pilot job today. However, it's not the only option.
Working your way up gradually to build hours and without limiting yourself to one company for an extended period, you can choose pilot training with a CFI job guarantee in the USA with us.
Why is it crucial to enroll in a flight school with a job guarantee?
There are hundreds of pilots that are jobless today. A pilot often remains jobless for one mistake: Not joining a pilot training with a job guarantee.
It would be best to enroll in a flight school that offers an airline job placement or at least a job guarantee as a CFI.
Many things go wrong during pilot training, and you may quit aviation, but a typical example is this:
An individual willing to be a commercial airline pilot in the future starts pilot training without proper research.
They think there is a vacant airline position for anyone with a commercial pilot license.
But after a student completes the professional pilot program with 250 hours, they realize no airlines hire a pilot with so little experience. The airline in the USA requires 1500 hours, and Airlines in Asia require between 500 to 1000 hours. It's already too late to comprehend such a piece of vital information. You already spent the money on pilot training, and now there is no job for you.
At this point, you think about how to build at least 1500 hours.
The first option most pilots have is becoming a Certified flight instructor (CFI). Unfortunately, the flight school you trained to become a pilot doesn't offer a job guarantee as a CFI.
So at this stage, with 250 hours, you have to go out on a job hunt as a CFI.
Flight schools are reluctant to hire certified flight instructors that graduated from a different school. Likewise, not all flight schools want a new CFI, and many flight schools that hire don't trust the CFI's qualification from another flight school.
You will be in a stressful situation if the condition persists.
Looking for a CFI job to build hours can take years. Your commercial pilot license and certified flight instructor license will expire.
If you don't have a job, it will be challenging for you to sustain life and much less for renewing your pilot licenses with money from your pocket.
This process is complex, and many pilots decide to quit aviation because they selected a flight school with no job guarantee.
Thus, I recommend aspiring pilots from India, South Africa, Egypt, Saudi Arabia, Papua New Guinea, Vietnam, and South Korea to consult for free with us before enrolling in any flight school.
At least discuss the possibilities of becoming a successful career pilot in the future, and we can prevent you from going down the wrong path.
What job guarantee can our company offer?
Our job guarantee is not for an airline right off the bat, but a system that prepares everyone for an airline pilot job in the shortest time and spends the least money.
At Pilots Elite, we don't make false promises.
I explained the possibilities and the gradual system anyone can choose to become an airline pilot.
Your determination to become a pilot and consistently work your way up to the top would also play a massive role in your success.
It is crucial to enroll in a flight school with a job guarantee for your success. Nevertheless, no promise and system will be feasible if you are not determined to get what you want.
Who should select our pilot training program?
Our program is not suitable for everyone. Yet anyone is eligible to take flight lessons in our partnered school.
Younger pilots choose professional pilot programs with lengthy contracts. Pilots in their 20s don't find it an issue to work for one company for ten years.
On the contrary, students who started late can join our program because of our tailored option. Our program offers opportunities for those unwilling to be bound in a limitation and try out different things before going to the airline.
Someone who wants to finish their pilot training program at their own pace is interested in our program. Students can choose to fly at their will if they think they are going too fast.
In the professional pilot programs, the students finish their training as quickly as possible as a contract binds them. They complete the activities within a specific time and move forward in their career path.
Likewise, a pilot on a tight budget can select our pilot training as it offers a job guarantee in the USA. If you are on a tight budget and obtain a commercial pilot license from a school that doesn't guarantee a job, you will struggle to make a living abroad without income.
Hence, international students interested in working in the USA and experiencing a different culture can also select our program. We offer F1 visas to those who intend to work as a CFI.
Image Source: brush_pilots via Instagram.