How to become a female pilot? – The little-known career path for women.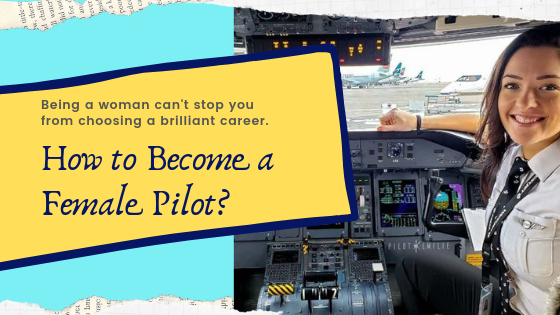 Just because you are a woman, don't let that be the sole reason to stop you from becoming a pilot.
To become a female pilot, you need to follow the same procedures and maintain the same good health as a male pilot.
The training to become a female pilot is no different than a male pilot.
Want to know the best part?
In reality, becoming a commercial pilot often seems easier for female pilots than male pilots.
Let's start by answering the most common question:
Can a female become a pilot?
YES, a female can become a pilot. There has been a presence of female pilots since the 1970s.
Although the number of female pilots is minor, it is growing daily.
It is crucial to have knowledge and skills to become a pilot. The more you learn and experience, the better you will become like a pilot.
Becoming a pilot as a female depends on you and not what others think of you.
At a time, people used to think becoming a pilot was not a thing for women. Those days are long gone because today, the aviation industry has more female pilots than ever.
As I have mentioned, the number is increasing daily. So if you are willing to be a professional pilot as a female, do not wait anymore.
The sooner you start your flight training, the better it is for you.
How to become a female pilot?
All the requirements and procedures to become a female pilot are the same as for male pilots.
Regardless of gender, anyone willing to become a pilot must take all the necessary steps, like gaining their flight hours.
After you have flown the required hours specified by the civil aviation authority, you can obtain your commercial pilot license.
Becoming a pilot is easy as well as challenging, depending on the path you choose to take.
To become a female commercial pilot, you must first fulfill the primary requirements.
Before flight training, you must be medically fit and acquire a medical certificate from the civil aviation authority.
After completing your ground schooling for a private pilot license, you can apply for a student pilot license.
A student pilot license allows a student to fly the aircraft under an instructor pilot's command.
NEXT
You must fly all the required hours for your private pilot license exam.
Once you get your private license, you are ready to fly by yourself as much as you want to log the minimum hours required by the civil aviation authority for a commercial pilot license application.
Depending on the country and their civil aviation authority regulations, the flight hours for getting a commercial pilot license vary between 150 to 250 hours.
These hour requirements will not be different for a male or a female.
Like any other studies, males and females must take the same steps to become pilots.
Why do you think so few women become pilots?
Today it is not the same story as it used to be before 50 years. There was indeed a time when very few women used to fly for a living.
However, today the industry is seeing more female pilots than ever before.
In the past, very few women decided to become pilots because there was not so much information available for women to start flying.
Before 50 years, the world was much different than it is today. Unlike today, the Internet was not as available, and it was challenging to find information.
Although there were women pilots for 50 years, it wasn't easy to find their inspiring stories and motivate other younger women to choose a flying career.
Similarly, there was this idea that the aviation industry is not a women's field.
Today, you can meet many female pilots, and the number is growing daily.
They have successful careers, and female pilots are as good as male pilots.
If you are a female willing to work in an airliner, you must concentrate on your aviation career. Put effort and time, and dedicate yourself to aviation.
A pilot must have good knowledge of several matters while working as a pilot. Learn to take responsibility for your passengers' lives, and you are good to go.
Becoming a commercial pilot has no difference, regardless of your gender.
Is it hard to work in the male-dominated aviation industry?
There is a misconception that it may be hard to work in a male-dominated industry as a pilot.
From my observation, I see women earn more respect in the industry for being female pilots.
Likewise, passengers often find it fascinating to see a female in uniform in the cockpit.
No one will judge you for being a woman pilot. People will only assess your qualifications in the cockpit.
Mistakes in the cockpit are unacceptable. On the contrary, praising a pilot for proper decision-making is rational.
You will be admired for your skills, talent, and knowledge as a pilot, not your gender.
Working as a pilot requires respecting other pilots, and similar to any other profession, you have to have teamwork.
Discrimination toward a female pilot is not acceptable in the industry.
Both male and female pilots face the same consequences for mistakes in the cockpit.
So the answer is NO, it is not difficult at all to work in a male-dominated industry,
Today, the airlines accept more female pilots than ever, and it is the right time for women to decide to become a pilot.
Who is the first female pilot?
Harriet Quimby was the first-ever woman to pilot an airplane and acquire a pilot license. The Aero Club of America awarded Harriet Quimby a pilot's license.
The first woman to work as a commercial pilot is Helen Richey from McKeesport, Pennsylvania. Born in 1909, Helen Richey learned to fly an airplane by age of 20. Eventually, she had to step down from being a commercial pilot as the all-male pilot union did not like having a female pilot in the cockpit.
Emily Howell Warner was born in Denver, Colorado, on October 30, 1939. She disappeared on a flight over the pacific ocean on July 2, 1937, en route to Howland Island.
The first female aviator to cross the Atlantic is Amelia Mary Earhart.