Affordable pilot watch: Student pilots' entry-level wristwatches.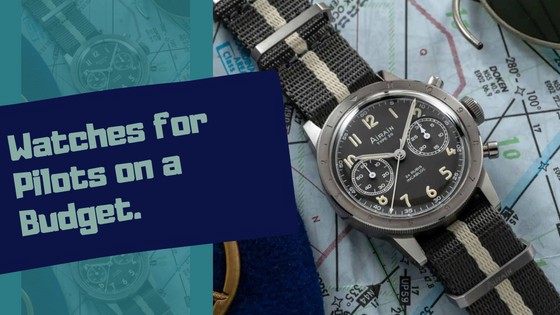 Let us assume for a second that you are not yet the pilot of our dreams. While you are learning to soar in the skies akin to your dreams, you wonder what else makes you feel closer to it.
What could you add to your arsenal that makes you look at the part and helps you better act the part? 
That's right! What you are looking for are Pilots' Watches. Within reasonable pricing, of course.
Of course, all the functionalities and features of an apex pilot watch will not be present under a lower budget.
However, this does not mean one cannot get aesthetic and functional watches in a modest price range.
What faculties should an ideal student pilot watch possess?
You probably want it to be good-looking, preferably alluding to it being a pilots' watch and not any other wristwatch – through a striking unique design and aesthetic.
You probably want it to last in present battery life and long-term usage. The latter is essential, as this watch is meant to act as a placeholder – and it does not make much sense to keep replacing and updating a lower-range wristwatch.
Furthermore, it is helpful for the watch to provide benefits that may aid an aviator – from providing navigational information to weather data.
It helps if the watch is sleek, lightweight, sturdy, and not too loose on the wrist.
Keeping all the above criteria in mind, this article recommends confident choices of budget-friendly and affordable student pilot wristwatches.
Orient Pilot RA-AC0H04Y10A
This watch screams out a sense of nostalgia for the aviation aesthetic of yore.
The numbers are in a font resembling old airplane cockpit buttons. Likewise, the watch resembles a classic military document's aesthetic. Hence, we can say for sure that this establishes this as a bona fide aviator's watch. At least on the first look.
And what about its functional offerings?
A leather band, a champagne dial, and a piece of a mineral glass cover a faux worn-out khaki dial and a sepia background.
The watch boasts a battery life of 40 hours, making it easy to wear across long stretches in the sky.
Furthermore, it may also help a pilot if they (God-forbid) have to spend a long stretch in the water, as it can resist water pressure for 10 ATM.
Its 11.6mm case thickness makes the watch seem compact and light, which is not a hindrance when a pilot has to operate in-flight equipment with fine motor control.
On the downside, it has a high case size of 42.4mm.
The 42.4mm case might make it seem a little large and heavy, which may impinge on the comfort of particular wearers.
As we figure, the Orient Pilot watch is nothing akin to a smartwatch with many features that might help in aviation and navigation.
However, compared with other small-scale standard watches for aviators, it lacks features.
However, it makes up for this through its beautiful semi-industrial aesthetic and excellent battery life. This watch is definitely worth the small price of 265 USD.
Sangin Instruments Kinetic II Pilot
While the previous watch's main selling point was its aesthetic value with a slightly lower degree of features, the Sangin Instruments Kinetic II Pilot boasts an array of features that take precedence over aesthetics.
Unlike the well-established Orient brand, which arguably has a sizeable chunk of monopoly in the affordable watch market, Sangin Instruments is a relatively new venture.
However, this hardly indicates that one should write off this brand and product.
In reality, the case is quite the opposite – as this is an excellent watch for pilots under a budget.
Sangin Instruments is founded and owned by a US Marine Raider, so their watches are designed and tested in possible combat scenarios.
This perfectionism has created a watch that boasts an incredible array of features.
These include a Ronda Quartz GMT Movement to keep track of the time with respect to the time at the Prime Meridian.
An anti-reflective coating is interspersed with a sapphire dome. The anti-reflective sapphire crystal prevents any possible inconveniences of sunlight reflecting off it, both in and out of flights.
Furthermore, this watch can aid in diving up to 300m due to its high-water pressure resistance.
The watch is compact (11mm thickness) and cheap (579 USD), and worth your consideration buying.
To further sell it, we can add the fact that the makers have consulted actual aviators for feedback across its prototypes and previous editions. Consulting with aviators led to refining the product, which is most definitely suited to aviators (as they have tested it). The only qualm is that the aesthetics do not allude much to aviation history.
Citizen Promaster Skyhawk A-T.
This watch contains a high degree of extra features if one spends a slightly higher price than the previous examples. The price may be 895 USD, but the Citizen Skyhawk more than makes up for it with the attributes that make up its hallmark.
The Citizen Skyhawk's Radio waves can keep accurate time worldwide by singing to its closest atomic clock. This feature makes it accurate to the second with respect to world time.
This watch has non-timekeeping features as well, from alarms to countdown timers. 
An eco-friendly watch that recharges by the sun, and this quality is its strength and weakness depending on which direction the pilot's flying. However, if other forms of light may even power it, one can mitigate this weakness.
In the case of the Citizen Promaster Skyhawk A-T, it can power up by any light. So whichever way a pilot flies, towards or away from the sun – this watch will not lose power.
If they are (once again, God forbid) flying downwards, a 200m water resistance may help the pilot in the event of a possible unfortunate emergency.
Alongside longevity and functionality, this watch's aesthetics are no pushover.
If the first watch on this list featured aviation history, this focuses on the pure power and throttle of such an endeavor.
The Citizen Skyhawk's design resembles a turbine.
Its titanium case further adds to this imagery of power, making it a good trinket for watch collection connoisseurs.
However, it will be a shame not to use its vast features, for that is where it primarily stands out.
Marathon Pilot's Navigator.
If the previous watch on the list is slightly on the higher end of pricing, at around 900 USD, there is no shame in scaling back to a humble Marathon Pilot's Navigator.
This watch has a high value for money, packing in several features and a great design at one-third of the previous watch's price, at around 300 USD.
Marathon Pilot's Navigator is the most accessible entry point to a pilot's experience. This watch has a history of being extensively issued for decades to military aviators across the globe.
It is a lightweight quartz watch made for a low-pressure environment, with a poignant design and a legible and visible dial. It is simple and effective and gets the job done while making you look great.
The tried and tested lightness and ease, the tried and tested acrylic sapphire crystal, and the tried and tested use around the wrists of multiple aviators make this a worthy choice for you.
This watch is made in Switzerland to provide extraordinary proof of its quality.
However, it is not without its downsides – the watch does not look noticeable from afar if one does not pay close attention to it.
Furthermore, the commonality of this watch will not make you stand out in the company of other student aviators – who may have been issued the same wristwatch or are at least familiar with it.
However, a quartz watch's durable design and long battery life make up for it. This watch includes an end-of-life indicator to determine when such a battery change is needed.
More affordable pilot watches that deserve a place in this list:
Alpina Startimer Pilot Heritage;
Hamilton Khaki Pilot Pioneer;
Bulova Lunar Pilot;
Zi Zuan Pilot Seagull;
Citizen Nighthawk;
In Conclusion.
The four watches in the above list are suitable for student pilots who crave aesthetics and functionality in their products to reward further and motivate them in their journey as an aviator.
All of these watches allude to aviation history and use the knowledge we gathered in such a history to create a highly optimal product for their usage.
Despite the idea of student pilot watches being interim products until one can afford a pilot watch with more outstanding features, you can proudly add the above watches to your pilot watch collection.
One may proudly wear any of these four watches without fear of being judged by anyone – for they are objects of beauty.
You may even choose to wear compelling and functional watches past your day as an aviation student.
Image Source: wornandwound via Instagram.