Seiko Flightmaster: Most inexpensive yet desirable pilot watch.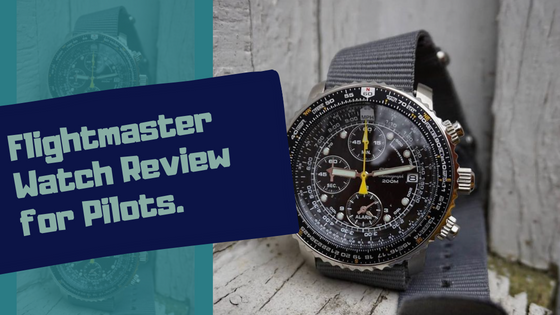 The Seiko Flightmaster is commonly a starter watch for one to enter the hallowed halls of timepiece connoisseurs and one highly coveted by aviators who wish to make the most of their equipment.
It has aspects of design that harkens to NASA's moon watch, the Omega Speedmaster, and another famous aviator's watch, the Breitling Navitimer. You can find the Seiko Flightmaster in black, grey, yellow, and white decorations of the SNA411.
Otherwise, one may own the far rarer SNA413, which uses blue, white, and red to form an even more impressive visage.
Even if one does not care for these aspects, the Seiko Flightmaster is still a great watch.
However, the one who does not seek to own solely for sentimental value but also to know all aspects of the item they possess must observe the watch's features.
What are the functions of the Seiko Flightmaster?
How do these functions benefit an aviator, who may rely on it more than other people to seek to possess this watch?
How does the watch compare to the functionality of modern smartwatches?
Let us answer these questions by listing and exploring various functions of the watch:
The watch is highly durable but in specialized ways. It uses a Hardlex crystal, which is highly impact-resistant – far more so than the sapphire used by a popular aviator smartwatch, the Garmin D2 Mach 1. In the case of the D2 Mach 1, however, the sapphire is more scratch-proof. The Flightmaster is not nearly as scratch-proof. Here, your environment and priorities should influence what crystal you prefer. Is your watch more likely to get scratched or battered?
Another vital facet of the Flightmaster's durability is its use of a stainless steel chronograph.
The stainless steel chronograph makes it highly resistant to sweat from the wearer's body and moisture outside.
Furthermore, stainless steel has a melting point of at least 2550 degrees Fahrenheit.
Lastly, it's unlikely to cause allergies or skin rashes.
In the unfortunate scenario of a water landing, where digital resources in the cockpit may not be possible, this watch can come in handy for making various calculations and decisions and surviving underwater if its wearer needs to swim.
The Seiko Flightmaster is multifunctional. The wearer can use it for water sports like swimming and diving due to its 200m water resistance below the surface.
Undoubtedly, the watch is waterproof – and hence resistant to rain. 
Thus, from the facet of durability – the Flightmaster stands toe to toe with the smartwatch.
The subdials of this watch all have their unique purposes. These may aid the aviator in making small calculations without always having to rely on external devices.
Furthermore, one may use it to normalize digital readings, which may have been altered by some unexpected environmental and internal reason.
External devices may not always be functional under all circumstances, so it is best to keep insurance on hand – even if we pray that we never have to use them. But then again, normal circumstances can also warrant its use – cause the specificity and perfectionism in the craftsmanship of this watch guarantees its accuracy to match that of digital readings in a cockpit.
One subdial corresponds to the second's hand and aids one in keeping better track of the minutiae of time (instead of just the minutes). Another measures a minute in increments of one-fifth in half a day. The final dial works as an alarm that can beep to alert its wearer and others in their vicinity.
However, one must note that a smartwatch and a cockpit dial will offer the same benefits and more.
A smartwatch can have applications for each of these features. But, if one is well trained in using the Flightmaster, one can make all these time-based calculations from the main watch screen without switching from one application to another for the minutest things.
The multi-functionality of the Flightmaster may help a pilot during urgent situations. However, learning to use this watch beforehand is paramount.
The slide rules of this watch provide further benefits.
As we are all aware, calculations of time are far from enough for an aviator's needs. An aviator has to keep track of aspects like fuel and energy needs and make calculations like basic multiplications. Using the slide rule may aid in such functions.
However, one must note that a smartwatch tops the Flightmaster in this regard.
While an effective utilization of the three subdials may aid an aviator in making faster calculations than switching to different applications in a smartwatch, the usability is yet challenging.
Calculations using the slide rules require patience and time to grasp, or at least to learn the sheer amount of features it promises.
This operation takes more time than switching to applications in the smartwatch to make these decisions. 
However, remember that the vast number of features more than makes up for it – if one decides to spend a slight degree of time and effort to learn it. Despite the large watch, the density of options in the dial may cause one to squint their eyes.
The vast list of features includes, but is not limited to:
(i) Multiplication, division, square root calculations
(ii) Convert between speed, distance, and time
(iii) Convert weight and volume between Metric and Imperial Systems – This is highly useful as an international pilot has to cross between countries that use different systems of measuring
(iv) Make further conversions across various other systems – like converting distance between feet, kilometers, statute miles, and nautical miles
(v) Converting between climbing altitude, climbing rate, and climbing time
Hence, there is no shortage of features compared to a smartwatch – and they are built-in.
So, if a pilot needs something and did not previously know they need it, they would not bother with installing the smartwatch application for that feature.
In this case, they can use some of these features in crunch times. However, earlier preparation is of paramount importance – whether it be learning to use this watch, any aspects of flying, or anything in general.
Here, one must again consider what aspects of a watch they prize and need before deciding to buy a Flightmaster or a smartwatch in its stead.
The watch is powered by Quartz, utilizing a battery. It uses the caliber 7T62 – with a fast and accurate non-mechanical movement. The Seiko Flightmaster does not carry the old-fashioned charm of mechanical timepieces. Still, the features and accuracy make up for it – and are more reliable in distress situations. It requires less maintenance this way and can possess far more characteristics, all of which are outstandingly accurate.
Unlike the debate surrounding quartz watches and smartwatches for aviators, a mechanical watch is not equal to watches with peak pilot functionalities.
Hence, choosing this watch should always triumph over buying a mechanical watch of the same price.
This watch is a great middle ground between mechanical watches and smartwatches – and it has the added benefit of being cheap and easy to maintain, as well as being incredibly accurate.
In terms of battery life, it again takes the best of both worlds – lasting with incredible functionality for three years at least, even with regular usage in the low-pressure environment of an airplane. 
As different parts of the same watch can have various life expectancies. However, one can find reports of Flightmasters lasting and functioning well over four years. Of course, it makes perfect sense if the battery or other parts need replacement.
In conclusion, we have seen that Seiko's Flightmaster boasts an extensive and incredible range of accurate features – hence rivaling a smartwatch. Using these features may be slower if one has not entirely acquainted with them.
However, after learning all of its aspects and features and making it an extension of your wrist and mind – viewing everything on one screen can make calculations faster than switching from one screen to another.
But, it will be wrong to emphatically state that a trained Flightmaster user will always triumph over a smartwatch user in terms of using their devices for in-flight utility. Circumstances are always different.
Needs are different too. A smartwatch may suit you and your personality more than a Flightmaster. Perhaps, it is the other way around.
You are your best judge as an aviator with specific needs and as an individual with varied tastes. You can make the best decision on which watch to buy.
Seiko does not officially issue their Flightmasters anymore, but they are still available – often at their original rate, which is far cheaper than that of a peak-of-the-line smartwatch. Hence, it is a great pilot that any pilot can have in their collection.
Image Source: practicalwatch via Instagram.