Flight School Scams | 15 ways to avoid them and find a good flight school.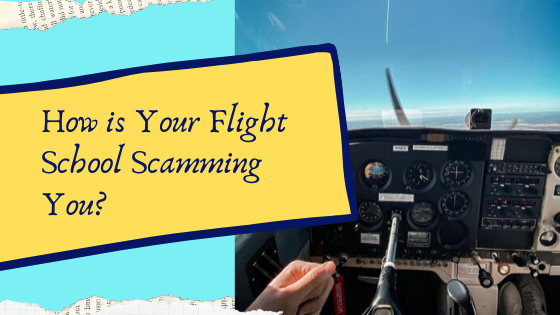 I know you want a good return on your investment for flight training without being scammed.
Today flight school scams are more common than ever, yet students enroll in flight schools without proper inquiry.
Hence I have discussed the flight school scams, which will allow you to find the most suitable flight school.
I have written about 15 forms of flight school scams and how you can prevent yourself from being scammed by a flight training institute.
So let us begin:
1. Underquoting price.
Many flight schools today try to underquote the price of the flight training course.
A dishonest flight training school will give you an attractive price quotation that is not the actual flight training cost.
They often have so many hidden costs that they do not disclose initially.
Until you enroll in the flight school, only to find out your actual flight training package is much more than the quotation you received.
There are many costs involved in flight training. Sometimes the flight training school will quote you only for renting the aircraft and a flight instructor.
Other costs involved such as:
Taxes;
Airport takeoff and landing fees;
Exam fees;
Books and supplies
Will not be quoted in your initial price quotation.
How to avoid this?
When you request a flight training course quotation, clarify whether this price involves all the costs.
Because you do not want to pay extra for your flight training, as flight training is already a costly course, you do not want to waste your money by being scammed.
Please verify whether you have to pay additional fees on top of the quotation you have received.
A good flight school will not keep hidden costs and disclose all associated expenses in your initial pilot training course.
2. Double-check the training completion date with the flight school.
Most flight training schools, if not all, will promise you that you can complete your flight training in a fixed period.
Completing flight training and acquiring a commercial pilot license in a fixed period is always not the case.
However, it does not mean all the flight schools are trying to scam you.
Some flight schools will guarantee a time, such as 12 months, to get your commercial pilot license.
However, good flight schools will also tell you the factors that may affect your flight training completion period.
Factors such as:
Bad weather;
Not availability of aircraft;
As well as your progress
It can delay your flight training.
If you understand all these factors, you will know why completing flight training in time is not always the case.
Do not believe in the false promises of a flight school telling you that you can finish your training with a particular flight school in less than a year.
You do not have to be in a hurry to finish your flight training. Flying is a fun experience, so take your time and enjoy it.
Talk to other students from the flight school and ask how often they get a flight.
Then you can judge whether this is the right school or not.
3. Will the flight school compromise safety to save money?
The worst thing a flight school can do is compromise safety.
A good flight school will have good flight records and never compromise aircraft maintenance.
Some flight schools do not have good maintenance or may not want to spend too much on maintenance.
Poor aircraft maintenance and insufficient aircraft technicians can harm your flight training in several ways.
Not having good maintenance is the reason for the bulk of grounded aircraft. As a result, your flight training will delay.
Flying on an airplane that is not well maintained can cause fatality.
So look at the actual aircraft in a school where students are flying. Spend some time in their hangar and talk to the technicians if they are present.
If the aircraft looks like it is falling apart, it is best to avoid that flight training school.
If plenty of aircraft mechanics are present in the hangar and continuously doing a good job with aircraft, the school has well-maintained aircraft.
4. Is the flight institute financially capable of overcoming unexpected losses?
Speaking of the maintenance technicians of a flight school, I figured out that it depends on the financial capability of a flight school.
A leading flight school has the good financial capability.
Having sufficient funds in the flight school's account will allow them to:
Good flight instructors;
Have more aircraft in their fleet;
Plenty of good aircraft technicians and mechanics;
Well-maintained aircraft.
Similarly, if a flight school is low on the budget, they will try to scam you in several ways and delay your flight training.
If you visit the hangar of a flight school, you will figure out the financial capability of the flight school yourself by the look of it.
Talk to the staff in the company and, if possible, talk to the flight school owner to have an idea of that flight school.
Ask them:
How long they have been in operation;
Are they planning to expand their school;
Do they have plans to add more aircraft to their fleet?
5. Guaranteed flight instructor job.
If a flight school promises you that they will hire you as a certified flight instructor after completing your flight training, it may be a sign of scamming you.
While working as a flight instructor in the same flight school where you completed your training may be easy but not trouble-free. There are plenty of instructors in the flight school, and many qualified CFIs are waiting for the same job.
Unless the current flight instructor decides to go to the airline, the company will not have a vacant position for you.
If all the flight schools hire their students as their flight instructors, there will be more flight instructors than students.
Often a school will try to scam you by asking you to do the flight instructor course in their school to work there as a flight instructor.
AND
I have seen many flight instructors who did their flight instructor course with a company and never got hired.
I only saw them waiting in the hope of being released as a flight instructor; however, their waiting never ends.
Please do not believe a flight school tells you that they can guarantee you a job after completing your flight training.
It is a common practice to acquire more pilot students.
Avoid this kind of flight school because no flight school will hire flight instructors more than they need.