Best shoes for private pilots. Appropriate pair of shoes for GenAv.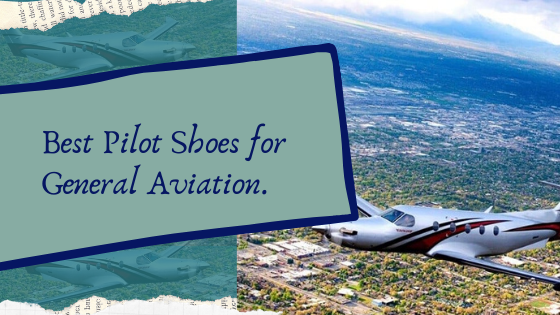 As a private pilot, I acknowledge that dress shoes aren't the best shoes for general aviation to settle on. In this post, let's figure out the best shoes for private pilots.
Many shoes complement the pilot uniform but let's understand what makes a shoe suitable for a private pilot:
A sturdy shoe wearable in various terrain and different weather condition;
A tough shoe to endure harsh conditions yet comfortable shoe;
Shoes for private pilots need a sole that allows private pilots to feel the rudder.
As a private pilot, I tried wearing dress shoes to canvas shoes and shared my experience.
General aviation pilot shoes vs. Commercial aviation pilot shoes.
Not every shoe in demand is suitable for pilots. I get attracted to different shoes whenever I go out in the mall.
Thus before purchasing any shoe I fancy, I ask myself these two questions:
Is this shoe suitable for wearing in the general aviation area?

Am I going to have a good feel on the airplane rudder pedals wearing these shoes?
I regard these two factors before buying any shoes. You'll find many shoes compliment your pilot uniform but do you wear one every time you operate an airplane?
So, purchasing a shoe based on mere looks without considering its usefulness is incorrect.
It would be worse if you couldn't feel the rudder pressure with those new pairs.
Airline pilots follow a dress code set by their airline, and wearing dress shoes is a must. Similarly, an airline pilot can afford a comfortable dress boot.
Private pilots often find buying shoes merely for flying an extra cost. They are out in the market looking for an inexpensive alternative.
Finding a tough pair of shoes that can endure harsh conditions yet are comfortable is challenging.
Most of my flight hours are in the Philippines as a private pilot. I fly across islands with grass airstrips, or sometimes the elevated airstrip is surrounded by mountains.
Let me tell you about my general aviation experience and the shoes I wear to make a distinction.
I had to park my aircraft on the grass countless times.
To make the circumstances worse, the weather in the Philippines changes frequently.
So it's a good idea to wear waterproof shoes as a private pilot in the Philippines.
Often it happens that I arrive at my destination airport where it's raining for hours. Unfortunately, the ramp at that airport is over grass.
The ramp is wet and muddy.
In such harsh conditions, an expensive non-waterproof shoe is not feasible. What do you expect to happen to your shiny dress shoe in this condition?
As a student pilot in the Philippines, I had to walk through the grass field to reach my hangar. We weren't supposed to walk on the taxiway, and there was no alternative route for pilots except the grass.
As a new student pilot, I purchased a shiny leather dress boot to wear with my pilot uniform.
As expected, the boot didn't sustain in such a condition.
Though the ankle support wearing that boot was great, and the feel on the rudder was quite reliable, this pair of boots were not for use in general aviation operations.
The leather on the boot begins shredding after some time. The reason for this is walking through grass, and dew drops every morning. That softened and hardened after drying. Therefore the boot showed signs of wear and tear.
You can wear something expensive in commercial aviation, but you must buy something inexpensive yet durable and comfortable in general aviation.
Below is a list of pilot shoes I prefer for general aviation that I tried and tested.
I can't mention it enough, but I buy inexpensive shoes in general aviation. Due to the harsh conditions I might encounter every day, no matter how sturdy the boots are, they will get ravaged after a while.
I am a charter pilot and prefer comfortable, durable shoes, and the sole is flexible enough for a better feel on the rudder and, most importantly, modestly priced.
The list I have created of my ideal shoes for general aviation. I have owned and tested all these. And in the future, once I use many other shoes, I will add more to this list:
K Swiss Men's Court Pro II.
The K Swiss classic sneaker is excellent for private pilots. Use it during your flight and ground operations. These shoes are sturdy and get comfortable over time.
However, I have seen complaints about purchasing these shoes online. Some say the size doesn't fit; others believe they didn't get the originals online.
If you purchase K Swiss sneakers and the pair is a knock-off, the shoes won't be comfortable.
The original K Swiss classic sneakers are genuinely worth every penny. These sneakers are sturdy and durable.
You can check out this pair here online.
Puma suede classic sneakers:
I like the puma suede classics because they are stylish and perfect for use in general aviation. The puma suede classic sneakers are waterproof.
Puma created a waterproof, functional, and durable shoe. Though this pair of shoes looks more casual, they're excellent for private pilot use.
Puma suede classic sneakers have a rubber sole, which is comfortable.
Not exceptionally soft, but this pair of shoes also have a sole that will allow you to control the rudder properly.
Onitsuka Tiger Ultimate 81 shoes.
I prefer wearing sneakers most of the time. Onitsuka tiger makes one of the best casual sneakers.
To me, the ultimate 81 seems the most suitable sneaker to wear as a private pilot. They have nice soles, and Onitsuka tiger shoes are very comfortable.
So if you are on a long cross-country flight, these shoes will be your best friend.
The ultimate 81 sneakers are inexpensive yet durable. I can easily pull these shoes with a pilot uniform and if I am flying casually.
So if you want to take a look at the reviews of this pair of shoes, you can check here.
Lift aviation shoes:
Lift aviation shoes are fantastic. Well, lift shoes are supposed to be the best. Because they have tailored these shoes fundamentally for pilots, I can assume they considered all the factors for a pilot's flight susceptibility while designing lift shoes. A pilot's comfort was the absolute priority. And that priority has worked to all pilots' advantage. The pilots will be ready for long flights and use the rudder the conventional way. Lift knew what they had to create for a pilot, and they did it right. There are many designs, and the price is affordable too.
Not all shoes are made for general aviation. Hence find the best pair of affordable shoes for private pilots.