Best iPad for Foreflight. An iPad buying guide to use Foreflight.
The iPad Air can be an excellent choice for Foreflight, as it is a powerful and versatile tablet for creative work.
In contrast, the 11-inch iPad Pro is better suited for professionals or users who want top-tier performance. The advanced display technology is beneficial for pilots using Forefligth. Also, the iPad Pro version has many additional features, such as enhanced camera capabilities and accessory support.
Thus a pilot can choose an iPad Air or iPad Pro inside the cockpit. iPad Air is convenient for smaller aircraft, and iPad Pro 11-inch suits larger cockpits.
Let's dive deeper into comparing the best iPad for Foreflight.
The iPad Air and the 11-inch iPad Pro feature elegant designs with slim bezels, but the iPad Pro has a more premium look and feel due to its flat-edged design.
The iPad Pro's Face ID for biometric authentication is convenient for pilots during aircraft operations. While the iPad Air uses Touch ID built into the power button, it can be inconvenient for airplane pilots.
Nevertheless, this minor difference between the iPad Air and iPad Pro is not crucial for choosing an iPad for pilots.
There are many significant factors to consider before buying an iPad with the Foreflight application.
Key factors to consider when choosing an iPad for Foreflight.
Processor and Performance
Display quality and Size;
Battery life;
Storage capacity;
Connectivity options;
Durability and Portability;
Cost.
Performance comparison between iPad Air and iPad Pro for pilots.
The iPad Pro gets its name as it's equipped with a more powerful chipset for professionals. The latest A-series chip in iPad Pro provides superior performance compared to the iPad Air.
The iPad Pro is geared towards professionals and power users who want high-performance capabilities for tasks like intensive multi-tasking.
As an aviation professional, you know the importance of multi-tasking. You can't jeopardize safety during a flight because your iPad performed poorly.
However, the iPad Air and iPad Pro perform better than the iPad mini.
Display comparison.
The iPad Pro offers a slightly larger 11-inch Liquid Retina XDR display than the iPad Air's 10.9-inch one.
These iPads' display sizes are suitable for pilots to use in smaller cockpits.
The first reason I recommend iPad Air and iPad Pro is the similarity in the display size.
The approximate 11-inch display is adequate for Foreflight without taking up too much space inside the cockpit.
Especially for smaller cockpits, the iPad Pro 12 Inch can take up too much space. On the flip side, the iPad mini is too small to display the Foreflight correctly.
Lastly, the iPad Pro's display supports pro-motion technology, which provides a 120Hz refresh rate. It also has higher peak brightness and improved HDR capabilities.
If you can afford the 11-inch iPad Pro, I urge you to get the iPad Pro over iPad Air for this reason.
A better refresh rate for smoother scrolling would load maps quickly, and improved responsive interactions would enable you to use the Foreflight Interface comfortably.
Availability of accessories.
Both devices are compatible with the Apple Pencil (2nd generation), which magnetically attaches to the iPad for charging and storage.
The only difference between an iPad Pro and iPad Air is that the iPad Pro supports a magic keyboard with a trackpad and can transform into a laptop. The iPad Air is limited to using a standard smart keyboard.
So the question is: How often do you need to use a keyboard in flight? The likely answer is that you don't need a keyboard during a flight to use the Foreflight app.
Camera System.
As the name Pro implies, the iPad Pro features an advanced camera system compared to the iPad Air.
Though having an enhanced camera doesn't alter much of using an iPad for Foreflight, it's nice to mention the camera functionality of your iPad if you use it during cross-country flights.
The iPad Pro's rear camera has additional lenses, such as an ultra-wide camera, and features like LiDAR (Light Detection and Ranging) for augmented reality (AR) applications.
On the contrary, the iPad Air has a camera that produces good-quality pictures and video recordings.
Best iPad for Foreflight based on overall performance and features.
iPad Pro 11-inch (latest generation) offers the most potent version, advanced display technology, and excellent features for using Foreflight.
It can run the app smoothly, handle complex flight planning, and render detailed charts and maps.
The pro-motion display on the iPad Pro, with its 120Hz refresh rate, provides smoother map movement and better responsiveness.
This is especially useful when panning and zooming on charts while in flight.
Additionally, the more extensive storage capacity options available on the iPad Pro are beneficial for storing charts, maps, and other aviation-related data.
Foreflight is compatible with other iPad models as well.
Nevertheless, the iPad Pro's prime processing power, high-quality display, and larger storage capacity make it the ideal choice for a seamless and enhanced experience with the app.
It's worth noting that the specific requirements for using Foreflight can change over time as the app is updated, so it's always a good idea to check the official Foreflight website for the most up-to-date recommendations and compatibility information.
The iPad Air falls in the Budget-friendly category for Foreflight users.
I could recommend the iPad Mini for pilots to use in smaller cockpits on a budget, but it's incompatible with the Foreflight features.
Thus if you are on a budget, go for the iPad Air instead of the iPad Pro but never the iPad Mini.
The iPad Air is generally priced lower than the iPad Pro, making it an affordable option for those who don't require the advanced features and performance the Pro model offers.
Foreflight iPad requirements.
iPad is crucial for pilots to have better situational awareness during flights. Flying with an iPad is not essential for student pilots before getting solo.
RELATED: Do student pilots need an iPad?
For private pilots, an iPad for flying aids in determining their position and their routes for cross-country flights.
Today, pilots can learn about the traffic in the vicinity using ADS-B in and ADS-B out.
Cockpit iPads can even display the weather en route.
RELATED: Cheapest ADS-B out solutions.
Therefore, pilots use the ForeFlight app on their iPad to fly the aircraft quickly.
Knowing which iPad is best to use with the ForeFlight app before buying an iPad is essential.
The ForeFlight app is only usable in the iOs system; unfortunately, Android users cannot use the ForeFlight app.
To use the Foreflight app, you must have an iOs device with:
Big enough screen to view the map precisely;
Sufficient storage; and
WiFi plus Cellular connectivity.
Why do you think I mention sufficient storage?
Imagine you have an iPad that can't store the ForeFlight app without deleting some pictures or videos you have.
I don't want you to delete the outstanding video you recorded during your last landing to save some new charts for your next flight.
Buying an iPad with at least 128 GB is recommended for flying.
Likewise, a WiFi plus Cellular connectivity iPad is essential for the ForeFlight app to track your exact location.
A WiFi-only iPad can't track your location without an external GPS tracker.
Lastly, I want to include that you must choose an iPad that is not too small.
Using an iPad for flying requires better situational awareness, and if you are distracted by zooming in and out of the map due to a smaller screen, the iPad will not help.
Thus the iPad Air is an appropriate tablet for pilots. Using an iOs smartphone to use the ForeFlight app is more distracting.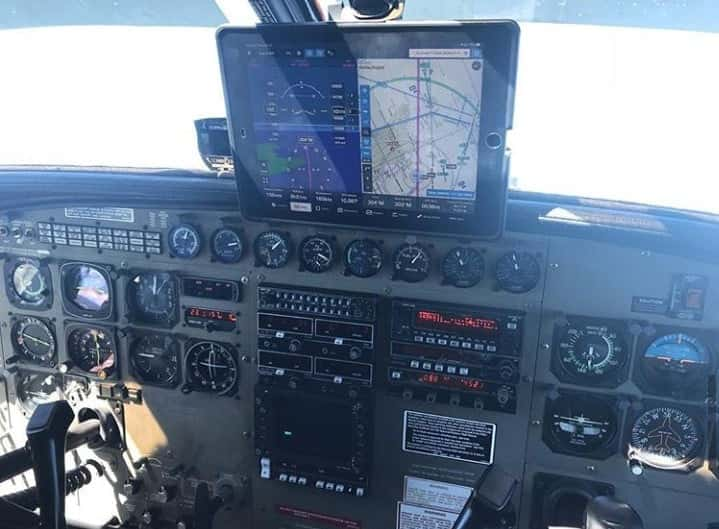 Instead of concentrating on flight safety, a smartphone will distract you.
Buy a device like the iPad Air or even the iPad mini and dedicate that for only flying aircraft.
Next, subscribe to the Foreflight app, which is inexpensive for the tasks it accomplishes during a flight.
A subscription for the ForeFlight app is 200 USD for one year license. It is a good investment. But remember that ForeFlight is only usable in iOs devices. Regardless, android device users can also access it.