Best iPad for foreflight. An iPad buying guide to use Foreflight.
Foreflight iPad requirements.
iPad is crucial for pilots to have better situational awareness during flights. Flying with an iPad is not essential for student pilots before getting solo.
RELATED: Do student pilots need an iPad?
For private pilots, an iPad for flying aids in determining their position and their routes for cross-country flights.
Today, pilots can learn about the traffic in the vicinity using ADS-B in and ADS-B out.
Cockpit iPads can even display the weather en route.
RELATED: Cheapest ADS-B out solutions.
Therefore, pilots use the ForeFlight app on their iPad to fly the aircraft quickly.
Knowing which iPad is best to use with the ForeFlight app before buying an iPad is essential.
The ForeFlight app is only usable in the iOs system; unfortunately, Android users cannot use the ForeFlight app.
To use the Foreflight app, you must have an iOs device with:
Big enough screen to view the map precisely;
Sufficient storage; and
WiFi plus Cellular connectivity.
Why do you think I mention sufficient storage?
Imagine you have an iPad that can't store the ForeFlight app without deleting some pictures or videos you have.
I don't want you to delete the outstanding video you recorded during your last landing to save some new charts for your next flight.
Buying an iPad with at least 128 GB is recommended for flying.
Likewise, a WiFi plus Cellular connectivity iPad is essential for the ForeFlight app to track your exact location.
A WiFi-only iPad can't track your location without an external GPS tracker.
Lastly, I want to include that you must choose an iPad that is not too small.
Using an iPad for flying requires better situational awareness, and if you are distracted by zooming in and out of the map due to a smaller screen, the iPad will not help.
Thus the iPad Air is an appropriate tablet for pilots. Using an iOs smartphone to use the ForeFlight app is more distracting.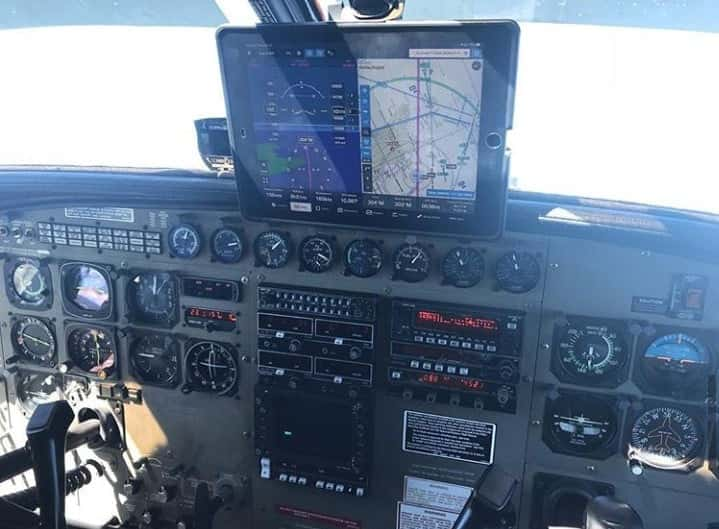 Instead of concentrating on flight safety, a smartphone will distract you.
Buy a device like the iPad air or even the iPad mini and dedicate that for only flying aircraft.
Next, subscribe to the Foreflight app, which is inexpensive for the tasks it accomplishes during a flight.
A subscription for the ForeFlight app is 200 USD for one year license. It is a good investment. But remember that ForeFlight is only usable in iOs devices. Regardless, android device users can also access