What can you fly with a ppl?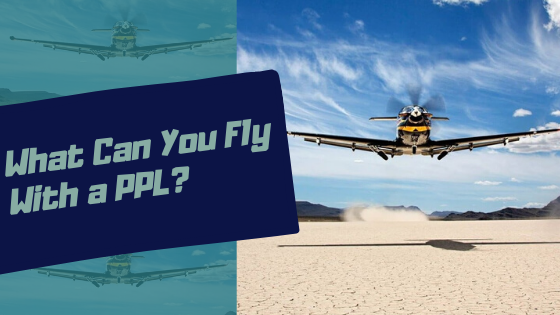 A private pilot licensee can fly any airplane if he has additional ratings. Yet, depending on a Civil Aviation Body, some restrictions might be implemented for PPL holders, such as limited to operating airplanes below a certain weight.
A private pilot has many privileges, such as flying to destinations with friends and family, yet cannot work in a commercial airplane for hire.
RELATED: What can you do with a PPL?
This license restricts pilots from employment as an airman.
If a private pilot acquired their PPL flying only in a Cessna 172, he is limited to only operating a Cessna 172 until he gets an additional rating.
I used the example of the Cessna 172 because it is the most popular training aircraft.
Why is that?
Because Cessna 172 is considered the safest airplane for student pilots.
Nevertheless, many other safe single-engine airplanes are built to train aspiring pilots.
What is an additional rating for pilots?
An additional rating means the pilot is trained to operate a different aircraft type in particular circumstances.
To get an additional rating, a private pilot has to familiarize themself with the instruments, control, and maneuverability of a specific airplane under the supervision of a certified flight instructor.
Once the pilot finishes flying the minimum required hours in another type of airplane and is familiarize with the controls, the private pilot will be ready to obtain his additional rating.
Every time a private pilot wants to fly a different aircraft type, s/he will have to acquire the additional type ratings.
Read more about additional type ratings.
Hence if a people holder has an additional type rating for a multi-engine aircraft, then he can certainly fly a multi-engine aircraft without any restriction.
The pilot can fly with more passengers by having an additional type rating for a multi-engine aircraft.
However, the same rule for not working on commercial flights applies to the private pilot.
RELATED: How to get flight hours as a pilot?
Ratings after PPL.
That is how you can make your flying experience more exciting and fun.
Additional ratings early in building flight hours can develop many piloting skills in you.
For becoming a competent pilot, learning new stuff is as crucial as developing skills.
RELATED: What can you do with a PPL?
I continuously learn new things, and facing challenges during a flight will teach me to keep my composure in all situations.
As a pilot, becoming used to various flying conditions is essential.
That can be improved by flying different aircraft types and receiving additional ratings soon after.
RESOURCES: