Pilot books for beginners to get a heads up on flying and obtaining a PPL.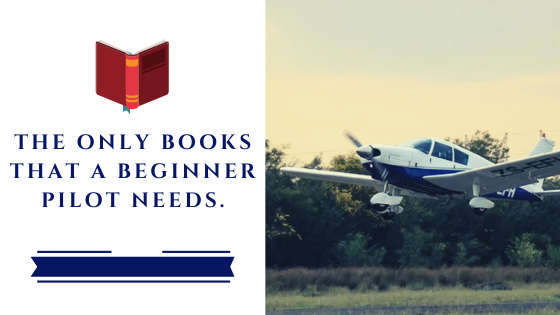 As beginners in aviation, most aspiring pilots are unaware of the books they can start reading before they get into flying.
There are plenty of books, but not all of them are as good as they are advertised. Some books have complex language for newbies.
Hence, I'll help you find the books to begin your pilot journey and discuss why you need them.
First, understand how each book can help you get your private pilot license or give you an overview of flight training and aeronautics. Pilot books for beginners must:
Give an introduction to aeronautics for newbies;
Have easy, comprehensible language for everyone to enjoy;
Prepare an aspiring pilot before the actual flight training begins;
Be in a non-monotonous tone to excite the novice pilot about flying;
Lastly, aid in obtaining your private pilot license with ease.
Regardless of someone who is only beginning in aviation or a student pilot, the books I mentioned in this post will give you a strong foundation of aeronautical knowledge for your pilot training.
What are the pilot books for beginners?
I shared the top beginner pilot books to only help you with the private pilot licensing stage and not further.
Many websites share a list of books for beginner pilots or student pilots, but they rarely say why a book is essential for student pilots; instead, they talk about the book's author and history.
I took a different approach than other websites that try to shove a list of books for beginner pilots into their throats. I decided to help you as much as possible by introducing the books and why pilots need them to excel in their new journey.
Private Pilot Handbook by Rod Machado.
Rod Machado is a veteran flight instructor famous for teaching in a comprehensible language. His ability to articulate information is second to none in the industry.
For beginner pilots, introduction to multiple brand-new subjects and aeronautical information is challenging to grasp.
As a pilot, you must understand various topics for safe flight operations. Hence exposure to numerous subjects in a short period is overwhelming.
I understand it's crucial to have a book that explains everything in an easy language to have a strong foundation for pilot training. If your fundamental knowledge is poor, you'll perform poorly during actual flights.
If you don't perform well in an actual flight, you will endanger the safety of the aircraft and yourself.
What will you learn from Rod Machado's Private pilot handbook?
Rod Machado's Private pilot handbook is not only to give you theory knowledge to pass your exam. It's a book that will help you forever grow as a pilot.
To become a private pilot and pilot in command of flights, you must ensure safety and avoid making silly mistakes.
How to avoid making a silly mistake and ensure flight safety depends on your fundamental knowledge of aeronautics and airplane operation.
Failure to act accordingly in an adverse situation will jeopardize flight safety.
People get bored quickly studying an entire book, but checking books for learning is essential. Rod Machado's Private pilot handbook is humorous and keeps readers engaged. This book can make readers excited about flying.
This book is adequate to pass your FAA private pilot knowledge test.
To pass your knowledge test, you must accumulate much information on aeronautics and flight operations.
Rod Machado's private pilot handbook is hundreds of pages with precise information and is fun to read.
RELATED: Private pilot license study materials.
Rod Machado's private pilot handbook has at least two pictures or illustrations on each page to describe a topic transparently. It's visible the effort the author put into creating this book.
The author's teaching techniques and tips help beginner pilots remember new information to pass their PPL knowledge test.
Is this book essential for beginner pilots?
A book like this is essential for anyone intending to get a private pilot license. Even if you plan to start flying after a year, Rod Machados Private pilot's handbook can give you a good heads up on flight training and aeronautical subjects.
Studying a good book and clearly understanding topics boost a student's confidence.
The Private Pilot Handbook by Rod Machado has more than what you require to pass the private pilot exam in FAA.
Most student pilots begin their journey with the Jeppesen Private Pilot Handbook or the FAA's Pilot's Handbook of Aeronautical Knowledge (PHAK). Both these alternatives are great books, but Jeppesen's book is not enjoyable for any newbie.
Jeppesen's books use a language that is not easy to understand. However, FAA's PHAK is easy to read and understand without the depth of topics.
Rod Machado nailed everything in this book. It's engaging and can keep the reader's attention on the subject for a long time. Regarding the depth of the topics, Rod Machado is never frugal.
"How to fly an airplane handbook" by Rod Machado.
For a beginner pilot willing to be good at flying an airplane, I suggest either of these two books:
The airplane flying handbook by ASA has always been my favorite book for flight training. It's an excellent book for learning the basic maneuvers of aircraft.
However, I recommend beginners to buy: The how to fly an airplane handbook by Rod Machado.
Both the books mentioned above are in intelligible language. However, Rod Machado's book is very detailed, and that's where it stands out from FAA's book.
Extra details may be boring, but Rod Machado's books are always engaging.
FAA's airplane flying handbook is an excellent book and misses all the details for a competent pilot.
Nevertheless, I assume you are in this article because you are a beginner. New aspiring pilots are in no rush to perform a maneuver the next day. Thus, I recommend reading Rod's How to fly an airplane handbook for extra depth and preparing for pilot training ahead of time.
What will you learn from the How to fly an airplane handbook?
Rod Machado explained all the maneuvers in detail:
What to do for a particular plot and why to do that;
How the airplane will react when a student pilot does something wrong;
How a student must respond if his input is not correct.
Why an aircraft reacts in different manners;
Which maneuver is suitable for tricky situations.
Similarly, Rod Machado includes illustrations for beginners to clearly explain how the airplane will behave and why it will behave like that.
You may wonder how reading books can help with actual flying. Indeed, it does.
Once you read books, you absorb many lessons, and during flight training, you would naturally remember the things you learned from your book and apply it. You don't have to remember word by word from the books, but implementing little things you know every time makes a significant difference.
Rod Machado went into in-depth details about the aircraft and how the airplane reacts, and why it does that. On the contrary, FAA's airplane flying handbook explains what a student pilot needs to do to control the plane.
I used FAA's airplane flying handbook to understand how the plane behaves and as I was already taking my flying lessons, I didn't have much spare time.
I was in a hurry to understand airplane flying and acquire on-point information. I had to learn quickly and apply the knowledge on my flight the next day.
Assuming you didn't begin your pilot training yet, you can relax and read the book by Rod Machado to become a competent pilot.
It would be best if you were ready with additional flight training knowledge. You would impress your flight instructor and progress quickly towards your goals.
Are these books essential for beginner pilots?
Neither of these books will help you with theories or passing the FAA knowledge test. But these books prepare students for their checkride.
It's common for student pilots to repeat the same mistake on the flight. Often students repeat the errors because they don't understand what input on the aircraft controls alters the output result.
Or what made the airplane behave in a specific way. You must control the plane, and the airplane must not direct you. The aircraft always behaves the way you want it to behave.
These books discuss all these factors, and you can purchase either depending on the study time you dedicate.
Read these books, implement the techniques, and you will learn to operate an airplane in no time smoothly.
I had a hard time landing the airplane, and studying using the airplane flying handbook helped me quickly get my first solo.
Before you begin flight training, investing in a book will save you money and time.
Gleim's private pilot test prep book for beginner pilots.
This book is not essential, but this knowledge test prep is excellent for revising matters you learned from the previous books.
The Gleim's test prep book is not a pilot book for beginners, yet I include it in this list because it would help beginners practice things they learned.
This book contains multiple-choice questions and answers describing why each option is correct and others are wrong.
This test prep prepares student pilots for the FAA private pilot knowledge test.
What will you learn from Gleim's Private pilot test prep?
To obtain a private pilot license, you need to pass your FAA private pilot knowledge test. In my opinion, Gleim's private pilot test prep is the best to prepare for the FAA PPL knowledge test.
Nevertheless, don't buy this book before purchasing the Private pilot handbook by Rod Machado. You need minimum aeronautical knowledge to understand this book's questions and answers.
Using this book and reading the description for the answer is an excellent technique to remember aeronautical topics forever.
There is also a great alternative to this book by Rod Machado.
Rod Machado created an eWorkbook. The book is only available in PDF and is inexpensive to find gaps in your aeronautical knowledge. Using this eWorkbook you'll learn which topics you missed and where you need more studying.
You can check out the book here.
RELATED: Private pilot test preps.
Pilot Weather: From Solo to the Airlines.
It's not the essential pilot book for beginners, but it's a must-have for any pilot's library.
Weather can be unpredictable, altering flight routes and hindering pilot decision-making. Weather is a significant factor in flying and contributes to many airplane crashes.
Nevertheless, an intelligent aviator knows how to keep safe and land the aircraft safely regardless of the weather.
It's crucial for pilots to understand the weather and know when to avoid it.
Meteorology is an enjoyable subject, and the space is vast. Learning about different weather phenomena and their dangers requires time and patience.
Fortunately, Doug Morris, the author of Pilot Weather, wrote this book keeping pilots in mind.
What will you learn from Pilot Weather?
He discussed topics that are relevant to pilots and flying in adverse weather. After reading this book, you will be more confident in operating aircraft. Confident, you'll know which day is unsuitable for surfing the sky.
You'll learn to control your ego and not jeopardize flight safety in weather conditions.
Is this book essential for beginner pilots?
Pilot weather is a must-read for any pilot at any stage of their training or career.
As a CFI and a meteorologist, Doug Morris knows what a pilot needs to know and what is unnecessary to discuss regarding the weather.
If you are a beginner pilot and have a busy life, get your hands on this book, which will be your lifelong companion for reference.
An excellent alternative to pilot weather is Weather Flying by Robert N. Buck.
Weather Flying is more like an entry-level book for Pilots. It's not very detailed and relevant to modern-day aircraft operations.
In this book, you will learn: What kind of weather to avoid and what weather to expect en route.
This book is like a novel by two pilots sharing their weather flying experiences. The book is challenging, as there is no picture or illustrations. For beginner pilots, reading this book can be tedious.
Weather Flying talks about how to fly through challenging weather conditions. However, the author's experience is in the United States, and this book is relevant for pilots that operate in the USA.
Pilot weather is more enjoyable for newbies to read as it has many diagrams and images. On the other hand, Weather flying can be a monotonous read.
Stick and Rudder by Wolfgang Langewiesche.
People say this book is the Bible of airplanes flying. As the name suggests, this book teaches The art of flying.
This book is not only meant for pilots but aviators. Can you see the difference?
Aviators are the ones who love going back to the sky again and again to experience new challenges because that's what they love.
So as a beginner pilot, you will not lose anything by investing in this book. Buy this book once, and keep it forever.
Although many things in the book seem irrelevant in this age, you will know nothing is irrelevant while controlling the aircraft.
For student pilots, it's a must-have.
It explains everything about flying an airplane and knowing how and why an aircraft responds to your input. Rod Machado's "How to fly an airplane handbook" is similar to Stick and Rudder's, but Rod Machado wrote his book elaborately with his twist.
You will also learn what you must not do while controlling the airplane and why it is best to avoid doing so.
Students pilots need this book to become better at flying.
Beginner pilots, regardless of their intentions:
Whether to start flight training,
 Learning to fly an airplane;
To improve their flying skills;
This book can help beginner pilots of fixed-wing airplanes or helicopter student pilots. Get this book early in your flight training, and you will not regret it.
You can visit PilotMall.com using this link and get a 5 USD off coupon to order Stick & Rudder.
Plane Talk.
Lastly, I want to mention Plane Talk by Rod Machado. It's not a pilot book for beginners but a must-have for pilots.
Beginner pilots may find this book quite entertaining initially to read. Rod Machado's humorous teaching style is fun to read.
Hence, I think if beginners want to expand their horizons and get their hands on more valuable stuff must get Plane Talk for their library.
This book is a hidden gem. Few pilots talk about this book because perhaps not everyone knows about it.
It's available only in PDF; you can read it using any smart device.
This book contains stories from Rod Machado's nearly five decades of experience in the aviation industry.
Indeed there are numerous things you can learn from an experienced pilot. Have a peek at aviation and flying through the eyes of a well-experienced pilot.
This book will give you insights into how the aviation industry works and how you can become a proficient pilot.
The Plane Talk discusses pilot decision-making and how you can operate safe flights even on stressful days.
It's not a must-read, but beginner pilots would get entertaining insights into aviation by reading this book.