Being a pilot comes with responsibility, and having a cockpit iPad can help you reduce your stress massively if you know the proper use of it.
Buying the most suitable cockpit iPad and the accessories to use with your tablet will aid in enhancing your performance in the cockpit.
Whether you are a private pilot or a commercial pilot having the best iPad for aviation use is crucial today.
Not just iPad for pilots, I have shared about an affordable alternative to cockpit iPads that may help you reduce stress aboard the flight.
What is the best iPad for pilots?
The best iPad for a pilot is the one that will allow pilots to use conveniently inside the cockpit.
And most pilots say that the iPad pro 11 inches is the most suitable one to use inside the cockpit.
However, I think you should choose the size of your iPad according to the size of your cockpit.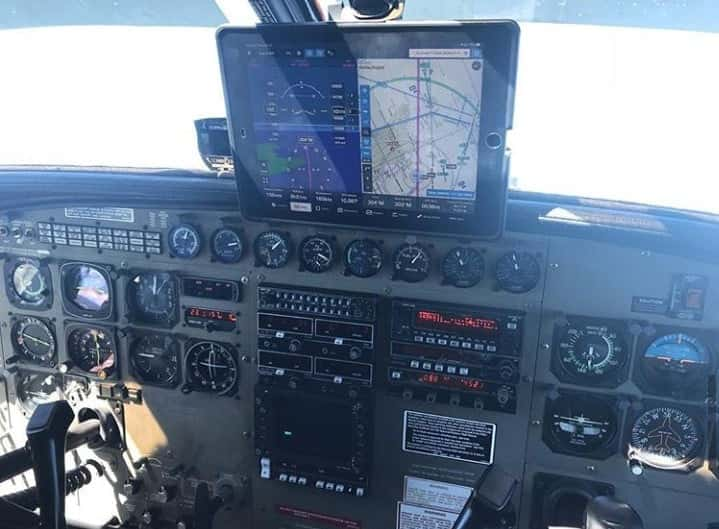 A bigger iPad for pilots is not suitable for use inside the cockpit of a Cessna 172 if you are a student.
Whereas for a commercial jet, it is not an issue to use the iPad Pro 12.9 inches.
Having a bigger iPad in a smaller cockpit will be inconvenient to use as it may reduce your room to move freely and do other tasks.
On the contrary, an iPad with a tiny screen such as the iPad mini might not be the right one to choose.
A small screen may not be suitable to load all your maps, and you will have to zoom in for a more unobstructed view.
However, a small screen is not always the problem, yet I think why shall a responsible pilot choose an iPad that has a smaller screen and zoom in every time.
You want an iPad to enhance your performance inside the cockpit. So buy a cockpit iPad that will serve the purpose perfectly.
Hence I suggest buying the 11 inches iPad pro. It is the right for the use in the smaller cockpit as well as you can use it as a professional pilot in bigger aircraft.
Thus I want to say that you must purchase the one you like.
If you want a bigger screen but a lesser room inside the cockpit, that is your choice.
NOW
You know what size of iPad to choose for the aircraft cockpit and appropriate purpose.
Let's discuss the internal memory aspect of the cockpit iPad for pilots.
Internal storage size for cockpit iPads.
The best iPad for aviation use must have enough internal disc space to save all the required documents a pilot needs to read.
Regardless of what I say, commercial pilots ought to keep track of so many files and folders.
As a student pilot, you may not have to carry so many manuals or charts.
As a professional pilot for an airline, an iPad with a more significant memory is a stress reliever.
With that in mind, a sensible pilot must buy an iPad to use it in the cockpit, which has ample internal storage.
You do not want to run out space on your iPad while trying to save company manuals, books, pdf files, charts, and maps, and various other files.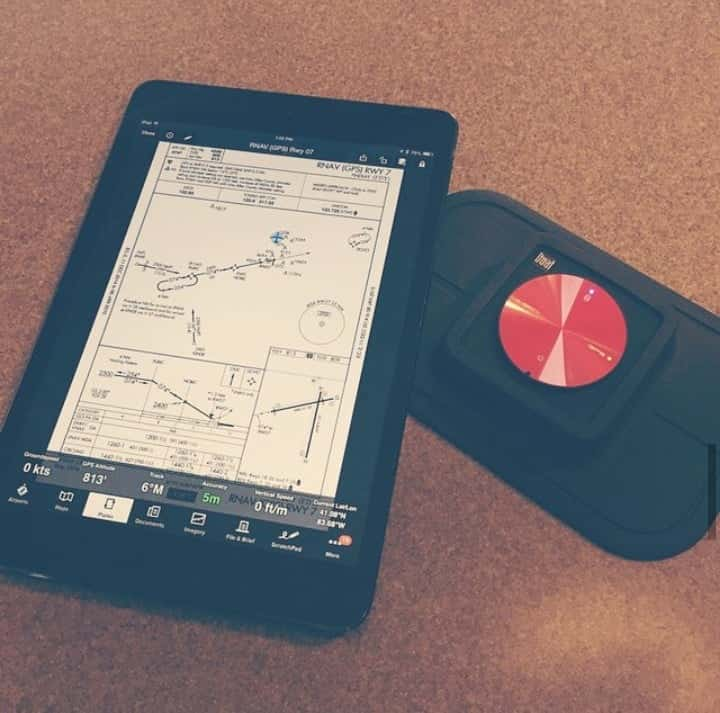 And how often are you willing to invest in a new cockpit iPad?
Think of it as an investment for your career in aviation. Buy the one that has at least 128 GB of internal storage.
It is not that you are only going to save aviation-related files on your iPad. What if you want to take some pictures or record a video during your flight?
Don't you think that would require some extra space?
Once you buy an iPad now think of it like this:
That you may use this same iPad for a long time as long as it supports aviation-related applications without any interruption.
Because having an iPad and using it as a commercial pilot will benefit you more than anyone else.
I am not disapproving of what you choose, but I am just suggesting the best possible option.
You do not want your iPad to freeze during your flight due to lesser memory and extended loading time.
Why choose an iPad with cellular connectivity available?
Cellular connectivity during flight is not necessary. An iPad for a pilot with only Wi-Fi connectivity is enough to use it aboard a plane.
Nevertheless, all the Wi-Fi + Cellular models of iPads come with a GPS tracker in it.
Which is not the case for only Wi-Fi models of iPads.
Having a GPS tracker installed on an iPad will help locate your position quicker.
During the flight, you can easily find your location and which direction are you going by the use of moving maps.
Pairing with an external GPS tracker can allow all WI-FI only version iPads to do the same.
Similarly, having a cellular model of an iPad can be a life savior in case an external GPS device fails.
Why shall you pay extra money if you can have all at once?
Why do pilots use iPads in the cockpit?
Cockpit iPads are part of the electronic flight bag.
Having an iPad in the cockpit reduces a pilot's workload. As a result, pilots can do their job quickly and in an efficient manner.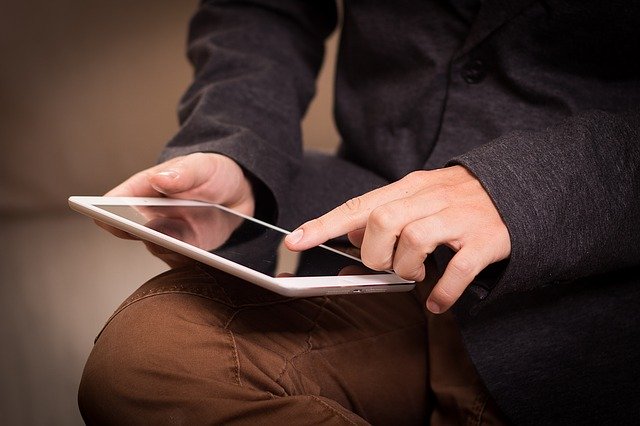 In modern-day, having an iPad in the cockpit is a necessity for pilots.
If you know to organize your iPad in the cockpit accurately, your life in aviation will be a lot smoother.
Traditionally pilots use a pilot's carry on bag, which weighs around 30 pounds, reasoning they carry tons of paper documents.
The carry-on flight bag includes:
Maps;
Navigational charts;
Aircraft flight manuals;
Airline policy manuals, etc.
An iPad can simply replace all these loads of paper for pilots, which is a small device that can store all the data.
It is more practical to use a cockpit iPad on board today because the pilots can have quick access to the required files.
Unlike carrying traditional paper records, that is a pile of papers where you have to go through several pages to find the correct text.
How has the iPad made a pilot's life easier?
An iPad for pilots will enable you to load the desired chart and data on the screen in seconds;
Holding an iPad can relieve pilots from both physical and mental stress;
Minimizing stress aboard means, the pilots will conduct a safer flight;
To manage more reliable flights, pilots can have all the up to date data loaded in minutes on an iPad;
Pilots can have access to all the data about weather changes, NOTAM alerts, and route changes immediately during a flight;
Finally, reducing clutter in the cockpit and rely only on swiping fingers on the screen of an iPad.
Can life be easier than that for any pilot?
Why do I believe every student pilot must have an iPad?
The days of carrying a map to navigate and aviate in a flight are long gone.
When I started my flying, I did not know the essence of an iPad for pilots.
Therefore I went to my first few flights with a pen, paper, flight plans, and a map.
Do you want to know what I had to go through inside the cockpit?
I was only learning how to control the airplane at the same time trying to navigate using the flight plan and the map.
The result was a series of dilemmas inside the cockpit.
The amount of confusion I had inside the cockpit resulted in deteriorating performance.
Can you imagine the stress?
I was busier, arranging all the papers I had in the cockpit rather than learning how to control the airplane.
To make the situation even worse, my instructor started asking me questions related to the flight.
Fortunately, I might have been good at multi-tasking and learned to manage everything somehow.
AND
Every pilot must be good at multi-tasking.
But why shall student pilots today have to face unnecessary challenges?
Owning an iPad can easily aid in bypassing unnecessary challenges inside the cockpit for pilots.
To me, it seems that iPad is meant for aviation use.
You, as a student pilot, even if you are simply flying for your private pilot license, must enjoy the ease of an iPad.
The iPad you own will be a huge stress reliever for you inside the cockpit.
You will be able to learn your flight instructions quicker because you will not be occupied only by arranging all the papers inside the cockpit.
If you deem you can manage it without an iPad, that is your call too.
But as a student pilot, you are already investing money in aviation, so why not just spend a bit more for an iPad?
RELATED: Private pilot training kits for beginners.
Why do I have a cockpit iPad? Ensuring safety is my concern.
Well, personal experience gives the best answer.
As a charter pilot myself, I like to use my iPad for navigation mostly. Using an iPad as a pilot, I can navigate now with ease.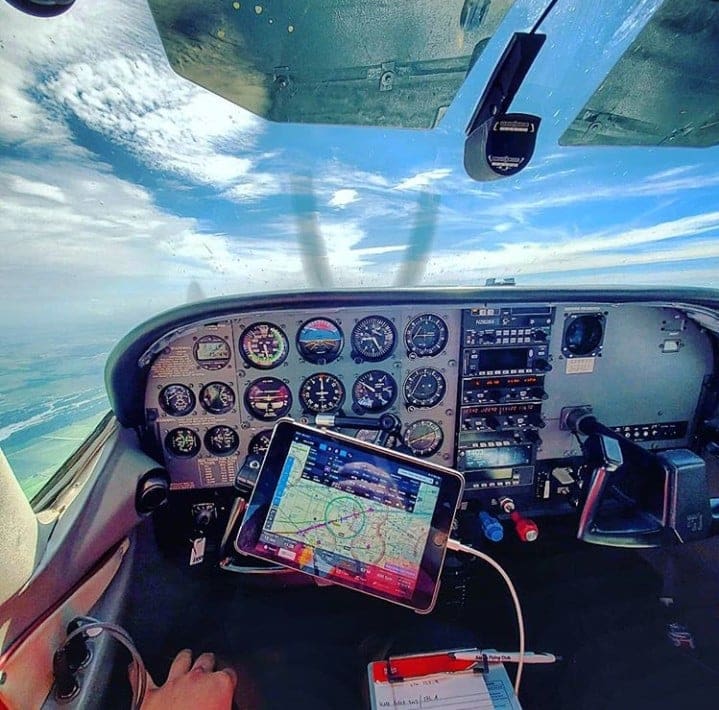 Flying to destinations with more convenience in the cockpit reduces stress.
Do you think a pilot can conduct a safer flight by reducing flight-related stress?
If that is the case, then definitely you need the best iPad as a pilot.
And there are many applications for iPads that help reduce stress in the cockpit.
These applications function differently and have a purpose for their use.
Some applications allow me to do some necessary calculations, which has enhanced my performance in the cockpit.
Reasoning now, I do not have to do the maths separately with a pencil and paper.
The iPad does that for me in seconds. And I can focus more on safely flying the aircraft.
Similarly, like most pilots, I have reduced clutter in the cockpit and have a better manageable environment inside the cockpit.
Top iPad accessories for pilots.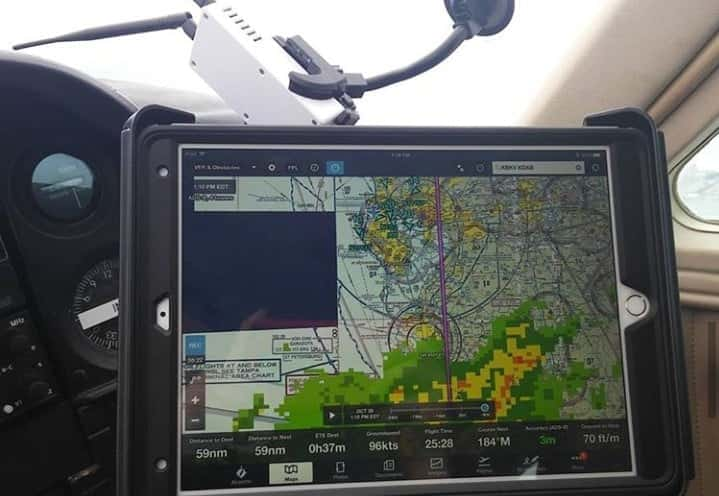 How an iPad mount gives me a smoother cockpit experience.
Having an iPad and do not have a mount for your iPad? Then how do you suppose you are going to use your iPad?
Buying an iPad mount is a must when you purchase an iPad for use in the cockpit.
Avoid buying cheap, flimsy iPad mount.
Buy something that has been tested by pilots, and I use it myself inside the cockpit.
Check out this ram mount here.
Kneeboard for pilots. How have I used mine to keep the iPad in place?
If you do not want to mount your iPad and you feel comfortable keeping your iPad sitting on your lap.
Then you can buy a kneeboard from this list, which will allow you to keep your iPad on your lap and use it the way you want to.
Buy an iPad kneeboard according to the size of the iPad you have. There are kneeboards for all iPad types.
RELATED: Essential Private Pilot Training Kits.
Tempered glass screen protector for iPad to dodge extra expenses.
This one thing, I guess every pilot knows why it is so important.
No matter how sincerely you use your iPad, you will drop it sometimes.
Either you drop it inside the cockpit or on the taxiway, having a tempered glass screen protector may save you considerable money.
I have dropped mine quite a few times, and luckily, the tempered glass absorbed all the shock.
And only once the tempered glass was broken due to the shock it took from the asphalt taxiway.
Yet, my iPad's screen was untouched.
Using an iPad as a pilot, a screen protector that is anti-glare and can detect your face ideally is crucial too.
Get an iPad screen protector that has the matched size for your cockpit iPad screen.
ADS-B Reciever for non-cellular iPad.
ADS-B Reciever is not an absolute necessity if you have an iPad with cellular connectivity.
Yet I mention about the ADS-B receiver here because many pilots have said using an external GPS receiver improves the surveillance extraordinarily.
Unlike the internal GPS receiver of your cockpit iPad, an external ADS-B receiver will receive date and forecast all the data quicker.
The two most purchased portable ADS-B receivers are:
An affordable alternative to cockpit iPads: Best tablet for aviation use.
The best alternative to iPads currently is the Nexus 9 tablet.
It is quite affordable compared to iPads. Nevertheless, the Nexus 9 performs as good as cockpit iPads.
The functionalities are the same as iPads, with only one drawback.
The internal storage for the Nexus 9 tablets are very minimal compared to iPads.
However, if you are not willing to pay for iPads, then the only android option I suggest is this Nexus 9 tablet.
And Nexus 9 tablets come with a GPS receiver even with the only Wi-Fi connectivity options.
Nevertheless, I have mentioned earlier, having a good ADS-B receiver is always a good option.
Now that you know which is the best iPad for aviation use, I have some bonus tips for you on how to use your iPad for pilots the right way.
iPad Tips for Pilots.
I am having an iPad case and a screen protector.
Using a shockproof iPad case is a must as a pilot. I have mentioned before, and it is never enough.
Many pilots do not like using a shockproof case for iPad. They think it looks ugly.
Well, it will look uglier when you drop your iPad on the asphalt of the taxiway.
It is inevitable at some point during your flying career you will drop your iPad.
And to protect it from shock, the only way is to use a shockproof Ipad case together with a screen protector.
Installing apps that you will use.
Only install apps that you think you will need during your flight. Do not install unnecessary aviation apps on your iPad.
Having social media apps will only distract you during your flight.
You do not need to check them while you must be concentrating on a safe completion of the flight.
RELATED: Best aviation apps for pilots and flying.
Saying so does not install all the aviation apps you find in your app store. Only install those which you think you will use and need for your flying.
Hide the apps you cannot delete.
There are many apps that you cannot delete. If you cannot remove the apps, it is better to hide them in a single folder.
That way, you will not have to go through many other apps looking for aviation apps during flight.
And that will save you from getting distracted and annoyed-looking for your desired app.
Put primary apps in quick access bar.
Keep your most essential aviation apps in your quick access toolbar.
That will prevent you from wasting time looking for the app during flight.
You will know exactly where to get your most compatible apps at once.
Turn OFF notifications.
Turn off all the unnecessary notifications.
That will prevent you from getting distracted by pop-ups that are not related to your aviation on your iPad.
Take your time and turn off all the notifications that you will possibly not use during your flight.
Bookmark commonly used webpages.
Add the website you often visit during your flight to your home screen.
So that you will not have to go to google chrome and type in the address every time.
Whenever you want to visit the website, you can visit simply by tapping on the icon on your home screen.
Save your time and use it for more important things.
You are using an iPad during flight for your convenience, and there are several other tips in the video below.
Watch the video to learn more.
RESOURCES:
Summary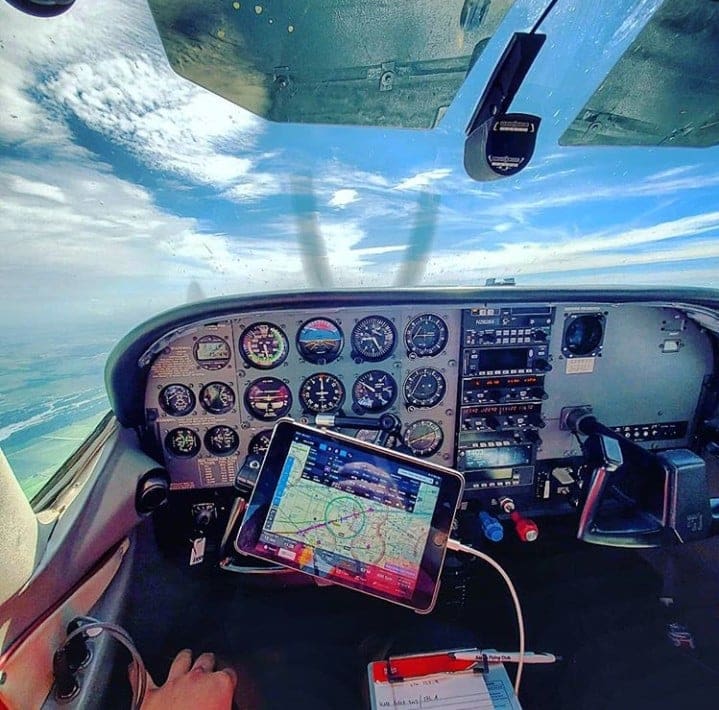 Article Name
Best iPad for aviation use and pilots.
Description
A buying guide to buy the best iPad for pilots. And cockpit accessories to use with an iPad. Bonus tips for pilots using iPads.
Author