IFR training course: Steps to know before you begin.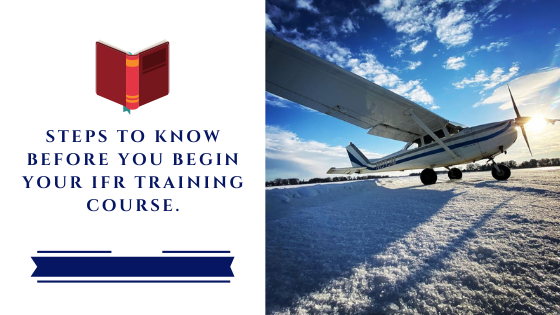 A private pilot's next step is to get an IFR rating. You must go through an IFR training course to fly in instrument meteorology conditions.
Here, I explained how to begin your IFR training and find the right instructor for the course.
What is an IFR training course?
Where to enroll for IFR training?
Three steps to IFR training course.
As you are already here, I assume you know how essential the IFR rating is. Private pilots don't comprehend the importance of instrument flying until one day they cancel their flight due to adverse weather.
However, let me guide you on how to begin.
What is the IFR training course?
If you have a valid private pilot license, you can enroll in a flight school or train with an individual certified flight instrument instructor for an instrument rating. To get an instrument rating on your private pilot license, you must undergo IFR training. Without a valid license, you can't register for IFR training.
During IFR training, you would attend ground classes. In your ground class, you will learn the fundamentals of instrument flying and understand the aircraft systems in-depth.
Once you complete your ground classes, your flight instructor will take you for actual instrument flights.
While you are still learning, your flight instructor will assist you in your flight. However, your flight instructor expects you to know all the private pilot flying lessons at this stage.
If you enroll in an accelerated IFR training course, the flight instructor will teach you things quickly. If you struggle with your private pilot lessons here, it will be tough for you to grasp the IFR flying lessons.
Thus, before you go for instrument flight training, you must study extensively at home and school to understand instrument flying.
If you think you are not ready yet for actual flying, you can ask your flight instructor about any question you have.
Also, you can study books and take online IFR ground school to ace instrument flying.
I might make IFR training sound challenging, but it is best to prepare well before your instrument flight training. Otherwise, you will spend more money on flight training.
Another option is to practice in a simulator. Simulator flying using Advanced Aviation Training Devices at your flight school and using a Microsoft Flight simulator at home helps you grasp IFR flying. You won't have the natural feeling of operating an aircraft using a simulator, but practicing using a simulator improves responses and impacts actual flying.
Where to enroll for IFR training?
This one comes down to you.
Do you want to train in a flight school that offers structured IFR training courses? Either choose a Part 141 route or a modular approach for instrument rating at your own pace.
I always recommend choosing a structured course as it involves full-time training.
If you train full-time as a pilot, there is little room for forgetting lessons you learned on your last training flight because the gap between each training flight is tiny.
It's common to forget things and feel out of practice by taking too long an interval. Repeating lessons on every training flight demands more tasks implementation in the sky and spending more money on fuel.
On the other hand, you can also select a modular course model to study at your own pace. It gives you more free time to explore the fundamentals of instrument flying and more time to practice using flight simulators. Yet, forgetting flight lessons is an aspect to consider if you enroll in the PART 61 modular instrument rating course.
Whether you train in PART 141, PART 61, or an accelerated IFR training course is ultimately your call.
Instrument flying competency is crucial to acquire from your IFR training course.
If you are highly knowledgeable about the theories of Instrument flying and detached from actual instrument flying, it's unsafe to operate an airplane in Instrument Meteorological Conditions (IMC).
Likewise, incredible knowledge is essential on multiple subjects to operate safe flights in IMC.
How can you do that? By continuously learning using books and online resources and practicing numerous times using flight simulators.
I divided the IFR training course into four steps for any private pilot.
Step 1: Self-study for IFR training.
Start preparing for the instrument rating before you enroll in instrument flight training.
There are numerous resources available online. Yet, so much information can be overwhelming.
Choose a book by your favorite author or an online course from a popular instructor to study.
I prefer Rod Machado's teaching style and collect Rod Machado's books.
If Sporty's is a better option for you, buy their course.
Before buying any course online, see if they provide you with an instrument knowledge test endorsement at the end of the course.
Studying before flight training is to understand what to expect in actual flight and, most importantly, pass the IFR knowledge test.
RELATED: How to study for Instrument Rating?
Some people may only prefer to read books. However, an online course is also a good option. Online IFR training course will teach in-depth without you getting bored. Also, it's essential to have an endorsement after the course to take the IFR knowledge test.
Step 2: Taking the IFR knowledge test.
Now that you have finished your online ground school and have an endorsement to take the IFR knowledge test, use a test prep to practice for the IFR knowledge test.
There are many test preps available online. I prefer Gleim's test prep but memorizing answers to the questions using a test prep is not the best idea today.
RELATED: How to prepare for the FAA IFR Knowledge test?
Always try to understand the topic clearly, and by doing so, you can interpret any variation of a similar question in the FAA IFR knowledge test.
Once you pass the knowledge test, you can confidently begin your IFR flight training.
Step 3: IFR flight training with an instructor.
At this stage, you can find a certified flight instructor instrument (CFII) at your nearest flight school or contact instructors online to come to your location and teach you how to fly using instruments.
You can sign up for an accelerated procedure if you want a fast-paced IFR training course. If you find an excellent flight instructor combined with the knowledge you acquired using the online course, you can quickly grasp the flight training lessons.
It's good to finish the required instrument training before forgetting the lessons. It is a common problem for pilots to forget the materials they learned in their previous flight.
A good flight instructor can articulate essential information for students to remember forever. Similarly, I don't think that an accelerated course is substandard as it compels students to study harder in a shorter time.
Nevertheless, if you don't like the accelerated course, enroll in PART 61 flight training at your nearest airport and continue flight training at your own pace.
But don't take too long to learn instrument flying as you will miss out on the excitement of IMC flying.
Once you fulfill the requirements of the IFR rating, you can request a checkride.
Step 4: Schedule an IFR checkride date and pass your checkride.
The last step is to pass your checkride as you fulfill the FAA flight hour requirements for IFR rating and are confident enough to request a checkride.
If you passed your IFR knowledge test and your instructor taught you adequately during the IFR training course, you can pass the IFR checkride without any trouble.
The entire checkride will be about two hours to three hours. The Designated pilot examiner won't ask you anything beyond your familiarity.
The sooner you pass the Instrument rating checkride, the better it is. If you wait before requesting a checkride, you may become rusty and jeopardize your practical IFR test performance.
Once you satisfy the Designated pilot examiner that you are competent to conduct safe flights in IMC, you will have approval for an instrument rating on your private pilot license.
Image source: joelwyttenbach via Instagram.